Business
Vera Bradley founders Pat and Barb look back on the past 40 years as they venture into the metaverse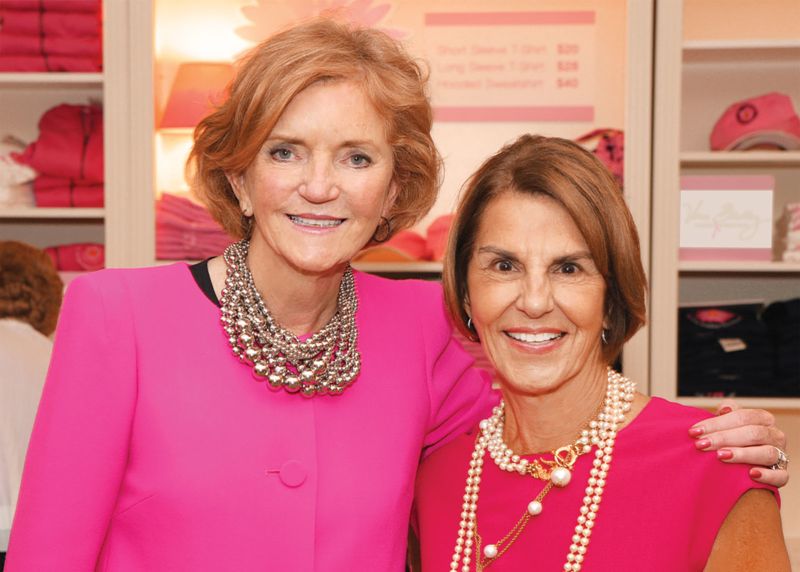 New York
CNN
—

It all started with a knock on the door four decades ago. It was 1982 in Fort Wayne, Indiana, and Patricia R. Miller stopped by to introduce herself to her new neighbor Barbara Bradley Baekgaard.
"I happened to be the welcoming committee for one," Miller told CNN Business with a laugh. "Barbara answered the door draped in wallpaper — because it was their new home and she likes to wallpaper new homes — and I said, 'Welcome.' And that was it."
The women quickly became inseparable. A few months later, returning home from a family trip to Florida for Barb's mother's birthday, a stay in Atlanta changed everything. The duo, known to friends as "Pat and Barb", looked around at the passengers' luggage and noticed that it all looked rather dull, in shades of beige and black.
The brainchild of Vera Bradley, named after Barb's mother, now a $540 million women's fashion brand selling brightly patterned handbags and other merchandise, was born right there in that Atlanta airport terminal.
"Growing up in Miami Beach, we had Lilly Pulitzer and Laura Ashley. I was used to a lot of colour, said Baekgaard in an interview. "You can call it a light bulb [moment] or a glimpse of God. I don't know what it was, but we went back and started the company the next day."
With a combined investment pot of $500 from their own money, they bought materials from their local fabric store and began making their first duffel bag on Baekgaard's table tennis table in the basement.
This was several years before the dawn of the internet, let alone social media — so they didn't have influencers. But they had Baekgaard's two college-aged daughters, and they sent the young women to Marymount College and Michigan State with the very first Vera Bradley duffels.
"The cape [Kappa Gamma women's sorority] house at Michigan State, they kind of brag about starting the company," Baekgaard said. "They were our first test market, and it just grew from there."
Because the bags were so visible — and bright — they were "like a little billboard," she said. Soon enough, Baekgaard and Miller received so many requests for duffel bags that they could hardly keep up with the orders. To meet demand, they hired local seamstresses who source kits containing a pattern and the components needed to produce each bag, then return the finished products to Barb and Pat.
It was clear: This was a viable business. And every business needs a name.
"We went through all kinds of names, but Barb's mother's name was Vera Bradley. My mother's name was Wilma Polito!" Miller laughed.
The colorful patterns and paisley prints took off almost immediately, with their bright bags and luggage spreading across university campuses and inside airport terminals. Over the next few decades, Vera Bradley expanded into bedding, technology and home accessories. On Thursday, the brand launched its first ever shoe collection.
Last year, the company's sales reached 540.5 million dollars – a figure the duo could hardly have imagined.
"I remember at the Atlanta Gift Show they didn't get it," Baekgaard said. "I remember one woman specifically saying, 'Do you think I'm carrying bags of chickens on me?' Well, it turned out to be a huge success."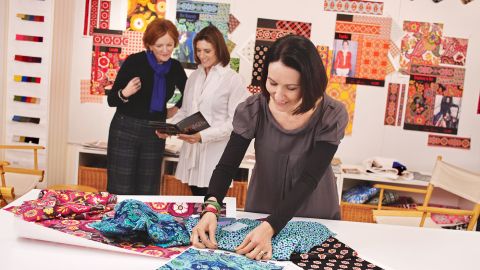 Miller and Baekgaard served as co-presidents of the company from 1982 until the company's IPO in 2010. Miller retired in 2012, and Baekgaard did so in 2017.
Even as women look back on 40 years of Vera Bradley, the brand is looking forward and pushing the boundaries of its roots. Earlier this month, the company unveiled The World of Vera Bradley, a platform to teach women about Web3, and it's also selling two NFT digital artworks to raise money for the Vera Bradley Foundation for Breast Cancer.
"We could not have imagined mobile phones and what we do now," said Baekgaard. "Things come and go … I just hope that we can stay relevant and current, whatever it is."