Shares of all kinds were positive this week before the holidays, except for MLP. Midstream generally weakens the broad market, despite price gains on oil and natural gas. Advertising for upstream bankruptcies (I believe four filed Chapter 11 this week) may have been a factor in the underperformance of MLPs. Natural gas and ethane prices jumped double digits from serious lows last week.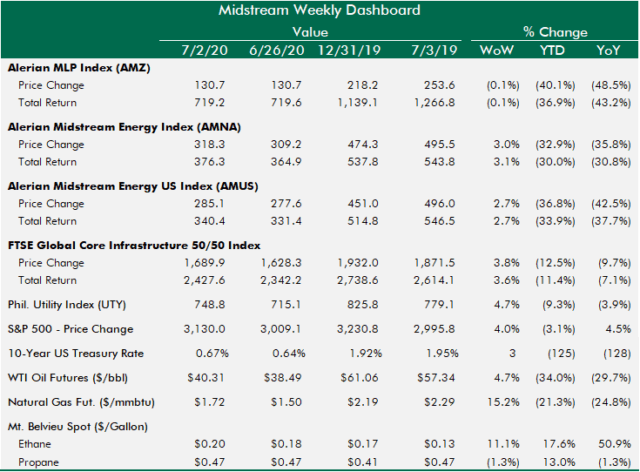 A Party in the Market, All's Invited, Except MLPs
There was a time when I didn't know every quote from pop culture from every obscure movie or TV series from the 1980s and 1990s. In fact, just this week, I had a wonderful acknowledgment that explained a joke at my expense that was made at my 4th grade lunch table at Hunters Creek Elementary 29 years ago.
At the lunch table I sat with several boys. One of them had a bag of Cheetos. I didn't have any Cheetos myself and made it clear that I wanted some. This (very popular) boy decided it would be fun to share with others instead of me, proclaiming, "It's like it's a party in the mouth and everyone is invited except Hinds!"
Fast forward to this week in 2020. I lift weights in the garage early in the morning (probably tapping unconsciously from the pain of the 4th grade lunch as motivation) while my nine year old binge looks at the Simpsons in the same room. Over the course of a few days, he's watching two episodes ("Flaming Moe's" and "Homer at the Bat") in which the same phrase is pronounced: "It's like there's a party in my mouth and everyone's invited" .
The first time is when Moe first tries the "Flaming Homer" purple drink.
The second time is when Ken Griffey, Jr. trying tonic (also purple) as Mr. Burns insists his players take.
I was Today Years old when I learned …
In all these years I had thought that this popular kid had spontaneously come to the magic line to make a joke at my expense. Today I realized that he parrots that line from one of the Simpsons episodes aired in 1991-1992.
The results of MLP's this week compared to all the positives in the stock market reminded me of this event and this line. There was a party on the market this week and everyone was invited, except MLPs.
Have a great long weekend everyone. With luck, the many parties around the country this weekend will not invite further spikes in COVID cases in a few weeks.
Status Update: MLPs Give Some Back in June
June ended strong on Tuesday with both indexes gaining more than 2% with high prices finally trading for the day, month and quarter. Even with the strong finish, June was uneven for midstream, but AMZ was worse than AMNA. AMZ had a negative return of 7.9%, the worst June on record, but not bad enough to break the top ten months ever. AMZ had put the two best consecutive months ever off the bottom, so a withdrawal is not surprising.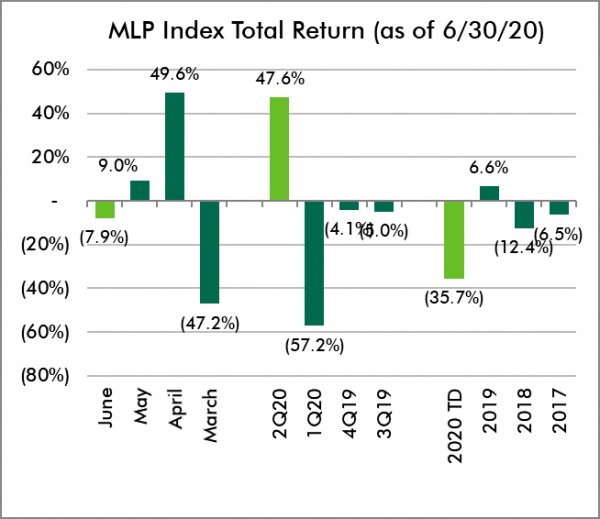 2Q 2020 was AMZ's best quarter ever at + 47.6% (next best quarter was 1Q 2013 at + 19.7%). Given 1Q 2020 was the worst quarter ever (-57.2%), overall YTD performance is still quite negative at -35.7%.
The first half of 2020 was the worst first half ever for the midstream room. Looking ahead, returns in the second half have been negative for MLPs for four of the past five years, with average returns -9.4%. The best 2H ever was + 33% in 2009, but the last double-digit positive 2H was 2010. Weak returns in recent years have led to heavy sales losses late in the year.
So far as the other half returns in the last election years for AMZ, the results have also been quite mixed:
2016: + 3.1%
2012: + 5.2%
2008: -34, 0%
2004: + 21.7%
2000: + 23.9%
AMNA Status update: Lower volatility returns
June was not as bad for the broader midstream index as for AMZ, with total return only negative 4.3%. 2Q 2020 was the best quarter ever for AMNA at + 32.4% (next best quarter was 1Q 2019 at + 22.2%). Given 1Q 2020 was the worst quarter ever (-46.9%), overall YTD performance is still quite negative at -29.7%.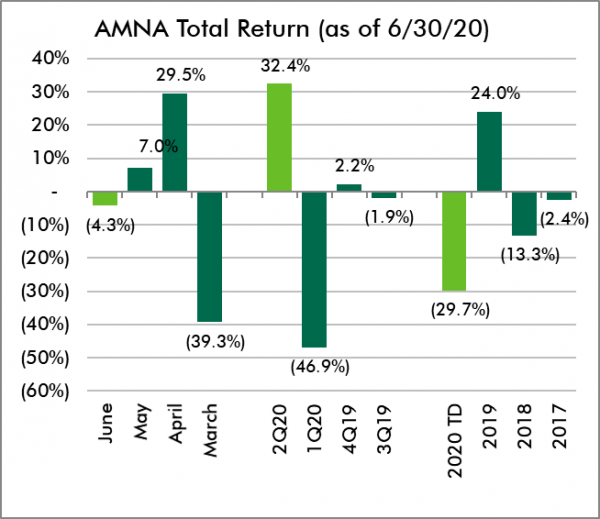 Winners & Losers
MLPs
MLPs totally underperformed this week, but stock performance was mixed. The oil pipeline operators MMP and PAA had strong weeks, while the collection and processing of MLPs CEQP and DCP were the worst. CEQP appeared to be the name most adversely affected by the news of Chesapeake Energy filing for bankruptcy, but ET has some exposure and limped as well.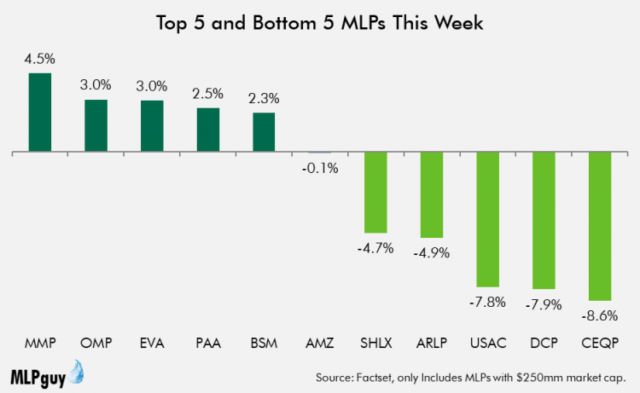 EVA repeated itself during the last five weeks of the week. ARLP went from top 5 last week to bottom 5 this week. On the YTD list, EVA is positive for the year so far and the pair SRLP and EVA are far ahead of the group. No changes among the biggest YTD losers other than ARLP who took the bottom line from NBLX.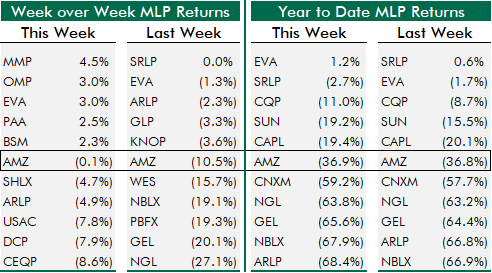 Midstream Corporations
Unlike the MLPs, every single 1099 issuing midstream company traded this week. LNG was the biggest winner, with several other natural gas-focused players such as AM, TRGP, KMI who also traded. No news this week, but it was obviously moving money that moved to companies from MLPs this week.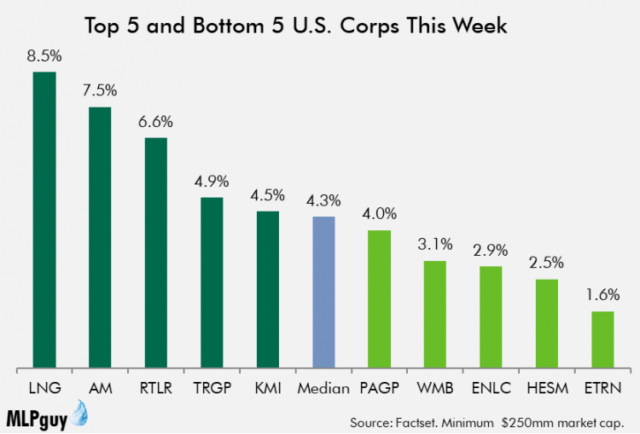 LNG and KMI repeated near the peak of group week over week. AM went from worst last week to near first this week. TRGP also had a nice return. On the YTD leaderboard, WMB is still in the lead, but LNG, AM and HESM are all closing in on WMB with -20% or better overall return.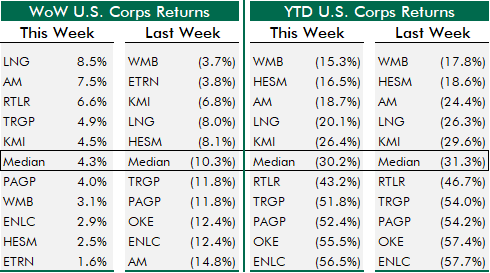 Canadian Midstream
Note that I cut off Canadian stock development on Thursday afternoon along with the US market, so these listings do not reflect Friday's actions in the Canadian stock market.
Through Thursday, performance in Canada was tightly aggregated. More volatile names KEY, IPL and PPL were out front, and defensive games ENB and Gibson (OTC: GBNXF) limped slightly. There was some regulatory news breaking late Thursday that supported the Trans Mountain Pipeline expansion project and more upstream-focused Canadian midstream names. ENB Line 5 news also supported the restart of the pipeline. But no other company-specific news this week.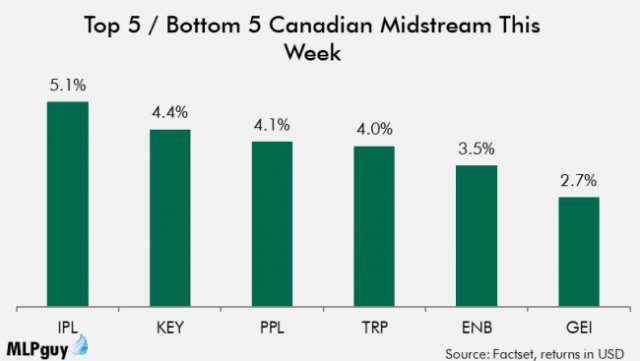 IPL continued its recent course of relative strength versus group this week, but YTD remains well behind the group. TRP remains in the lead YTD, followed closely by ENB.

News of (Midstream) World
Capital Markets
M&A / Growth Projects
Other
Enbridge (ENB-CA) announced partial resumption of service on Line 5 double pipelines (press release)

Altus Midstream (NASDAQ: ALTM) Announces One-to-Twenty Reverse Stock Sharing, Effective June 30 (Press Release)
Original Post [19659043] Editor's Note : The Summary Bullets for This The article was selected by Seeking Alpha editors.