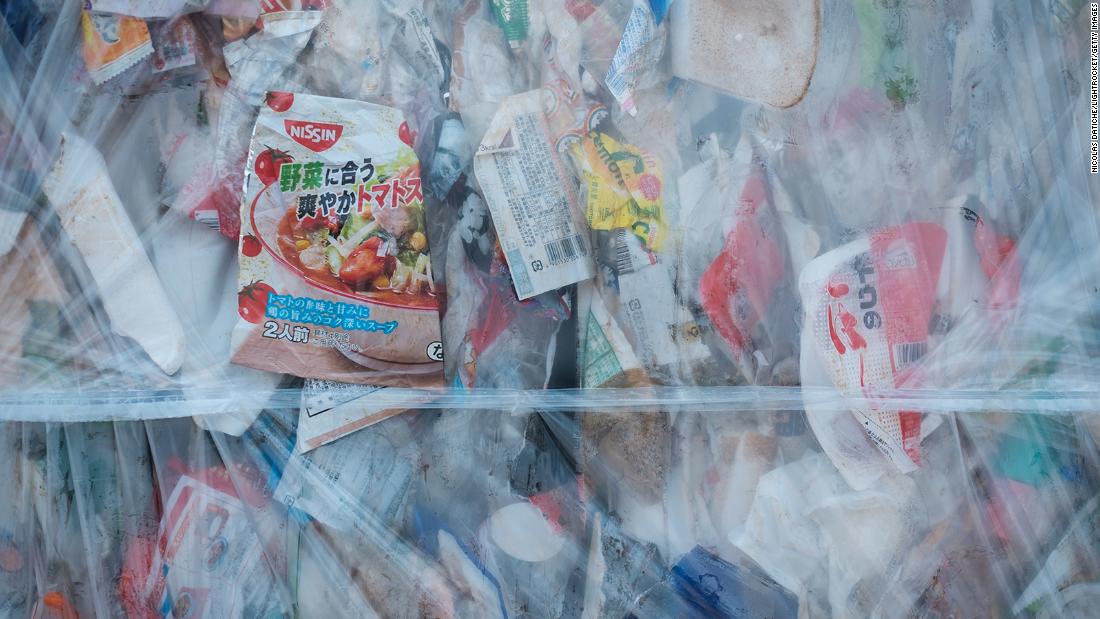 This has been the case for decades.
Retailers believe that if goods are not wrapped in plastic, it is difficult to guarantee food safety standards in the supply chain, according to a spokesman for Lawson, a nationwide chain of convenience stores.
But Japan's deep dependence on plastic does not end up packing any items.
While Japan generates less general waste per person than most developed countries, it produces more plastic waste per person than anywhere in the world, except the United States, according to a 2018 UN report.
Japan has made an effort to cut down on plastic waste since it passed a law in 1
991 that left the responsibility for recycling packaging at companies.
But while other countries have been waging a war against disposable plastic for years, Japan has been slow in the game.
However, that may be about to change. This month, the Japanese government introduced a mandatory fee of between 3 and 5 yen (3 to 5 cents) for each plastic bag, corresponding to a withdrawal already made in the United Kingdom and the United States.
Is this a sign Japan is finally ready to tackle its love affair with plastic?
The Power of Plastics
Japan's obsession with plastics dates back to the 1960s and 1970s, according to Roy Larke, professor at Waikato University and editor of the market intelligence website JapanConsuming. At the time, Japan was seen as the world's factory, but as the country's economy picked up, the country sought to transform its image from a low – cost manufacturer to a first – class retailer.
Manufacturers paid more attention to packaging to appeal to consumers looking for quality, and the standards were reinforced by retailers who are still convinced that buyers prefer comprehensive packaging.
"The big retailers see themselves as quality people for the customer, so they will reject unnecessary packaging that is too simple," says Larke.
The preference for packaging extends to food – for hygiene as well as appearance.
In 1993, anthropologist Joy Hendry argued in his book "Wrapping Culture: Politeness, Presentation in Japan and Other Societies" that a preference for wrapping food in plastic ic is an inherent part of Japanese customer service culture, or omotenashi.
Cheaper goods may seem more exclusive when they are wrapped in plastic, Hendry writes. It gives the impression that a store provides a better and more considerate service.
"Reduce, reuse, recycle?"
Japan may consume a lot of plastic, but it also promotes recycling as a noble social enterprise, according to Jeongsoo Yu, an environmental expert. and vice dean at Tohoku University.
There is even a national mantra for it: Reduce, reuse, recycle.
There are specific days for disposing of food waste, plastic, glass bottles and aluminum cans. Many local government websites provide detailed instructions on how to recycle items. For example, the city of Chiba near Tokyo flags designated places for people to dispose of the covers used to seal polyethylene terephthalate (PET) bottles. It also provides telephone lines for people who want to throw out syringes and computers.
But while Japan's approach to waste sorting seems sophisticated, the country's recycling system is in fact overwhelmed by the large volume of plastic. [19659014] Workers sort disposable plastic waste at a carrier at the Ichikawa Kankyo Engineering Recycling Center. The Tokyo City Office in Katsushika brings 10 tons of plastic recyclable resources to the recycling plant daily. "data-src-mini =" // cdn.cnn.com/cnnnext/dam/assets/200723230845-03-japan-plastic-waste-restricted-small-169.jpg "data-src-xsmall =" // cdn .cnn.com / cnnnext / dam / assets / 200723230845-03-japan-plastic-waste-restricted-medium-plus-169.jpg "data-src-small =" http://cdn.cnn.com/cnnnext/ dam / assets / 200723230845-03-japan-plastic-waste-restricted-large-169.jpg "data-src-medium =" // cdn.cnn.com/cnnnext/dam/assets/200723230845-03-japan-plastic -waste-restricted-exlarge-169.jpg "data-src-large =" // cdn.cnn.com/cnnnext/dam/assets/200723230845-03-japan-plastic-waste-restricted-super-169.jpg " data-src-full16x9 = "// cdn.cnn.com/cnnnext/dam/assets/200723230845-03-japan-plastic-waste-restricted-full-169.jpg" data-src-mini1x1 = "// cdn. cnn.com/cnnnext/dam/assets/200723230845-03-japan-plastic-waste-restricted-small-11.jpg "data-demand-load =" not-loaded "data-eq-pts =" mini: 0, xsmall: 221, small: 308, medium: 461, large: 781 "src =" data: image / gif; base64, R0lGODlhEAAJAJEAAAAAAP /////// wAAACH5BAEAAAIALAAAAAAQAAKAAAIKlI + py + 0Po5 yUFQA7 "/>