Business
Traveling home to report on mass shootings was the most difficult mission I have ever had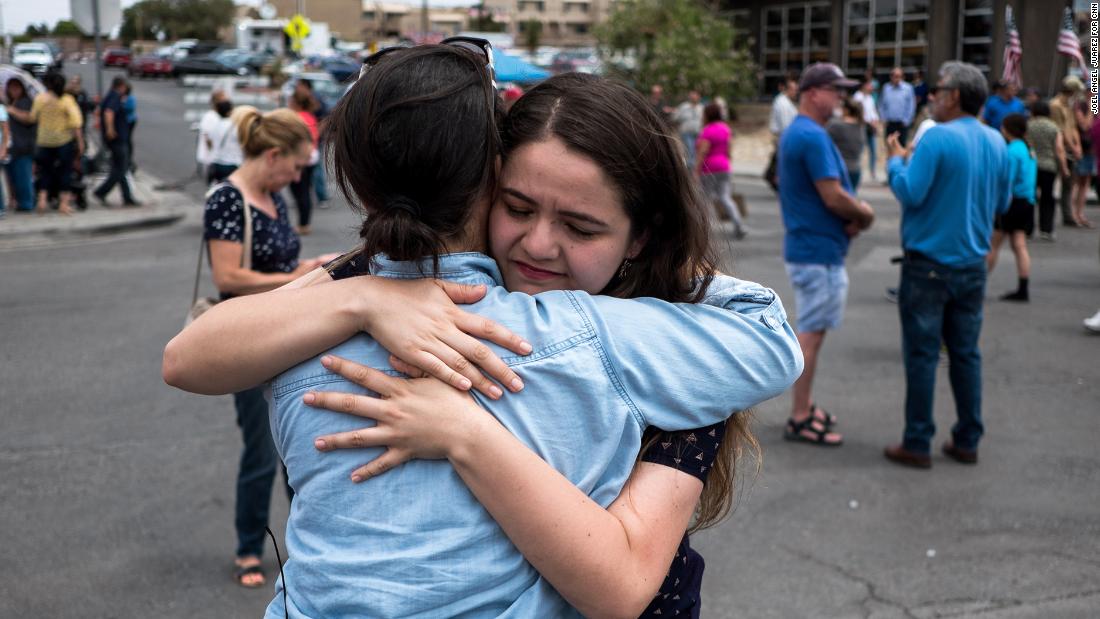 Many of my stories are filled with terror and loss, and sometimes I feel that I have lost my humanity afterwards. We report on how the shootings take place, the victims' names, their vigilance and funerals. It has become so routine.
When I saw the 22 white crosses at the makeshift memorial in El Paso, I just couldn't believe it. I've seen pictures of similar crosses before in the wake of other shootings.
"Not here, not here," I continued to tell myself. "No pillow watching."
I sat down with the producer of these crosses, Greg Kanis, after talking to a relative of one of the victims and writing her name on one of the crosses. His hands and T-shirt were stained from the black marker he used to write.
"I never imagined I would see you here," I told him as I burst into tears.
I couldn't stop myself from crying at that moment and many other moments this week. I cried as I read "915" – the city's area code – and "El Paso" in the signs on the memorial. I cried when I heard Juan Gabriel's "Amor Eterno" being played by a mariachi. I cried when I hugged my 7 year old niece for the first time since I came to cover the shooting, and when my mom told me how anxious she felt when she went to another Walmart to fetch eggs and ham two days after the shooting.
I cried so much this week because this is my home. I did not know any of the victims, but I still mourn them. I mourn because I am part of a community full of love and brotherhood, where families meet every weekend to attend church and cook carne asada in the backyard. I grieve because I grew up around people who are going to squeeze just a few minutes after meeting you, because in El Paso, not a single handshake would make it – it feels so impersonal.
It hurts because when I think of those inside the store that Saturday morning, I think of my own family.
My mother could have been there and bought blood sugar test strips and sugar-free snacks for my grandmother who has diabetes. My father could have stopped there to pick up Coca-Cola 12 packages for his business in Juárez.
One of my sisters had just received my niece's list of school supplies and ran out of water bottles, in the process of shopping. My other sister might have bought groceries before she left for Juárez after the work shift, or took my nephews to check the toy section.
None of them were there that day, and I'm grateful for that. And I am also grateful that my late grandfather, mi abuelito Nacho, does not have to live with this pain.
He would always sit at a metal bench near the entrance to the restrooms while the rest of us would walk for hours around Walmart. My grandfather would give me a $ 1 bill or the few coins he had in his pocket so I could carry on with my mom and buy candy myself. In the meantime, he would sit there and make friends with everyone around him.
Many of the victims were older, just as he was. They have been going to this Walmart for decades with their children, grandchildren and great-grandchildren.
A gruesome homecoming
I never imagined I would arrive in El Paso and not spend every minute with my mom, go to the movies with my family or buy Chihuahua cheese to take me home again.
Instead, I have been driving around with a photographer who has looked at my best and worst of the day: when I continue to cry in the middle of the interviews, when I gave up makeup and got sunburnt on my face, it stopped my several bathrooms , and then my whole family showed up at a Starbucks where we filed a story.
When I arrived Sunday morning at the junction behind Walmart, a few people were praying and others were just standing in silence on the empty street. The store parking lot was full of empty cars like any other weekend. Only this time, there were no children running around or families loading groceries. It was just silence.
The only bouquet of yellow flowers that arrived that morning at this junction has since become a meter long memorial. Crowds have come with flowers, Mexican and American flags, pictures of Our Lady of Guadalupe and drawings of the Star in the mountains. They have come to pray in large groups or by themselves.
I've taken photos and recorded my conversations with dozens of people, but I've also taken breaks to mourn them.
When a teenage boy standing next to me began to cry at the memorial, I turned and hugged him in silence. I never asked his name, and I only offered him my water bottle before I left. When a family sang Spanish worship songs, I quickly snapped a picture and joined them for a song before leaving.
At home is El Paso and also Ciudad Juárez
Tragedy has shaken an entire binational society, and it is difficult to understand for many outsiders. When someone asks me where I'm from, I mostly say I'm from El Paso. It's really just the easiest way to answer, but things are a little more complex than that.
My parents are from Ciudad Juárez, and my sisters are too, but I was born in El Paso. I lived in Juárez most of my life, just like more than half of my classmates at school in Mexico. We grew up on both sides, crossing back and forth to shop, visit family and finally attend college at the University of Texas at El Paso.
In grade 11, I went to high school in Juárez in the morning and attended El Paso Community College in the late afternoon. I met one of my best friends as I crossed the Santa Fe International Bridge and waited for a bus to UTEP. I've spent countless hours waiting in my car to get over. My car broke down or ran out of gas many times, and when I got up quickly, there would be days I would cross as many as four times.
This was the first Walmart I ever set foot in and only one of my family would go to for years.
"We always go there"
When I talk to my nephews and nieces about what I do to live, I mostly just say that I write about crime and other things happening around the country. My niece started reading, but I don't want her to read my stories.
As I have gone to the memorial every night, I see large families visiting children of all ages. I have asked many parents how to cope with their children. What have they told them, and what do they do if their children say they are afraid?
My nephews and my nieces are not my children, but they are my world. I want to protect them from all the pain and hatred of this world, but I know we can't. While my niece only knows the crux of what happened, my 12-year-old nephew has seen some of the more graphic videos circulating on social media early on.
"We always go there," he told me as his eyes were filled with tears. He also knows that the shooter was aimed at Mexicans and Spanish society.
When I was sitting at a Mexican restaurant, I told him not to be scared. I asked him to be proud of his legacy. I told him that now that he and his friends and his generation know about these shootings, they can still build a better future for themselves if we let them down. I urged him not to be afraid of dealing with white people and to treat them the same way he would treat family members.
"You can show them love and who we really are," I told him.
It's been a week since the shooting at Walmart. Media that stormed El Paso from around the world have largely left or are leaving soon. Like them, I have to travel in a few days and get to the next story.
This time I will not move on. I may not be here in El Paso yet, but I take both the pain I felt this week and the strength of my people to continue to tell the stories of my city and Latinos across the country.
How can I turn my back on the people who have surrounded me with nothing but love for so many years?