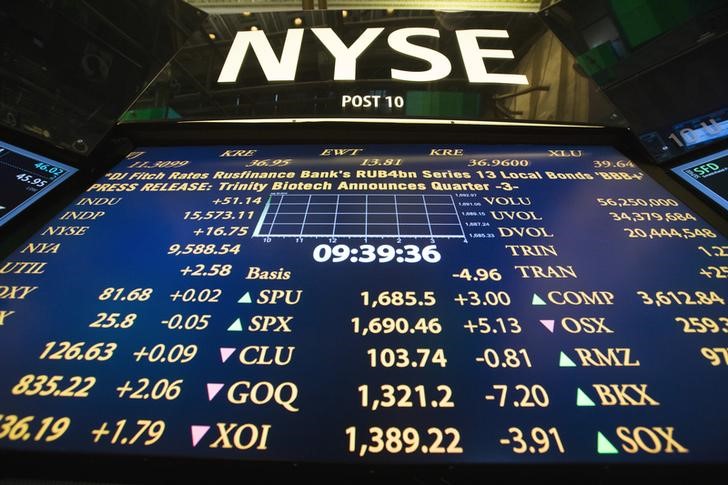 Investing.com – Here are the top 5 things to know about in the financial markets on Thursday, August 15th.
1. China threatens retaliation with Trump's latest tariffs
China signaled that it will oppose US President Donald Trump's initiative to tariff on effective all remaining imports from China.
A statement from the State Council Tariff Committee said that China "has no choice but to take the necessary measures to retaliate" without specifying further.
On Wednesday, Trump had for the first time entered into a trade agreement with China for his treatment of pro-democracy protesters in Hong Kong, and further lifted efforts in the fight for economic and political supremacy between the two countries. Trump suggested that a "personal meeting" with President Xi Jinping could break the deadlock.
The atmosphere in Hong Kong remained tense as Chinese media talked about the presence of armored vehicles waiting just over the mainland border. The market-driven strengthened, which brought it more in line with the official mainland interest rate.
2. Data Dump to Test Bond Market Sentiment
A spectrum of US economic data will show how much substance is in the recession fear that was behind the rise in global bond markets on Wednesday.
for July, as well as last week and second quarter all wires hit at 8:30 AM ET (1
230 GMT). Nationwide data for and output follow 45 minutes later, while the National Association of Home Builders arrives at 10.00 (1400 GMT).
The bond markets have not been in the mood to give up the gain, and have withdrawn just a little over night to leave yields hovering just above Wednesday's low. The bond yield, which triggered the panic by dipping below the 2-year counterpart for the first time since 2007 on Wednesday, stood at 1.57% by 05:45 ET (0945 GMT), a hike in interest rates of 1.56%. The, which reached a time swell of 1.96% on Wednesday, supported up to 2.00%.
3. Shares set to open lower
U.S. stock markets will open lower again, widening the losses following their biggest one-day fall of the year on Wednesday, after China appeared to disprove President Trump's Twitter attempt for a move Wednesday.
was down 90 points or 0.4% while down 4 points, or 0.2%, and down 33 points, or 0.5%.
Overnight, Asian stocks had mainly followed Wall Street lower, while also falling rapidly after a half-hearted bounce at the opening.
4. Walmart, Alibaba, Cisco Put Earnings Back in Focus
Walmart (NYSE 🙂 and Alibaba (NYSE :), US and Chinese Consumer Foreword, Will Provide Some Insight into Global Retail and Consumer Trends when reporting their quarterly earnings before the clock.
The releases come after Cisco Systems (NASDAQ :), a rough IT spending agent, delivered weaker-than-expected forecasts late Wednesday, causing the shares to fall above 7% in trading on demand.
Cisco (NASDAQ 🙂 upset many with a forecast of no more than 2% sales growth for the current quarter, following 6% growth in the three months to July.
upset many [19659006] Another share under pressure is Uber (NYSE :), which fell 7% to a new low at all times Wednesday, partly due to the publication of the WeWork IPO prospectus, which gave a sober reminder of how challenging the business cases behind some recent IPOs are.
5. Oil prices fell after stock-building
Crude oil prices fell again, and the US benchmark lost 1.8% of news on China and Europe. The sentiment is also hit by another increase last week. The Energy Information Agency said Wednesday that US stocks rose 1.58 million barrels, contrary to predictions of a draw of over 2.3 million.
There was further evidence of a deteriorating balance between supply and demand on Thursday. Reports suggested that Iraq, OPEC's second-largest oil producer, continued to pump over its agreed production ceiling in July, producing an average of 4.85 million barrels per day, which was little changed from June. The figures come just days after the International Energy Agency revised demand growth forecasts this year and next.
Elsewhere, the US Department of Justice sued for the introduction of an Iranian tanker that had been seized by British armed forces in July. A court in Gibraltar was to decide a case that requested release during the day.