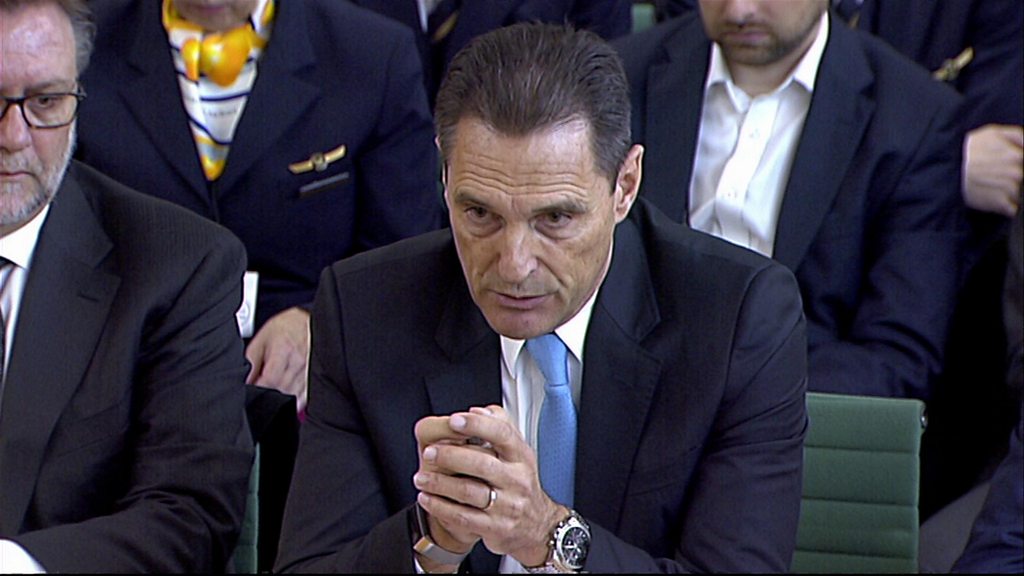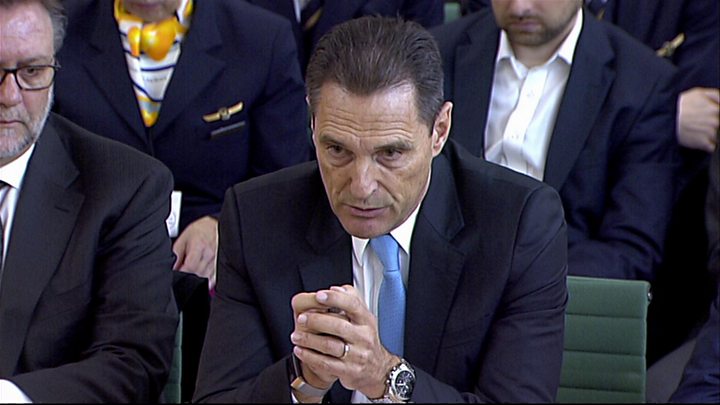 Thomas Cook's ex-boss has been grilled over a £ 500,000 bonus payment and said he was not the only one to blame for the holiday company's collapse.
Peter Fankhauser told a parliamentary committee of MPs that he was working "tirelessly" for Thomas Cook.
While sorry for the collapse, he said the causes were "not one-sided."
Committee chair Rachel Reeves, who asked Fankhauser if he would like to give back the bonus, told Mr. Fankhauser that his apologies rang "pretty hollow."
Mr Fankhauser and other members of Thomas Cook's former leadership were questioned by MPs about what led to the termination of the business on September 23, which cost thousands of jobs and left many holidaymakers stranded abroad.
Employees back to work in former Thomas Cook stores [1

9659009] Thomas Cook buyers promise to save 555 stores and 2,500 jobs
The former CEO said he did not receive a bonus in 2018 but had received a £ 750,000 bonus in 2017 – where two-thirds were cash, the rest was in shares.
& # 39;
Reeves asked Fankhauser if he would return money to repay the taxpayers for the huge repatriation program to bring back 150,000 holidaymakers to the UK and help fund payouts to employees.
He said, "I understand the sentiment in public and I understand the sentiment of some of our colleagues.
" However, what I can say for that is that I worked tirelessly to succeed in the company and I am deeply sorry for not being able to secure the deal.
"But it was not one-sided that I failed. There were several parties that had to contribute to the agreement that eventually failed," he said. Fanhauser said that after reflection, he will "consider what's right, but I'm not going to decide that today."
---
The pain of losing the job is still raw for Betty Knight. Seeing Peter Fankhauser being grilled by MPs brought a tear to her eyes, especially when Rachel Reeves talked about his failure and the damage done to staff and vacationers.
The former member of the chef's team at Thomas Cook said that some of Herrhaushauser's responses "were still embellished with arrogance". However, she gave him the credit. "I still think the last few months have been working really hard to try to turn this round," Knight told the BBC.
An employee for 13 years, she still admits to denying that the company no longer exists. "But I don't feel as angry as I did."
One thing that is still raging. Although Herrhaushaushaus explained how the management had worked tirelessly, it did not reassure her that huge salaries and bonuses were paid for failure. "They should have been paid for results," she said. "It was just the way it should have been."
---
Mrs. Reeves asked the former CEO of Thomas Cook why he was holding on for such a funding deal to save the company that he "knew would never happen"? [Fankhausersaathanvar"safe"onthisskollleske:"OtherwiseIdidn´ttrythatthatthatthatthatthatthatthatthatthatthatthatthatthat28thAugustAugustThanksFortheBankerOwners"