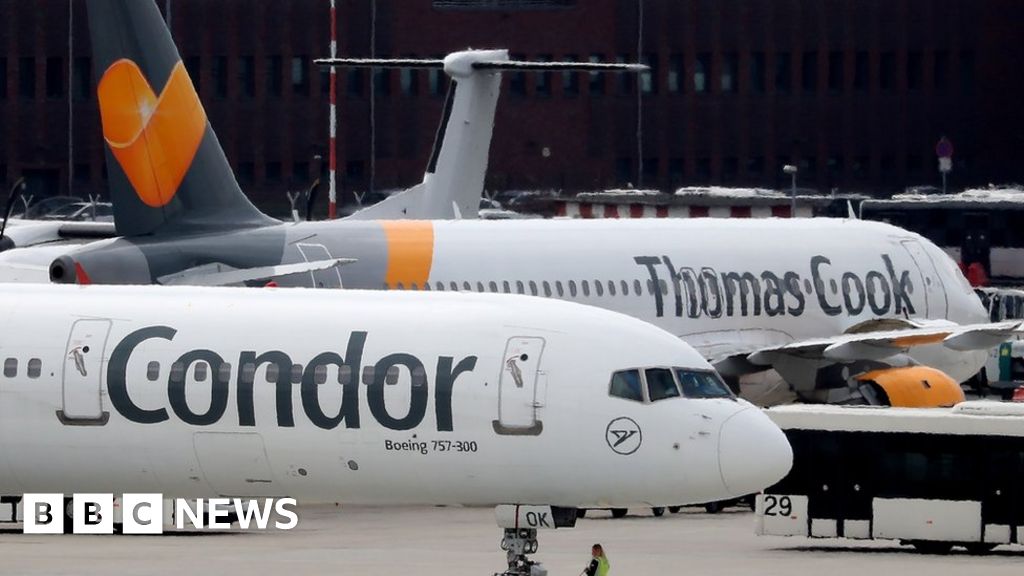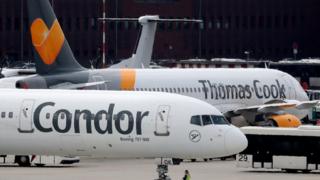 Germany is considering granting financial support to the Condor airline after Thomas Cook declared bankruptcy.
Thomas Cook, who has a 49% stake in the airline, collapsed on Monday.
Condor has sought a federal government overdraft loan and is awaiting a response, with German media reporting that the requested amount was € 200m ($ 220m; £ 1
76m). ] Thomas Cook's collapse has reportedly left 600,000 tourists stranded, including tens of thousands of Germans.
Germany's Economy Minister Peter Altmaier said the government would make a decision on financial aid in the coming days.
The government of the state of Hesse has already pledged its support, states an airline statement.
The consequence of Thomas Cook's collapse worldwide
Thomas Cook customers in shock over flight prices
"I assure you that we will do ever ything in our power and leave no stone unturned, so the fleet ours continues to bring our guests reliably to their holiday destinations around the world and back home as usual, "said Ralf Teckentrup, Chairman of Condor.
Condor has said it will not carry passengers who have booked with Thomas Cook or its subsidiaries. These passengers have been recommended to contact the tour operator.
A German official said compulsory insurance should cover most German travelers if they are stranded abroad, Reuters reports.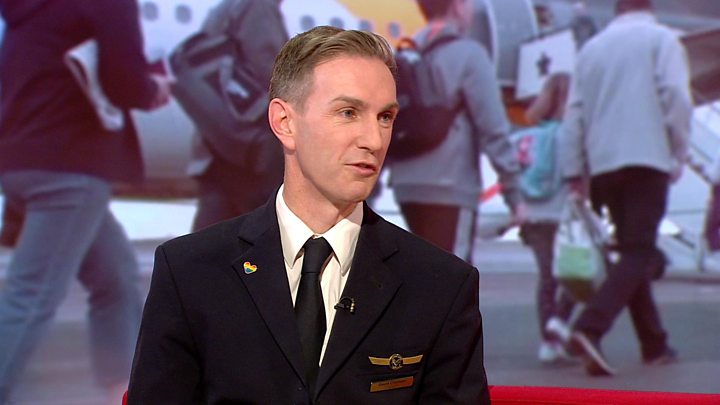 What happened to Thomas Cook in Germany?
Meanwhile, Thomas Cook's subsidiary in Germany is still operating, but has stopped taking bookings, says DW.com.
Thomas Cook's German business is considered to be in a healthier state than in the United Kingdom, where they have remained profitable, DW adds.
How have businesses around the world been affected?
There is concern in countries such as Egypt and Greece that local businesses may be affected financially by the loss of tourism.
The Gambia government has held an emergency meeting over the collapse of Thomas Cook. There is concern that the collapse will have a major impact on tourism contributing to more than 30% of Gambia's GDP
In Egypt Thomas Cook operator Blue Sky reservations until April 2020 are canceled. Bassem Halaka, chair of the Tourism Syndicate in Egypt, said that Thomas Cook "was an important organizer of charter flights from the UK to Sharm El-Sheikh" and that tourism in these resorts would be affected
In Cyprus is the loss to hoteliers and the wider economy about € 50 million, according to Cyprus's Deputy Tourism Minister Savvas Perdios. He added that hotels owed money for July, August and even September
50,000 tourists are stranded in Greece according to the Minister of Tourism. Grigoris Tassios told local television that the hotels were expected to lose payments over the past two months. He said hotel companies would try to collect money from Thomas Cook in court
In India Goa's Travel and Tourism Association said the loss of Thomas Cook is a "big, big blow to the industry . "
Spain's Balearics face millions of euros in losses. Thomas Cook has a tax office in Palma with hundreds of employees, and also works with 20 hotels in the Balearic Islands and 20 in the Canary Islands
Turkey Hoteliers Federation (TUROFED) has warned that the country could miss up to 700,000 tourists in year due to the tour operator's collapse. TUROFED chairman Osman Ayik told Reuters: "There are a large number of small businesses whose fates depend on Thomas Cook, especially in Mugla, Dalaman and Fethiye." He added that some small hotels in Turkey still owe around £ 100,000 – £ 200,000 ($ 125,000 – $ 250,000)
Source link