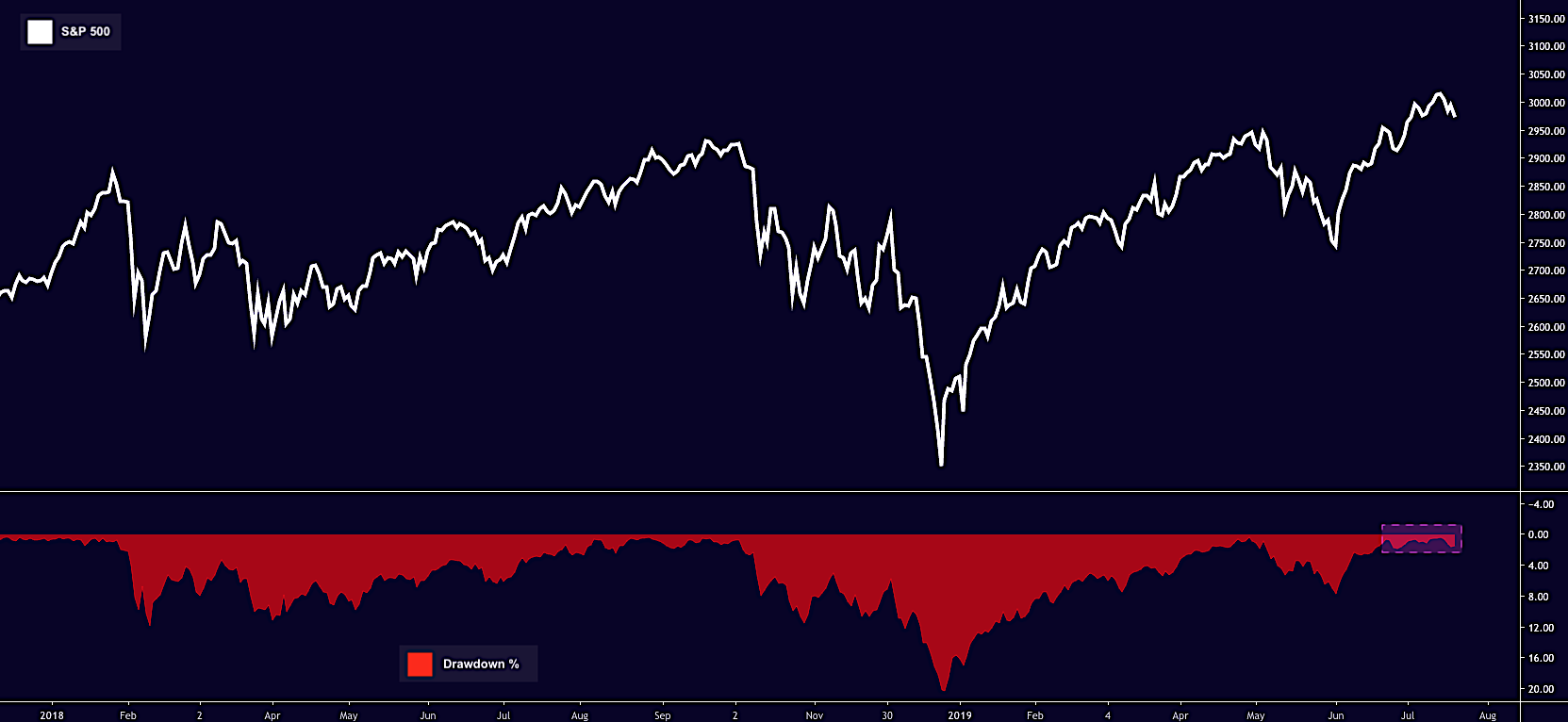 The Fed is in the blackout window in front of the July FOMC, and so mercifully.
As we saw on Thursday, the market is extremely sensitive to communication around the likely extent of the upcoming price decline (ie, "Will it be 25 bp or 50?"). John Williams fumbled efforts to extend the virtues to "go big" (so to speak) out of the gate when operating near the bottom of the floor, emphasizing the idea that we have reached the point of reducing Fedspeak's return. An insurance downturn is coming, recent data (eg, the June job report and a hot report about the core price) will not deter the Fed, it is a case of 50 bp based on academic literature, but 25 bp is more likely ̵
1; we all get it. Further development is not required.
With the Feds lips zipper, the market will focus on earnings and geopolitics, and I just wanted to make a few quick points for the readers here ahead of what promises to be an interesting week.
Firstly, a simple observation: Waiting for dips to buy and securing of reduced risk has not seemed so good since may sell. Although US stocks come out of their worst week since May, the average count has recently been shallow.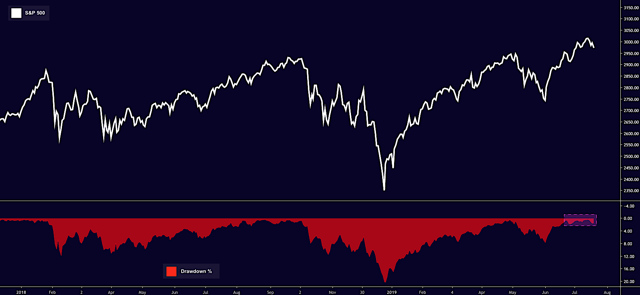 (Heisenberg)
It is a simple diagram, and purposefully so. The last several times, things have looked like they are now, there were problems in the offing.
That does not mean that things must go "wrong" at any time soon, and in fact there are a number of factors that argue for more gains. For example, there are some remaining opportunities for reusing / re-risking systematic investors. According to JPMorgan's Marko Kolanovic, systematic stock exposure puts around 60%, and the absence of an external volatility shock is likely to increase further. In addition, the dealer's gamma profile should keep things "pinned" as it was. Here is a short expert from Kolanovic's last:
How stable is today's low volatility regime? Current dealer positioning in option makes them very long gamma (for example, call – put gamma exposure is over $ 40bn per 1%). Long gamma exposure keeps the volatility suppressed and will only change below ~ 2940 in the SPX. Summer also tends to have seasonally lower volatility.
From a simplified, basic perspective, valuations are stretched again. Bloomberg's mixed forward-looking P / Es are close to levels on a par with September, in the evening before October sales. That said, on Friday, Goldman claimed that if you look back over four decades on the price / book ratio and return on equity, S & P's current P / B multiple of 3.5X is not stretched. Here is a brief excerpt and a visual from the relevant note:
S & P 500 ROE increased by 30 bp to 18.9% during 1Q 2019, the highest level since 1998. Higher margins, lower taxes and higher influence all contributed to higher profitability under 1Q, while higher loan expenses and lower activity turnover reduced profitability. In addition to the financial sector, the S & P 500 ROE kept flat during 1Q for a full-time 22.2%.
The bank continues to write that there are only two sectors that stand out from the historical relationship between P / B and ROE. In particular, only consumer discretionaries and utilities have P / B multiples that are not justified by expected profitability. While Info Tech is trading over 7X on a P / B basis, the sector has the highest ROE on S & P. ​​
That said, there are problems. The outlook for corporate profitability in the US is overcast. Since the "peak surplus" in the third quarter of 2018, analysts have warned that the depreciation of the tax impulse was set to collide with a trio of margin headwinds: rising wage costs, higher interest rates and the effect of tariffs. All this, combined with tough YoY comps, explains why some are pessimistic about the company's bottom lines, especially considering where we are in the cycle.
Goldman calls the long-term ROE perspective for Info Tech bleak, as consensus sees only 2% top line growth for the sector in Q2 against 212 bp margin compression. For the broad market, the good news is that while wage inflation and tariff concerns are likely to weigh on profitability, loan costs will fall. "Since 2000, every 20 bp decline in the 10-year US Treasury return has corresponded to a 10 bp increase in S&P 500 ROE Exclusive Financials," Goldman notes.
So there is some correlation for this week's big slate of earnings reports, which of course contains several tech giants.
But while key business results and the absence of Fedspeak will give investors a chance to focus on company-specific news feeds, central banks won't miss the headlines. The ECB is on deck this week, and as you probably realize, another relief package is imminent.
Although possible, the Governing Council will cut prices at the July meeting, the ECB is more likely to use this meeting to lay the foundations for September, as a more comprehensive package will be announced before Christine Lagarde takes the reins from Mario. Draghi.
Draghi's comments in Sintra last month were described as a "whatever it takes 2.0" moments, and you are encouraged to remember that Donald Trump was not particularly enamored with the prospect of more ECB relief. In particular, the president took Twitter to call "Mario D." and subsequent tweets raised the spectrum of direct US FX interventions to weaken the dollar in case Fed cuts were offset by political policies, becoming that part of America's largest trading partner.
The Fed's deep pivot in 2019 has not succeeded in pulling the blanket under the dollar. Greenback's robustness is the result of a coherent sharp tilt from FOMC's global counterparts, continued high US prices on a relative basis, and the strength of the US economy (as opposed to depreciation and a rather deep overseas production decline).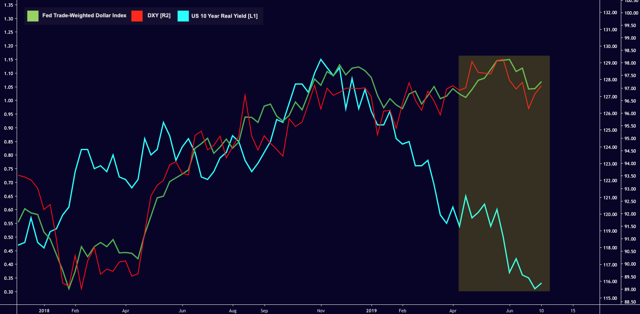 (Heisenberg)
The president's verbal intervention loses their ability to influence the market (see visually below), and then analysts in all major banks have recently weighed in on the prospects for active intervention by Steve Mnuchin.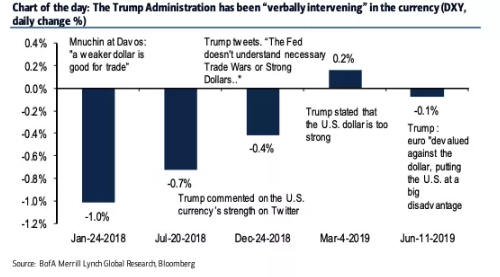 (BofA)
Why does this apply during the week? Well, the point is that you want to look for how the foreign exchange market, and perhaps just as important, how President Trump responds to the ECB statement and any Draghi verbal signals.
Meanwhile, both domestic development and geopolitics have the potential to create waves. Robert Mueller testifies to Capitol Hill this week, and I don't think I have to explain why every financial news network in America should run part of the screen along with their market coverage. In addition, the situation in the Gulf became considerably tougher Friday afternoon, when Iran seized a British thought.
In terms of volatility, you will notice that the VIX is actually higher now than it was when the majority of S&P levels over 2,400 were crossed.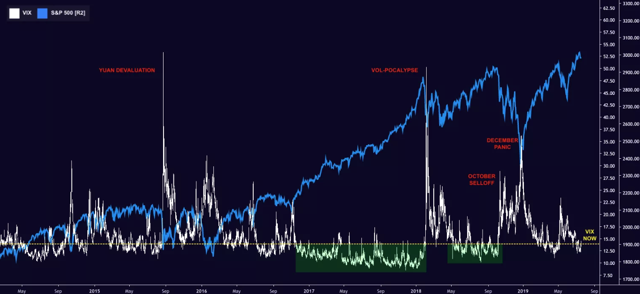 (Heisenberg)
Having said that, considering that potential catalysts have come from revenue to geopolitical tensions towards full domestic policies to prospects for renewed trade escalation, a 14-trades VIX seems a bit sanguine. As Goldman said last week, the combination of [event risk] and the weakening of economic growth looks at very low volumes. "
In other words, there is no time to let your guard down. Even if you do not want to be exposed to any Fed speakers.
Enlightenment: I / We have no posts in any of the listed shares and no plans to start any positions within the next 72 hours. I wrote this article myself, and it expresses my own opinions, I do not receive compensation for it (other than from Seeking Alpha). a company whose stock is mentioned in this article.