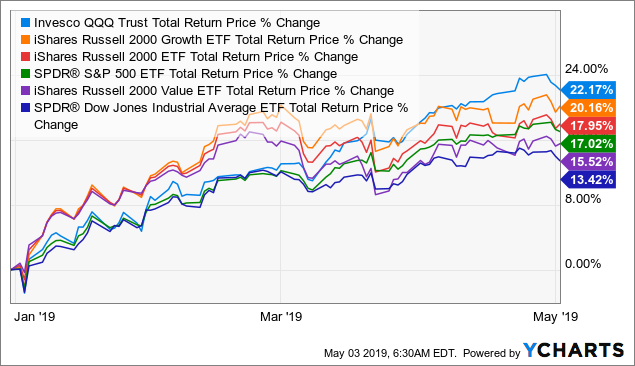 Breaking news
Q1 / 2019 earnings
IPO valuations.
The interesting thing about these three unrelated pieces is that, while some investors think they make perfect sense, others view them as a clear sign that we are at, or near, another tech bubble.

In this article, I wish to touch upon these three pieces and let you decide for yourself if this market looks rational or somewhat disconnected to you.
1. Berkshire Hathaway Buying Amazon
On 5/15/1997, a small company priced its IPO, with selling 3M shares for $ 16 / share.

22 years later, Amazon.com Inc. (AMZN) has a market cap or $ 936B, and $ 1

0,000 invested in its IPO are now worth $ 1,118,012.50.
In an interview Warren Buffett gave CNBC, he revealed that Berkshire Hathaway Inc. (BRK.A, BRK.B) now has a stake in the giant online retailer:
One of the fellows in the office that manage money … bought some Amazon
Buffett added that is a fan of Amazon and admitted to be "an idiot for not buying." [Idon'tknowif"idiot"istherightwordbutIcan'thelpmyselfwonderingwhetherthispurchasemakeshim(orBRKforthatmatterlessormoreidiot than he is / was (or they are / were) beforehand ? …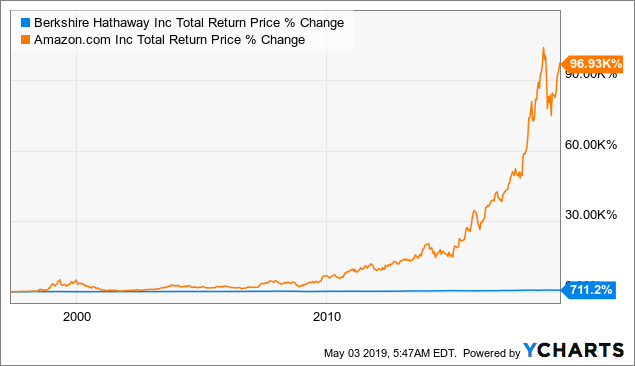 On one hand, I fully understand BRK's "if you can't beat 'em, join' em" approach. On the other hand, the idea of ​​investing is "buy low, sell high", isn't it? …
2. Advanced Micro Devices' Reaction to Earnings
On 4/30, after the market closed, Advanced Micro Devices Inc. (AMD) reported its earnings for Q1 / 2019.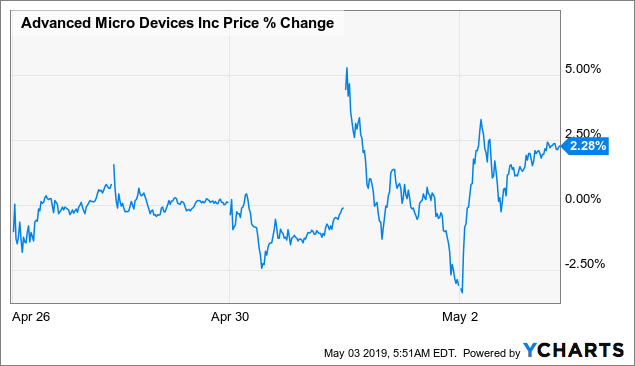 Allow me to try and give you a helping hand here, by looking at the past year trends. While AMD's revenues and EPS keep sinking, the stock price is rising …
In addition, when you put all the recent talks about AMD gaining market share on the expense or Intel (INTC) in the right perspective, AMD share price makes even less sense.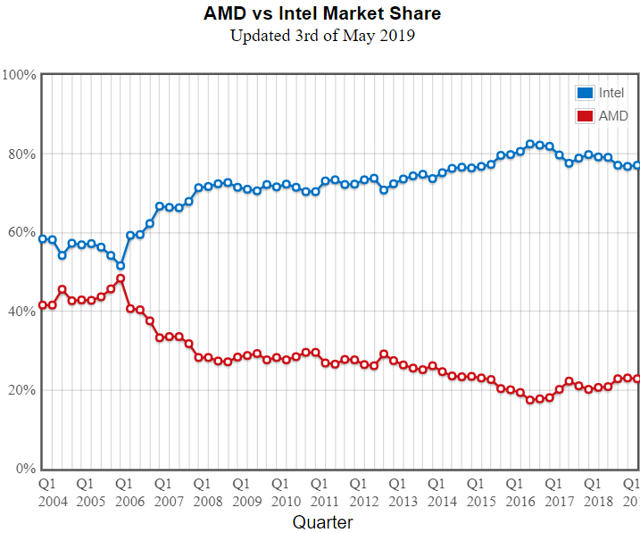 Source: Cpubenchmark.net
On the other hand, based on its arch rival's valuation, it seems like AMD already took much of INTC market share; at least on a relative market-cap perspective …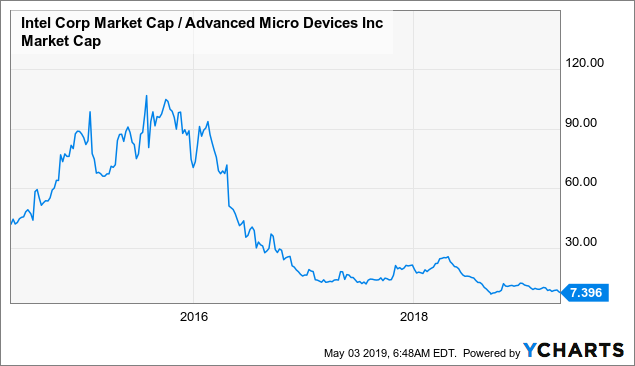 3. IPO Valuations
The markets are at, or near, all-time highs.
Stocks are enjoying the best start since 1987, with the main indexes double-digit returns YTD:
Invesco QQQ Trust (QQQ) + 22.2%
iShares Russell 2000 Growth ETF (IWO) + 20.2%
iShares Russell 2000 ETF (IWM) + 18.0%
SPDR® S&P 500 ETF (SPY) = 17.0%
iShares Russell 2000 Value ETF (IWN) + 15.5%
SPDR® Dow Jones Industrial Average ETF (DIA) + 13.4%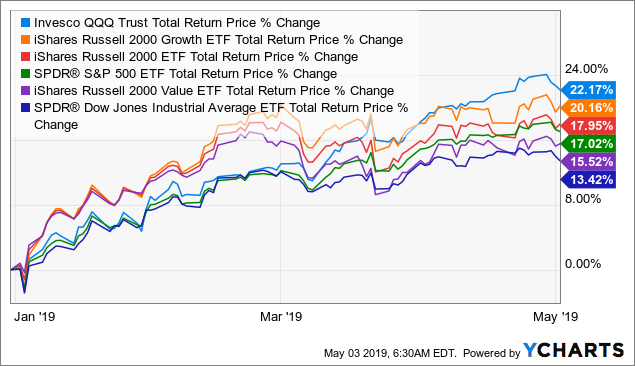 Technology and growth are leading the way, but is really (and fully) justified?
Take a closer look at the Y / Y revenue growth of the FAANG gang:
Facebook (FB): +26 % >>> Slowest in company history!
Apple (AAPL): -5% >>> Slowest since Q3 / 2016
Amazon (AMZN): + 17% >>> Slowest since Q1 / 2015
Netflix (NFLX): + 22% >>> Slowest since Q2 / 2013
Google / Alphabe t (NASDAQ: GOOG) (NASDAQ: GOOGL): + 17% >>> Slowest since Q3 / 2015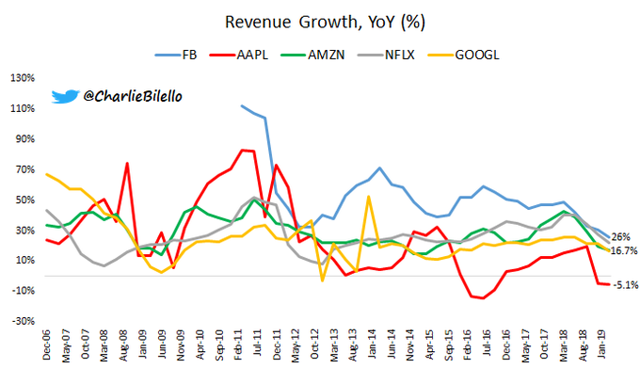 It's no wonder that investors are betting over £ 1B against a trio of unicorns that were recently IPO-ed: Lyft Inc. (LYFT), Pinterest Inc. (PINS), and Zoom Video Communications Inc. (ZM). 19659031] These companies don't make a profit, as yet, so investors completely rely on their price-to-sales (P / S) ratios. The median P / S ratio of five * or the biggest tech IPOs in 2019 is 17x.
* LYFT, PINS, ZM, Beyond Meat (BYND) that saw its share price climbing 163% in its first trading day (versus the IPO pricing at $ 25 / share, and Uber (UBER), which is set to issue at / close to $ 50 / share.
As a reminder, P / S ratios between 1 and 2 are generally considered good, and ratios of less than 1 are considered excellent. As with all equity valuation metrics, average P / S ratios can vary significantly between industries / sectors. Nonetheless, even if we allow tech stocks to trade at much higher ratios – due to their strong and growing revenue streams – 17x multiple is way off the chart / standard.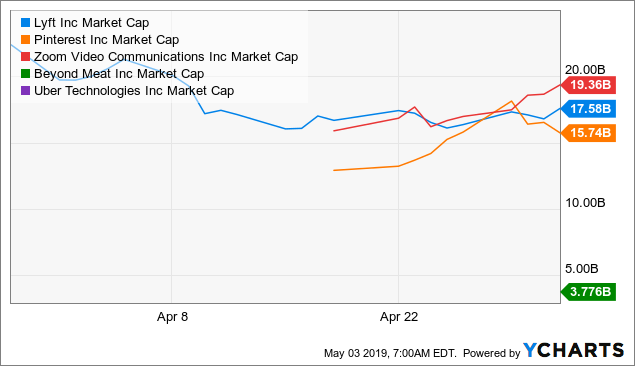 As I wrote right at the beginning in this article, I'm not going to draw any conclusion here, rather every reader makes his / her own mind about it. The Wheel of FORTUNE is a most comprehensive service, covering all asset classes: common stocks, preferred shares , bonds, options, currencies, commodities, ETFs, and CEFs
Take advantage of the two-week free trial and gain access to our:
Monthly Review where all trades are monitored
Trading Alerts . We don't trade every day, but we issue one trade by trading day, on average.
Model Portfolio comprised of ETFs & CEFs; Getting Ready For 2019 ", a 19-part series, featuring our approximately-100 top picks across eleven sectors plus eight segments.
Disclosure: ] I am / we are short AMD. I wrote this article myself, and it expresses my own opinions. I am not receiving compensation for it (other than from Seeking Alpha). I have no business relationship with any company whose stock is mentioned in this article.