Business
The sushi chain is suing the high school student who licked the soy sauce bottle for $480,000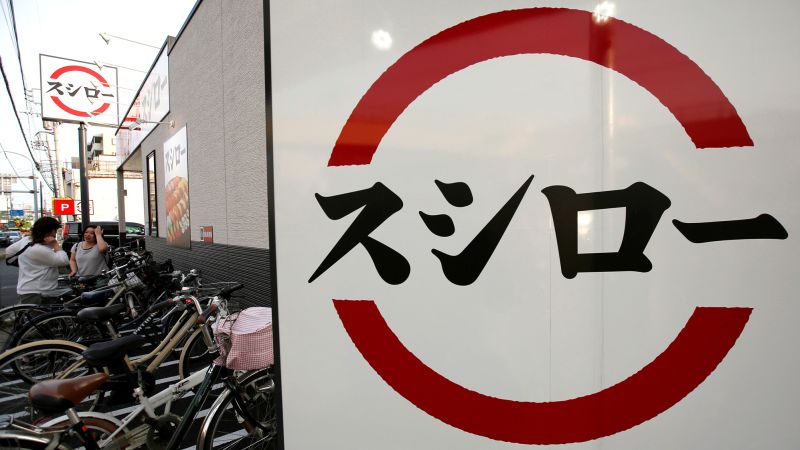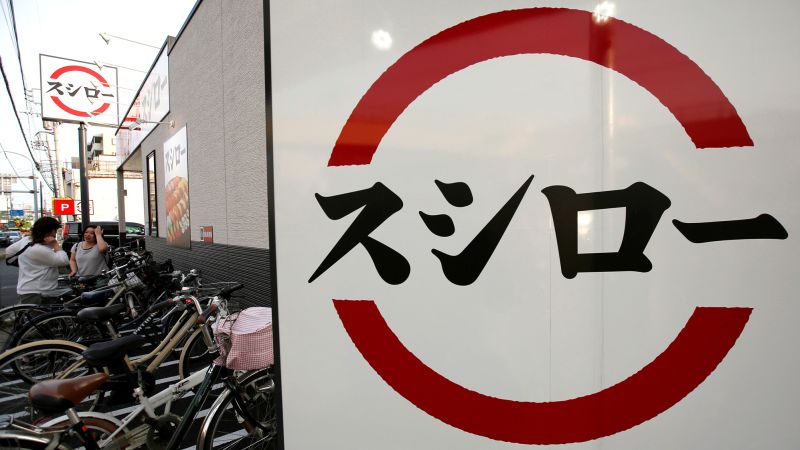 Issei Kato/Reuters
A file photo showing the logo of sushi restaurant chain Sushiro, operated by Akindo Sushiro Co., outside a restaurant in Kawaguchi, Saitama Prefecture, Japan.


CNN
—

A sushi chain is suing a junior high school student for 67 million yen ($480,000) after social media footage showed him licking his finger and then touching a plate of sushi as it passed him on a conveyor belt, Japan's public broadcaster has reported.
Akindo Sushiro Co., which operates the Sushiro restaurant chain, claims to have suffered a sharp drop in customers after footage of his actions at a Sushiro outlet in the city of Gifu went viral, according to Japanese broadcaster NHK.
The footage of the student also showed him licking a soy sauce bottle and a cup which he then placed back in a communal pile.
The short clip was widely shared in Japan after it was uploaded in January and was one of a number of similar videos – including from some of Sushiro's competitors – that helped give rise to the term "sushi terrorism".
The term is widely used to refer to unsanitary practices at Japan's sushi train restaurants, where customers pick dishes from conveyor belts.
Akindo Sushiro Co. filed the lawsuit at the Osaka District Court. It claims to have lost about 16 billion yen ($115 million) after the release of the video due to a sharp drop in customers and a decline in the shares of its parent company, NHK reported.
NHK said the student's legal adviser wrote to the court in May asking it to dismiss the complaint. It said the student had admitted the act and was remorseful for his actions, but added there was no evidence of a link between his actions and the decline in customers at the sushi chain. It suggested that the decline in customers may be due to fierce competition in the industry, NHK reported.
Akindo Sushiro Co. told CNN they would refrain from providing details about the case because it was on appeal.
It added that the circumstances leading to the lawsuit showed that it took seriously conduct that undermined the trust relationship with customers and was willing to take strict action on both criminal and civil grounds.