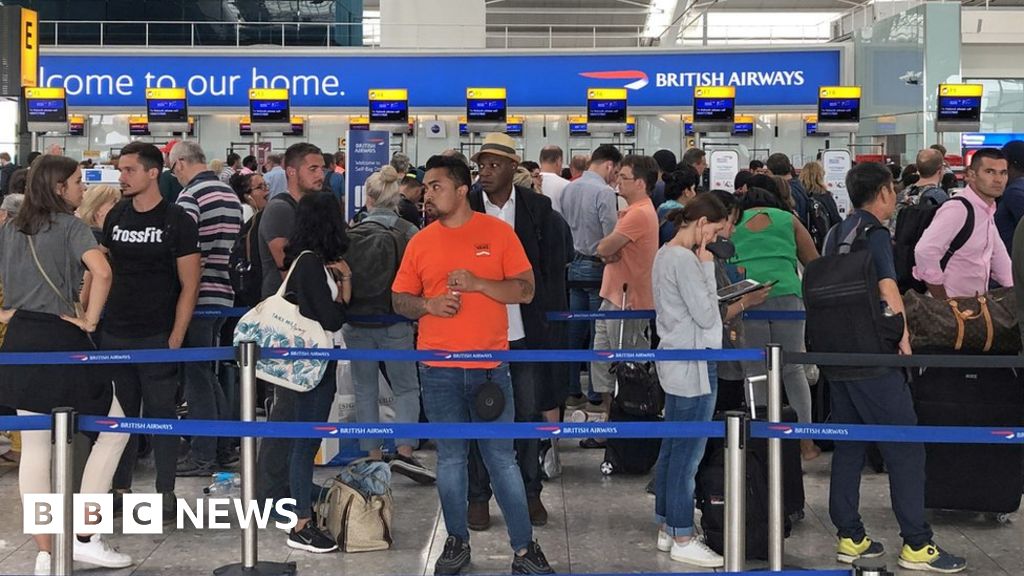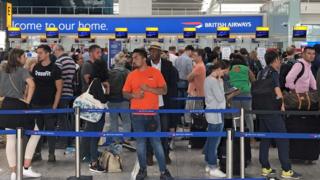 Air passengers at two of Britain's largest airports are hit by more disturbances caused by a problem with the country's air traffic control system.
It comes after Heathrow and Gatwick had already endured a day of cancellation and delays due to aircraft storms after the week's heat wave.
The British air traffic controller said the situation would improve now that it had solved the problem.
Rail delays caused by extreme heat also began to ease on Friday.
The Met Office said Thursday potentially be the UK's hottest ever day after it received a preliminary recording of 38.7C at the Cambridge Botanic Garden.
The reading will require "quality control and analysis" over the next few days, says the prosecutor.
Official numbers, which recorded 38.1
C in Cambridge, already set Thursday the hottest July day on record and Britain's second hottest day.
---
& # 39; No idea what to do & # 39;
Mark Pickering was scheduled to fly to Singapore on his way to Sydney, but his flight from Heathrow was canceled on Thursday night due to "spoiled" food caused by the hot weather.
He waited for the airport at 2:00 BST Friday morning, before getting a hotel and returning at 7am to try again.
"I still don't know where my bags are, and I have no idea what to do when I finally come to Singapore because I've missed my flight connection by age," he said.
"When the flight was interrupted last night, there was a line of about 300 to 400 people and no one really knew what was happening. There was a person at the check-in desk."
Diane Styant, who was booked to fly on the same flight to Singapore as Mr Pickering, said she couldn't get any accommodation on Thursday night.
She said that she had to sit on an upright chair on a coffee shop until 3:30, when she and the man joined the queue in departures for rebooking.
After more than four hours, they were able to book another flight on Friday.
"Our precious annual vacation to visit our family living in Singapore has not come well," she added.
---
Friday has been cooler than Thursday, with temperatures ranging from 23C to 25C in most areas (73F to 77F), and rose to 27C in southeastern England. [19659007] During the day, it is expected to be most dry, but rain is expected to develop over the northern and eastern parts of the UK overnight.
The disruption of flights on Friday was caused by storms all over Europe.
A "technical problem" at Swanwick Air Traffic Control Center on Friday morning also caused problems in Heathrow and Gatwick.
Britain's air traffic controller said in the afternoon it had "solved the problem sufficiently to safely increase traffic flow and will see an improving image throughout the rest of the day."
The European Air Traffic Agency, Eurocontrol, said the problem was caused by a "problem" with radar screens. "
Both Heathrow Airport and Gatwick asked passengers to check with airlines before traveling.
British Airways said severe thunderstorms had caused" significant delays and cancellations in our business in and out of London. "
The Independent's travel editor, Simon Calder, said" dozens "of the canceled flights were on easyJet and there were" some very long delays on British Airways. "
At London Liverpool Street Station Friday Tonight, social media passengers said that all trains had been canceled and left behind stranded.
Author Erica James described the scene at the station as "hell," while other rail travelers Ross Brereton warned others on Twitter to Elsewhere there were disturbances on the Midland Main Line between London St Pancras and Sheffield and on services run by the Great Northern, Thameslink, East Midlands Trains and West Midlands Trains.
West Midlands Railway said that there was still ongoing work to repair the damage and that many trains started the day out of place, resulting in cancellations and shorter trains.
Passengers using Eurostar services il and from Paris are also facing "serious disturbance" due to problems with overhead lines in the French capital.
Many operators said Friday tickets could be used the following day and offered compensation to season ticket holders who did not travel on Thursday.
Anthony Smith, managing director of independent watchdog Transport Focus, said: "All passengers who requested not to travel due to extreme weather should be entitled to claim compensation."