Business
The Evergrande share plunges 20% to a new record low as the fear of default reappears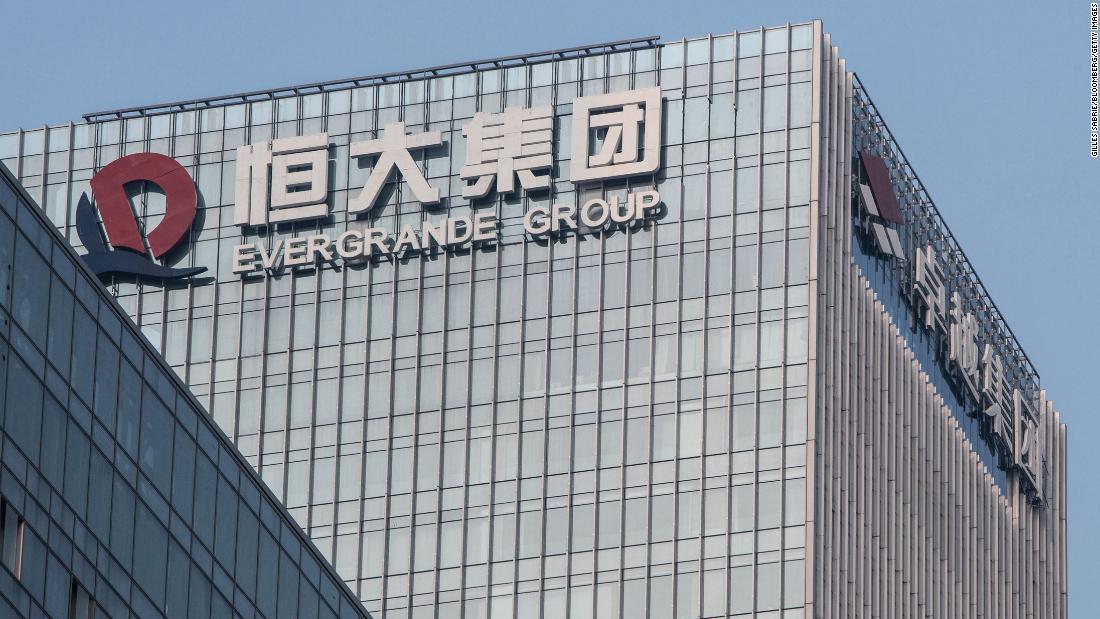 Evergrande's share closed down 20% to 1.81 Hong Kong dollars ($ 0.23), the lowest since it was listed in Hong Kong in 2009. It has lost 87% of its value since the beginning of the year.
The company, which has about $ 300 billion in total liabilities, warned late Friday that it may not have enough funds to meet its financial obligations. It faces an immediate test of the ability to repay creditors on Monday with the expiration of a 30-day deadline on interest payments on bonds in dollars.
"Given the current liquidity status … there is no guarantee that the group will have sufficient funds to continue to fulfill its financial obligations,"[ads1]; Evergrande said late Friday in a stock exchange file. The company "plans to engage actively" with offshore creditors about a restructuring plan, it added.
The provincial government in Guangdong, where Evergrande is based, said they had convened Evergrande's chairman Xu Jiayin for a meeting Friday night. In a statement, the government said it would send a working group to Evergrande to oversee risk management, strengthen internal controls and maintain normal operations, at the request of the company.
Meanwhile, in a series of seemingly coordinated statements, three Chinese regulators – the People's Bank of China, the banking and insurance regulator and the securities regulator – said any spillover risk from Evergrande to the real estate market, homeowners and the wider financial system could be controlled.
The regulators also repeated previous allegations that the company had run into problems through a combination of poor management and blind expansion.
Evergrande has struggled to raise money to repay lenders, and Xu has even sold out personal assets to support the economy. So far, it seems that the company has avoided defaulting on any of its listed offshore bonds by paying interest due before the deadline for each of these obligations.
Friday's warning is nevertheless a sign that the company may not be able to make further payments within the debt deadlines.
In the filing, Evergrande also said that they had received a claim from creditors to fulfill the promise to guarantee a payment of 260 million dollars. Creditors can demand an accelerated repayment if the company is unable to meet its debt obligations, it added.
The collapse of Evergrande stocks and other real estate stocks weighed on Hong Kong's benchmark Hang Hang index on Monday. It fell 1.8%, also damaged by heavy losses in Chinese technology stocks that fell on Friday in New York after Didi's abrupt decision to leave Wall Street just five months after it was listed there.
The Hang Seng Tech Index, which tracks the 30 largest technology companies listed in the city, fell 3.3% to its lowest level ever.
Alibaba
(

BABY

)
lost 5.6 percent.
Baidu
(

START

)
fell 5.7%, and
JD.com
(

JD

)
fell 4.9%.
Other Asian indices were mixed. Japanese
Nikkei 225
(

N225

)
ended down 0.4%, and China
Shanghai composite
(

SHCOMP

)
was down 0.5 percent.
Dow and S&P 500 futures ticked higher on Monday after Friday's loss. Dow futures were up 178 points, or 0.5%. S&P 500 futures were also 0.6% higher. But Nasdaq futures fell 1.2%, continuing the downward spiral after a 1.9% drop in the index on Friday.
Technological sales expanded to cryptocurrencies over the weekend. Bitcoin plunged more than 20% on Saturday, before recovering some losses on Sunday. On Monday, the digital token traded around $ 48,159, according to CoinDesk.