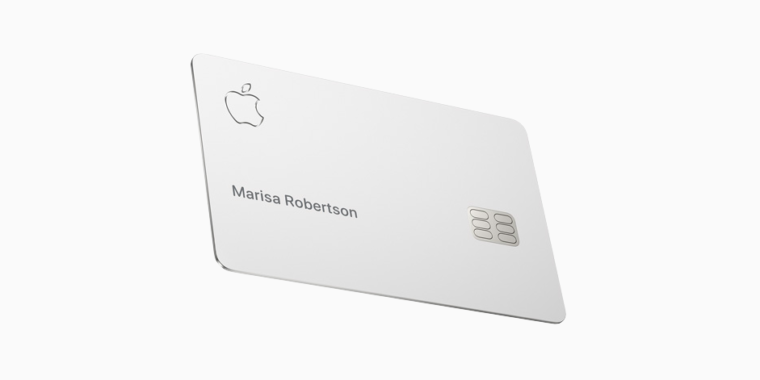 The Apple card is first and foremost a virtual card – which means you make contactless or electronic payments using your phone or other supported Apple devices.

There's also a prestigious, very Apple-like physical card that you can order.

A dashboard built into iOS on iPhones lets you manage your card.

Apple may send you alerts to remind you when payment is due.

Apple is attempting to make transactions in transaction history appear with their real names, with other useful data, instead of unreadable codes or the like.

As with almost all first-party credit card apps, you can track purchases by category.

The dashboard card image is color-coded based on how you spend your money. Each purchase category has a similar color.

The dashboard has an overview to estimate how you can pay off what you owe with or without interest.

It's also a way to see how much "daily cash" (it's the cash-back reward program) you earn and how.
Applications for Apple's new digital credit card, simply called the Apple Card, are now available to all iPhone users in the United States. This follows a brief period when Apple offered early access to a select number of customers who signed up and a test for employees only before that.
Apple Card is a MasterCard supported by Goldman Sachs, and it is primarily managed and used in the Wallet app on iPhones running iOS 12.4 or later. Users can track their expenses, pay the card, order a physical card and more from the app.
Apple aimed to address a few common credit card complaints with this product – for example, the history of credit card transactions is often cryptic, and it is sometimes difficult to determine which vendor was charged for if the abbreviated name behind the charge do not agree with the seller's public name; Apple Card's transaction history displays full vendor names, along with images of the colors that match the expense category whenever possible.
Additionally, Apple Card offers 3% cash back on purchases made in Apple's store or services such as App Store or Apple Music, 2% cash back on all other purchases made using Apple's digital payment system, and 1% cash back on purchase made with the physical titanium card Apple sent to digital cardholders on request.
Other key selling points for Apple's target customers are transparency on transactions and fees, tools to make it easy to pay off your balance, and various privacy and security protections that are unusual on many other cards. Users also have access to customer support via the iPhone Messaging app and to Apple Maps transaction locations.
While commentators in the press often speculated that it would be a somewhat exclusive card because of the ties to Goldman Sachs, a bank that does not usually serve the lower end of the market, users in the early access periods found that the majority of people can Apply for the card and be accepted, although credit limits range from a few hundred dollars to many thousands, depending on the applicant's income and other factors.
Users can apply for the card in the Wallet app starting today if they have iOS 12.4 or later installed.
In addition to launching the card for all iPhone users, Apple announced new cashback providers. Apple Card will offer 3% back on purchases from Uber or Uber Eats now, in addition to purchases from Apple itself. "Apple Card will continue to add more popular merchants and apps over the next few months," promises Apple's blog post.
Listing image of Apple
Source link