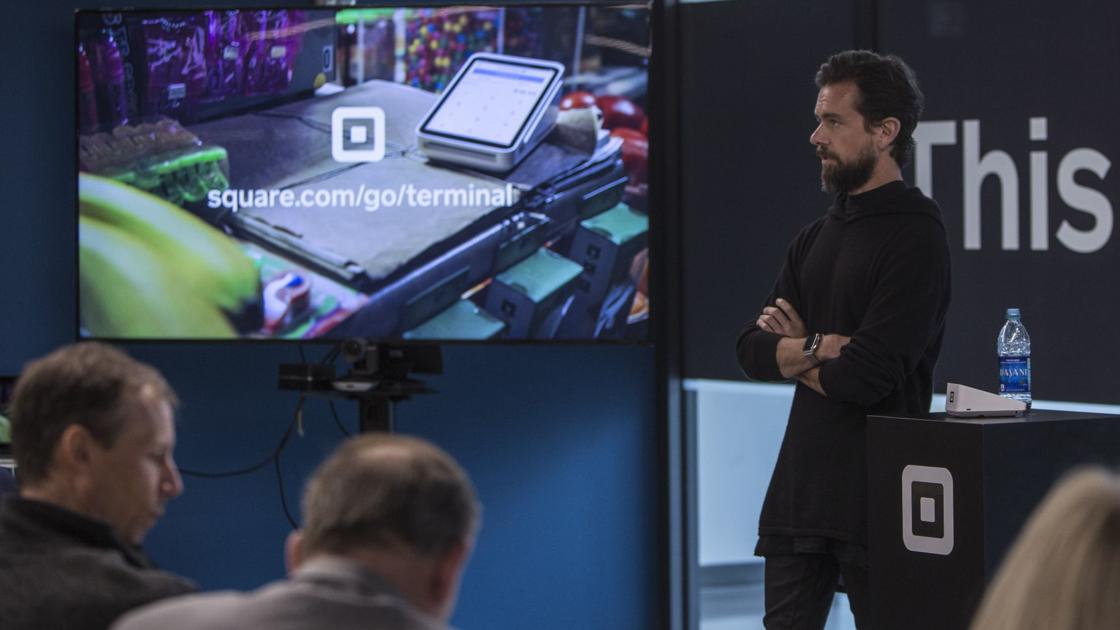 ST. LOUIS – Square Inc. has signed a 15-year lease for the St. Louis Post-Dispatch headquarters building center in a deal that allows the Silicon Valley firm to be founded by St. Louis native Jack Dorsey and Jim McKelvey to more than double the workforce here.
"St. Louis has been a fantastic home and partner for us, "Dorsey said in a statement. "This city has so much energy, and we're excited to be a part of it."
Post-Dispatch, which will move to 901
North 10th Street next month, sold its long-standing 900 North Tucker home to McKelvey's StarLake Holdings in September. A replacement tenant for the 1931 structure, which was built for the now defunct St. Louis Globe Democrat and became Post-Dispatch headquarters in 1959, had not been identified, though McKeely's ownership led to speculation that Square views it as a regional office. McKelvey is a member of Squares board; StarLake also owns the 10th Street building.
Square already employs about 500 people in the thriving Cortex technology district of the city's Central West End – the payment processing firm's second-largest office behind its headquarters in San Francisco – with office apartments there allowing it to grow to about 700 people.
But Dorsey, in town in October to launch the new Square Terminal credit and debit card reader unit, referred to a probable downtown office as the company continues to grow jobs here. Mayor Lyda Krewson had then suggested that adding workers downtown would be the biggest help for St. Louis. She said last week that the "strength of the region" is linked to the center's strength.
"I definitely think the core of the region is downtown St. Louis," Krewson said.
The Post-Dispatch building lease would allow Square to accommodate as many as 1,400 local employees, and the company plans to move all Cortex employees to the downtown building over the next few years. Downtown, with a vacancy rate of around 15 percent, has among the lowest office rental rates in the region, while Cortex is often much more expensive. Still, the St. Louis region is far cheaper than the coastal markets where technology companies such as Square gather.
Square rents nearly the entire 235,000 square foot building, leaving only about 10,000 square feet open. StarLake has just begun rehabilitating the old newspaper building, so it may be more than a year before Square starts adding staff to the center.
Many of Square's local employees are in compliance, customer support and other back-office functions. But the company has also started hiring software engineers locally, significantly because Dorsey and McKelvey moved to San Francisco in 2009 due to difficulties finding technological talent here to scale the business.
In October, Dorsey said he wanted to see software engineers eventually make up 40% of the St. Louis workforce. The office here has followed the design of other satellite offices around the world, which are first staffed by a small number of Square employees from San Francisco before training and hiring local talent.
"St. Louis is full of talent and financial opportunities, so it should come as no surprise that we continue to grow in our hometown, "McKelvey said in a statement.
The square announcement is a vote of confidence for the region's workforce and what Krewson said is growing momentum among technological and creative enterprise center Incubators for growing tech companies like T-Rex on Washington Avenue now house hundreds of employees, and some expect a further boost as the National Geospatial-Intelligence Agency opens its new headquarters and moves about 3,000 people just north of downtown in the coming years. [19659010] "A lot of the talent that Square and creative technology companies are looking to attract are people who want to live and work in the city of St. Louis," Krewson said.
Locally, McKelvey has started the nonprofit LaunchCode, which trains people for careers in the tech industry and contracts with employers who need employee training McKelvey has also made many millions of gifts s dollars to the Washington University College of Engineering in recent years – a school now bearing his name – financing the construction of a new information building, scholarships, faculty recruitment and unlimited endowment.
Dorsey was in St. Louis this month to launch a new nonprofit with Detroit philanthropist Bill Pulte, which aims to fund demolition and cleanup in the Wells-Goodfellow area of ​​North St. Louis, who is obsessed with population loss, vacancy and disinvestment. When asked about adding jobs downtown, Dorsey just said "we want to build in St. Louis."
The Missouri Department of Economic Development has already provided $ 1 million in state payroll tax cuts to the company since it opened its St. Louis office in 2015. And StarLake hopes to use state historic and brownfield tax deductions to restore the 900 North Tucker building.
Rep. William Lacy Clay, D-University City, said: "It's great to see big tech companies like Square recognize the amount of talent we have in St. Louis.
" Square has its roots in St. Louis and I'm excited to see their continued growth in our community, "he said in a statement.