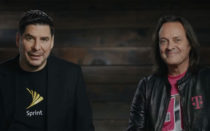 <! –
PhoneDog Media Exclusive
Download the iM5, now available in the App Store and Google Play . The iM5 is a PhoneDog Media supported social platform to inspire real action through the idea of ​​the crowds. Watch the video
->
Earlier this week, we learned that the Justice Department's antitrust manager is open to hearing T-Mobile and Sprint's 5G arguments for the merger. It was good news for those who hope that the agreement will be approved. Now it is counteracted with some not so good news for the merger.
Several states are considering a lawsuit to block the T-Mobile Sprint merger on antitrust grounds, according to sources speaking to Bloomberg . New York and California are said to be leading a group of more than a dozen states th at examining T-Mo and Sprint's deal and its effect on competition. The states have allegedly hired economists to help them in their review of the T-Mobile Sprint merger.
T-Mobile and Sprint would control around 30 percent of the US wireless market, but it would be higher in some states, and apparently some state officials are concerned. It is also said that some civil servants are concerned that political considerations may affect the Ministry of Justice's merger decision. DOJ conducts an antitrust review of the T-Mobile-Sprint merger. The states may decide to sue an attempt to block the merger, although DOJ approves it.
While the FCC has a casual 180-day clock on its review of the T-Mobile Sprint merger – paused on day 121 – there is no one to tell when DOJ can make a decision on the deal. T-Mobile and Sprint have said they expect their merger to be approved in the first half of the year, but the latest reports have said DOJ's formal agreement on the deal may be months away.
Source: Bloomberg