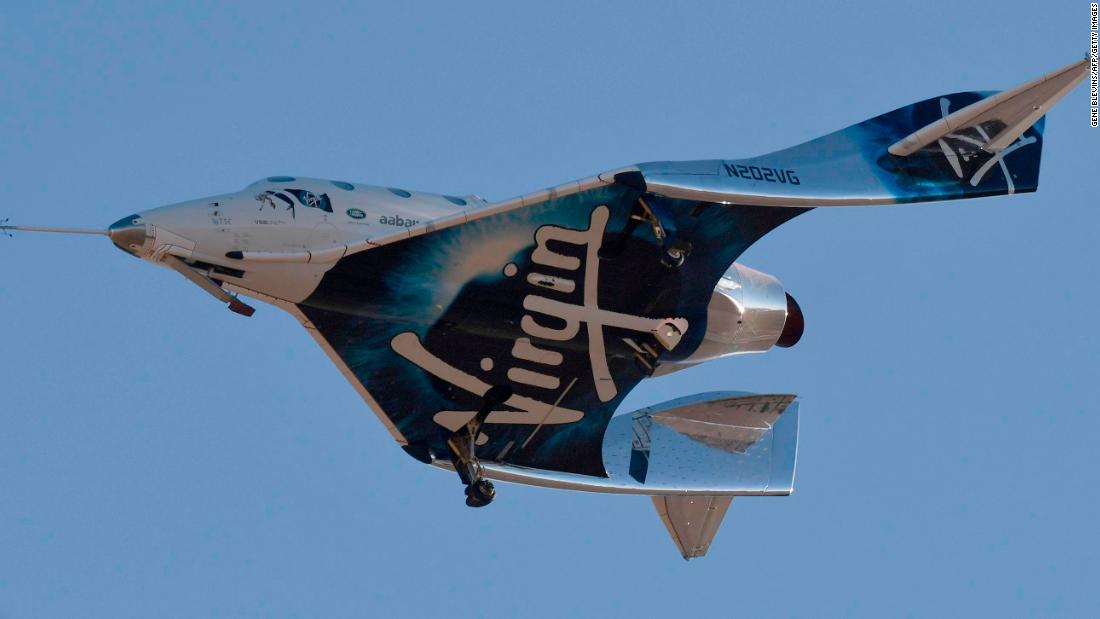 The billionaire's space tourism company will go public as part of a deal with Social Capital Hedosophia Holdings, according to the Wall Street Journal.
Social Capital philosophy
(

IPOA

)
, a special purpose acquisition company formed by venture capital firms Social Capital and Hedosophia, will reportedly pay $ 800 million for 49% of Virgin Galactic.
The agreement should help Virgin Galactic raise the money it needs to go head-to-head with space tourism companies such as Jeff Bezos' Blue Origin and Elon Musk's SpaceX.
It would be the first publicly listed company trying to get humans to space. Virgin Galactic declined to comment
2. Powell week: Jerome Powell Federal Reserve chair kicks off his big week at the Federal Reserve Bank of Boston.
Powell will appear via video conference on Tuesday at an event on stress testing, where he'll give the opening remarks.
It's a prelude to his testimony before Congress on Wednesday and Thursday. There, his remarks will be parsed for evidence that the Fed will cut rates when it meets later this, and if so, by how much.
Markets think there's a 1
00% chance that the Fed cuts rates at its July meeting, according to futures traded on the Chicago Mercantile Exchange. The job report is playing on investors' nerves.
3. Auto warnings: China's Geely, which owns Volvo and has a joint venture to assemble cars in China with Daimler ( DDAIF ) has issued a warning on 2019 sales. The company pointed to "continued uncertainties" in its local market.
Germany's
BASF
(

BASFY

), the world's largest chemicals producer, has cut its outlook for 2019, blaming the downturn in the global auto industry and the ongoing conflict between the United States and China. Shares fell 5.8% on Tuesday.
4. Markets dip: Global stocks point to another day of declines as investors wait for more information from central banks.
The Dow is poised to drop 120 points, or 0.5%, when US markets open. The Nasdaq could fall 0.7% and the S&P 500 is tracking down 0.5%.
European markets opened lower. Britain's FTSE 100 fell 0.3% in early trading, while Germany's DAX plummeted 1.3%.
That follows further declines in Asia. Hong Kong's Hang Seng fell 0.8% and the Shanghai Composite dropped 0.2%. Japan's Nikkei was the outlier, rising 0.1%.
The Dow finished 115 points, or 0.4%, lower on Monday. The S&P 500 ended down 0.5%. The Nasdaq shed 0.8%.
5. Coming this week:
Tuesday
– China inflation data;
PepsiCo
(

PEP

)
earnings
Wednesday
– US oil inventories; Fed minutes;
Bed Bath & Beyond
(

BBBY

)
earning; Powell testifies in the House
Thursday
– US inflation rate; China balance of trade;
Delta
(

DAL

)
earning; Powell testifies in the Senate
Friday
– US producer prices