Business
Police arrest at least 16 from 'hostile' strike during ongoing Sysco strike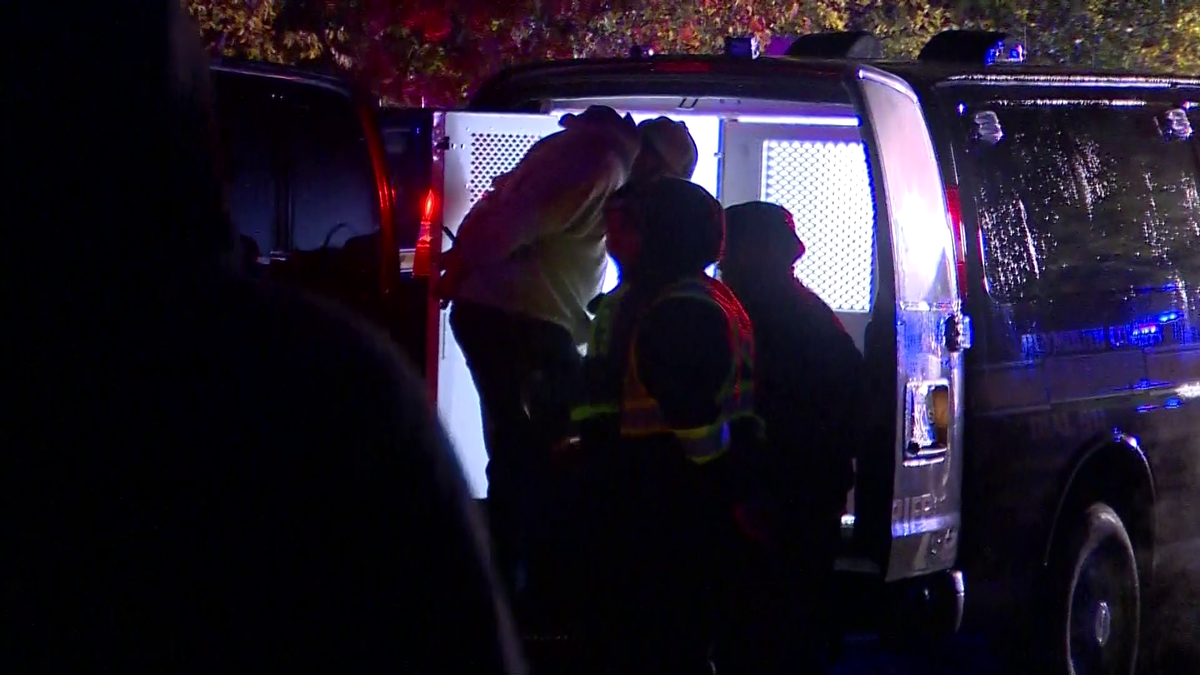 BOSTON NOW. KATIE: THANK YOU. WE ARE ON TOP OF THE NEWS OVERNIGHT. TENSE MOMENTS BETWEEN STRIKING SYSCO WORKERS AND POLICE IN PLYMPTON. OUR CREW CREATED A MASSIVE LAW ENFORCEMENT PRESENCE AND SEVERAL PEOPLE WERE LOADED INTO THE BACK OF A POLICE CAR. WE ARE NOW WORKING TO FIND OUT IF ANY ARE IN STOCK. MORE THAN 300 TEAMSTERS AT LOCAL 653 ARE LEAVING THEIR JOB O
Police arrest at least 16 from 'hostile' strike during ongoing Sysco strike
The Teamsters walked off the job on October 1[ads1]st
Hundreds of team players rallied for a picket line that turned hostile outside wholesale food distribution company Sysco Boston, leading to at least 16 arrests, police said. According to the Plympton Police Department, more than 400 members of the union gathered outside the business at 99 Spring St. early Monday. Police said the teamsters blocked both entrances with their tractor trailers. "For over two hours, we attempted to negotiate with Teamsters' strike leaders while 100 employees inside the Sysco facility were unable to leave," CEO Matthew Ahl wrote in a statement. Police said "about 16-20" people were eventually arrested. . WCVB photographers saw a massive police presence and several people being loaded into the back of a police car. The charges included disorderly conduct and assault and battery. "Unfortunately, we had to respond by removing members of the crowd who called for a hostile strike," officials wrote. More than 300 Teamsters with Local 653 walked off the job Oct. 1, shortly after their contract expired. Team members say union members were offered a 'take-it-or-leave-it' deal with the company in their dispute over insurance, pension and wage disputes." Throughout the bargaining process, Sysco Boston has been committed to achieving a competitive labor agreement for our employees and our company. While we are disappointed by Teamsters management's ongoing decision to have our employees go on strike without allowing them to vote, we respect their right to do so under the law," a Sysco spokesperson wrote in a statement Monday. "What we cannot respect is violence, disorderly conduct, threats or intimidation, on or off the picket line, directed at our employees, suppliers, customers or the public. We appreciate the quick and effective response of our local authorities in bringing the incidents overnight under control, as well as men and women committed to continuing to serve our customers and the community."
PLYMPTON, Mass. —
Hundreds of team players rallied for a picket line that turned hostile outside wholesale food distribution company Sysco Boston, leading to at least 16 arrests, police said.
According to the Plympton Police Department, more than 400 members of the union gathered outside the business at 99 Spring St. early Monday. Police said the teamsters blocked both entrances with their tractor trailers.
"For over two hours, we attempted to negotiate with the Teamsters' strike leaders while 100 employees inside the Sysco facility were unable to leave," CEO Matthew Ahl wrote in a statement.
Police said "about 16-20" people were eventually arrested. WCVB photographers saw a massive police presence and several people being loaded into the back of a police car.
The charges included disorderly conduct and assault and battery.
"Unfortunately, we had to respond by removing members of the crowd who called for a hostile strike," officials wrote.
More than 300 Teamsters with Local 653 walked off the job Oct. 1, shortly after their contract expired.
The Teamsters say union members were offered a "take-it-or-leave-it" deal with the company in their dispute over insurance, pension and wage disputes.
"Throughout the bargaining process, Sysco Boston has been committed to achieving a competitive labor agreement for our employees and our company. While we are disappointed by Teamsters management's ongoing decision to have our employees out on strike without allowing them to vote, we respect their right to do so under the law," a Sysco spokesperson wrote in a statement Monday. "What we cannot respect is violence, disorderly conduct, threats or intimidation, on or off the picket line, directed at our employees, suppliers, customers or the public. We appreciate the quick and effective response of our local authorities in bringing the incidents overnight under control, as well as men and women committed to continuing to serve our customers and the community."
This content is imported from Twitter. You may be able to find the same content in a different format, or you may find more information on their website.