Business
Pfizer says most of the tornado damage at the North Carolina plant was to warehouse facilities, not production lines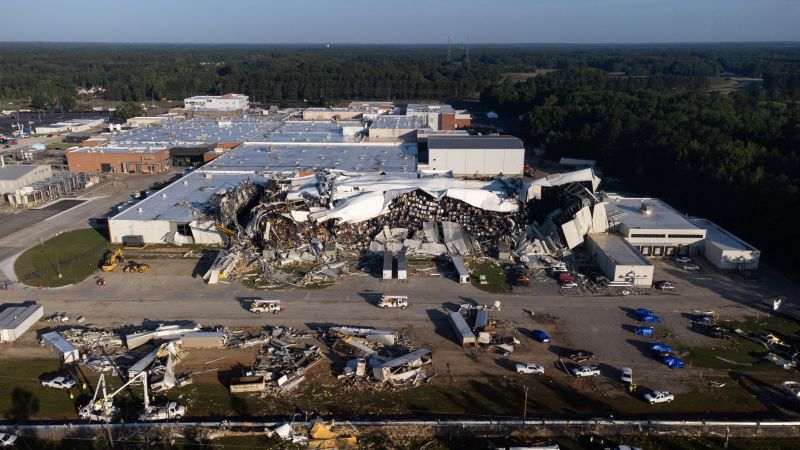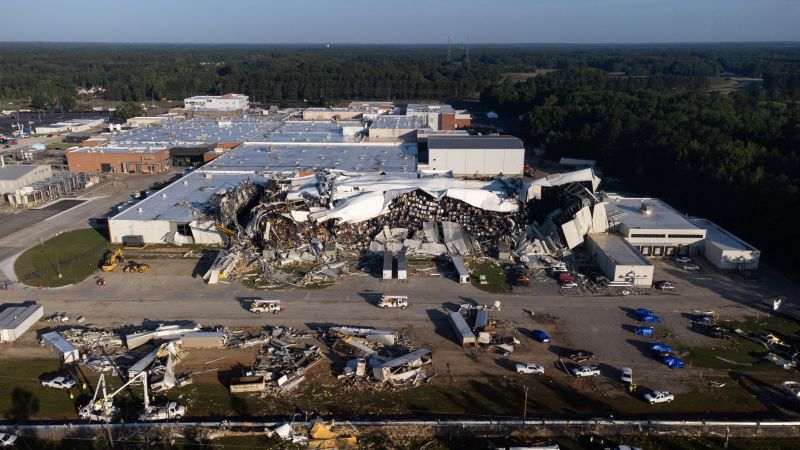 CNN
—

Most of the damage from Wednesday's tornado at a large Pfizer plant in North Carolina was at a warehouse facility, rather than areas that manufacture drugs, the drug giant said Friday.
The plant remains closed while the damage is assessed, and Pfizer CEO Albert Bourla said in comments at the site that it would take weeks, not days, to be back online, though he said he could not speculate on an exact time frame.
"We are dealing with a major disaster in terms of injuries," Bourla said at a press conference on Friday. "We have a monumental task ahead of us."
Pfizer said it is "committed to quickly restoring full functionality to the site, which plays a critical role in the US health care system," and noted that it is working with US Food and Drug Administration Commissioner Dr. Robert Califf, North Carolina Governor Roy Cooper and other state, local and federal officials on the effort.
The company said it supplies about 8% of all sterile injectable drugs used in U.S. hospitals, and this plant, in Rocky Mount, accounts for a quarter of that. An earlier fact sheet had suggested that the Rocky Mount facility itself was responsible for more than 25% of all sterile injectables used in US hospitals.
Drug shortage experts are concerned that the natural disaster could worsen an already historic crisis in access to medicines in the United States.
Bourla said Friday that the company's top priority is to minimize supply disruptions, promising that "no American will feel the lack of medicine" in hospitals.
Pfizer did not provide a detailed list of products made at the facility, but US Pharmacopeia, a nonprofit organization, said its Medicine Supply Map identified more than 150 drugs made at the facility, about half of which are on the FDA's list of essential drugs. It said the review shows that many of the products made at the facility have been in short supply recently and were already at risk of shortages before the tornado.
USP said the products made there include electrolytes such as potassium chloride and magnesium sulfate, which are used for conditions including severe dehydration, cardiac arrest and metabolic acidosis; and anesthetics and analgesics, used in hospitals to control pain, including controlled substances such as morphine and fentanyl, which can be used for pain management for cancer patients or in emergency care.
The fact that warehouses suffered most of the damage rather than production lines, manufacturing experts had suggested, could mean that potential shortages would not last as long as if drug production were curtailed.
The company said the warehouse stores raw materials, packaging and finished medicines waiting to receive quality assurance. Bourla said crews are on the scene working to restore power and assess the structural integrity of the buildings.
Pfizer said it is working to move products to other nearby locations for storage and to find ways to replace damaged raw materials and supplies, and is looking at alternative manufacturing sites in the United States and internationally, both through its own sites and through partners. Bourla said facilities being considered include one in Sanford, North Carolina.
Bourla noted that employees at the Rocky Mount site, where 3,200 Pfizer employees and contractors work, were able to safely evacuate and reach storm shelters before the tornado hit Wednesday. He did not say how long the plant would be closed, but said all workers would be paid for the duration. Pfizer also said it would donate to the American Red Cross North Carolina Chapter and the United Way Tar River Region to help support the community as it rebuilds.