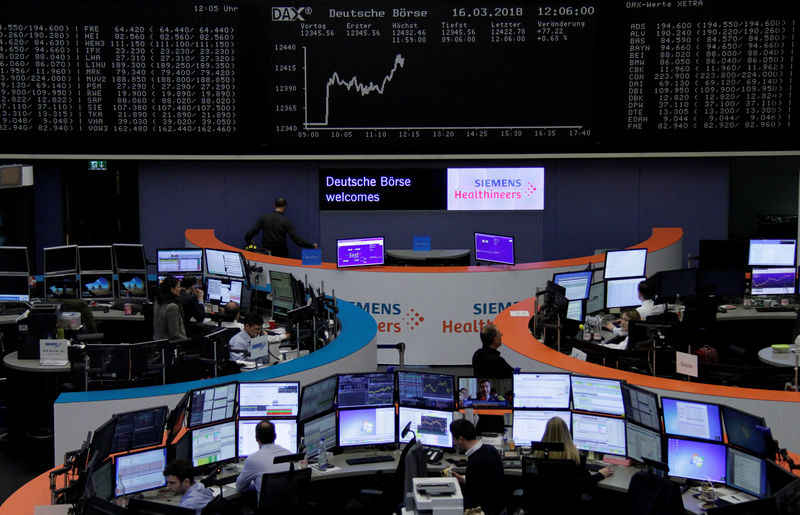 © Reuters. European equities decline, AMS bid on Osram puts M&A in focus
(Reuters) – European equities backtracked on Monday following a fierce week highlighted by US-China trade tensions and Italy's political turmoil, with a bidding war for German lighting group Osram possibly heating up deals in the region.
The pan-European index STOXX 600 () climbed 0.8% and all subsectors rose, but trading was still thin as most key markets in Asia were closed for vacation.
The bidding war for Osram (DE 🙂 became more intense after Swiss-listed sensor specialist AMS (S 🙂 said it was ready to pay 1
0% more than Bain Capital and Carlyle (O :).
Osram shares were up 10%, while AMS shares fell 9%.
Shares of oil and gas explorer Tullow Oil Plc (L 🙂 jumped 15% after announcing a major oil discovery in the Orinduik block of Guyana. [19659004TheConcernedLong-TermTradeBetweentheUSandChina'sWebsiteshowevertheOverseasMarkets-UnsubscribedAvailableisightGoldmanSachs(NYSE:)AllCFDs(stocksindicesfutures)andForexpricesarenotprovidedbystockexchangesbutratherbymarketmakerssopricesmaynotbeaccurateandmaydifferfromactualmarketpriceswhichmeanspricesisindicativeandnotappropriatefortradingpurposesThereforeFusionMediabearsnoresponsibilityforanylossoftradeyoumayincurasaresultofusingthisdata
Fusion Media or anyone involved in Fusion Media will not be liable for any loss or damage as a result of the information including data, offers, charts and purchase / sale of signals on this site. Be fully informed about the risks and costs associated with trading in the financial markets, it is one of the most risky forms of investment possible.