Business
Elon Musk returns to the stand in class action lawsuit over controversial tweet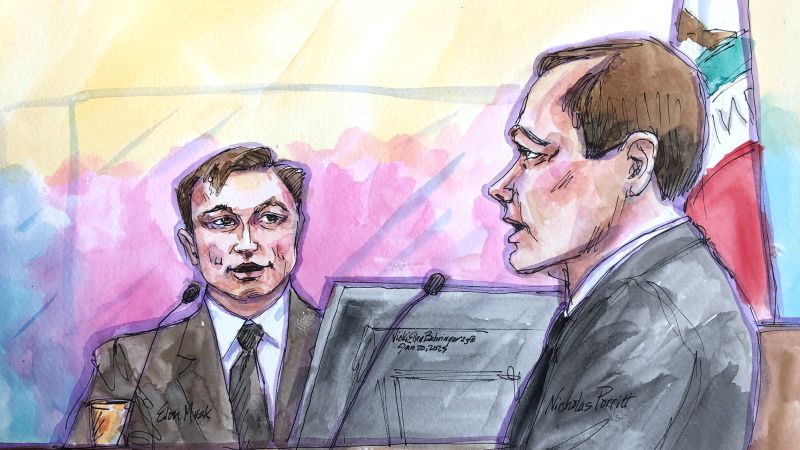 Washington DC
CNN
—

Tesla CEO Elon Musk took the witness stand for a second day on Monday and sought to explain the thought process behind his controversial 201[ads1]8 "funding secured" tweet, pushing back on the idea that it was partly a joke.
Musk, Tesla and the company's executives are facing a shareholder lawsuit over the tweet, in which the billionaire said he was thinking about taking Tesla private for $420 a share and had "secured financing." Those two words resulted in the CEO losing his position as Tesla's executive chairman and paying millions of dollars in fines and legal fees.
Musk had spoken to executives of the Saudi sovereign wealth fund about the financing he would need to take Tesla private. However, it was anything but "secured". Musk shared his recollection of the incident in his testimony Monday.
"My understanding was that they would go ahead with the deal," Musk said. Musk also claimed he was concerned news of the deal talks would leak to the press and tweeted it out himself to "make sure all investors would be on the same page."
Under questioning, Musk denied that he chose the $420 price as a joke given its importance to marijuana enthusiasts, but rather as a roughly 20% premium to the stock price at the time.
"The 420 price was not a joke," he testified. At another point he said, "There is some karma around 420, although I should question whether it is good or bad karma at this point."
On Friday, Musk took the stand for about 30 minutes and testified that his tweets do not cause Tesla's stock price to move higher or lower. He pointed to an incident in May 2020 when he tweeted that "Tesla stock price is too high." The stock price fell the day of his tweet, but recovered to finish the year higher than it had opened.
But the lead plaintiff, Glen Littleton, testified last week that he lost more than 75% of his investments after Musk's "funding secured" tweet.
Musk's lawyer Alex Spiro had claimed on Wednesday that the CEO's choice of words was wrong, but it was not a case of fraud. "In his hasty, reckless state, he tweeted the wrong choice of words," Spiro said. "In his mind funding was not a problem, it was assured. But what he said in that tweet was 'funding secured' without elaborating on what that meant to him."
Guhan Subramanian, a Harvard law professor and expert witness for the plaintiff, argued Friday that Musk's tweet and the proposed deal were a case of egregious corporate governance.
"Having no auto protection is very disturbing," Subramanian said of Musk's Twitter account. Musk testified Friday that no one at Tesla reviewed his 2018 tweets before he published them.
Subramanian said that when public companies go private, as Musk proposed, it is a much more extensive and rigorous process than what Musk and Tesla had gone through. Usually a special committee is formed and there are months of engagement with consultants and advisors. Boards usually approve the announcement of a company receiving an offer to go private, which was not the case with Tesla.