Business
Egg shortage prompts New Zealanders to rush to buy their own hens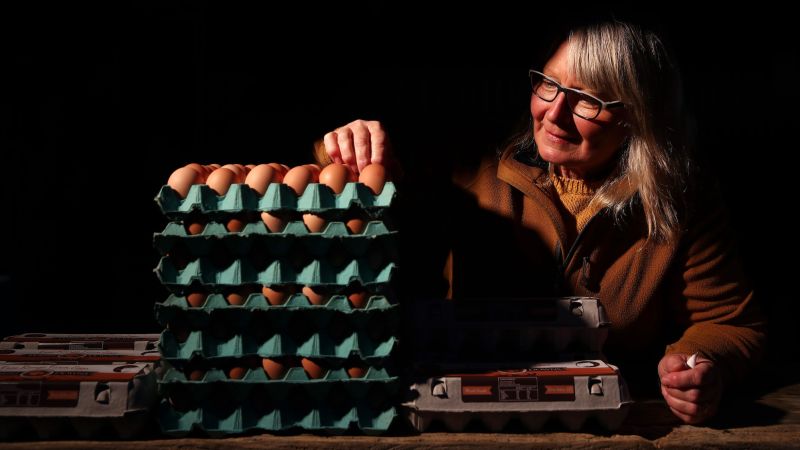 Hong Kong
CNN
—

Eggs have risen in price worldwide over the past year as bird flu decimated chicken herds and fallout from Russia's war with Ukraine increased the prices of energy and animal feed.
In the US, egg prices have far outpaced increases in other grocery items, rising almost 60% in the 1[ads1]2 months to December compared with the previous year. In Japan, wholesale prices have reached record highs.
In New Zealand, which consumes more eggs per person than most countries, the squeeze has been exacerbated by a change in farming regulations. And rising costs have sparked a frenzy, with people looking for chickens online so they can secure their own supplies of the pantry staple.
On Tuesday, popular local auction site Trade Me told CNN that searches for chickens, and equipment related to caring for them, were up 190% so far this month, compared to the same period a month ago.
"Since the beginning of January, we've seen over 65,000 searches for chickens and other chicken-related items, such as feed, nests and food," said Millie Silvester, a spokesperson for the company.
The shortage also has caused a particularly acute headache for bakers in the country.
"All the public are now trying to buy chickens for their homes because they can't get eggs," said Ron van Til, a bakery owner near the city of Christchurch. WHO has had to adjust how he makes his cakes and muffins.
Van Til said his sister sold "four brand new chickens" at auction through Trade Me, fetching more than double the usual price.
The trend has prompted animal welfare advocates to warn against impulse buying.
"Chickens live a long time," said Gabby Clezy, executive director of the Society for the Prevention of Cruelty to Animals (SPCA) in New Zealand. "They live from eight to 10 years, sometimes even longer depending on the breed."
Clezy also noted that hens do not produce eggs throughout their lives, and their laying habits depend on factors including age and local climate.
"So if people get chickens solely because of [they think] they want a permanent supply of eggs, that's just not the case, she said. "We ask people to consider them companion animals, which they are."
Trade Me has also encouraged customers on its marketplace to think through any purchases.
"It is important that our members are aware of the responsibilities that come with owning chickens and are well equipped to care for them," Silvester said in a statement.
Health experts also weigh in. According to the US Centers for Disease Control and Prevention (CDC), anyone registering for a petting zoo should take extra care when handling the animals and their eggs, especially because of the risk of bacteria associated with salmonella.
New Zealand's egg shortage has been linked to a long-awaited change in the Farming Act, which came into force on 1 January this year.
The law prohibits the production of eggs from chickens kept in conventional or "battery cages" – typically cramped metal spaces that do not provide adequate welfare for hens, according to the SPCA.
Therefore, in 2012 the government announced a ban on such facilities.
But "a 10-year transition period away from conventional cages was introduced, to give egg producers time to change farming practices," Peter Hyde, a representative of New Zealand's Ministry of Primary Industries, told CNN in a statement when asked about the current the shortage.
"Egg producers had the option to move to colony cages, barns and free-range systems," added Hyde, the ministry's acting national manager for animal welfare and national animal identification and tracking.
Hyde said that over the past 18 months, the ministry had "been in regular contact with operators and visited farms that needed a transition".
Even with the long lead time, however, the ban has caused supply problems, according to some businesses.
Foodstuffs, a supermarket chain in New Zealand, recently set temporary limits on how many eggs each customer can buy.
"It's a significant change for the egg supply industry," Emma Wooster, the company's head of public relations, told CNN in a statement. "We are working with egg suppliers to increase our offer in other types of eggs."
Countdown, another major grocer, said that while it currently has no restrictions on egg sales, it will encourage customers to "only buy what they need" to ensure enough supply for everyone.
Other businesses have been forced to change things.
Van Til, the bakery's owner, said his team had replaced fresh eggs in recipes with alternative ingredients.
The long-time owner of Rangiora Bakery has seen wholesale prices for fresh eggs rise by around 50% compared to four months ago, prompting him to buy more dried eggs instead.
Van Til also pointed to changes at other local eateries, saying some cafes had started taking certain dishes off their menus, so "instead of having five breakfast items [with] eggs, you might only have two."
"And the customer will hopefully pick up pancakes or waffles," he added. "Or whatever other offers you come up with."