Business
Due to climate problems, Georgia has to turn away from peaches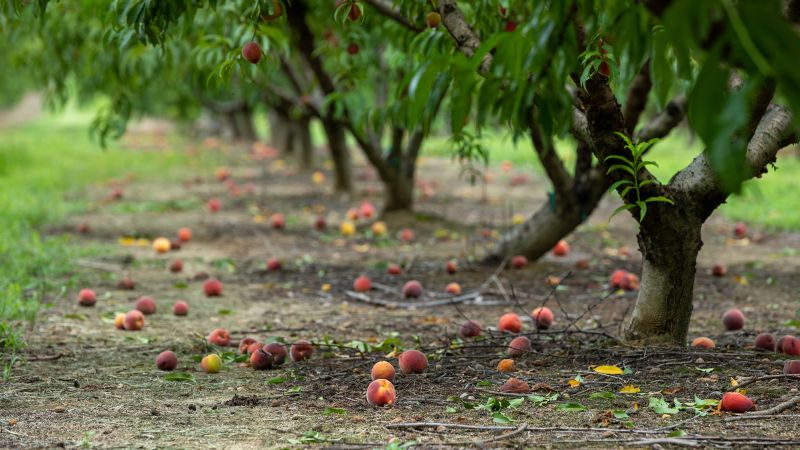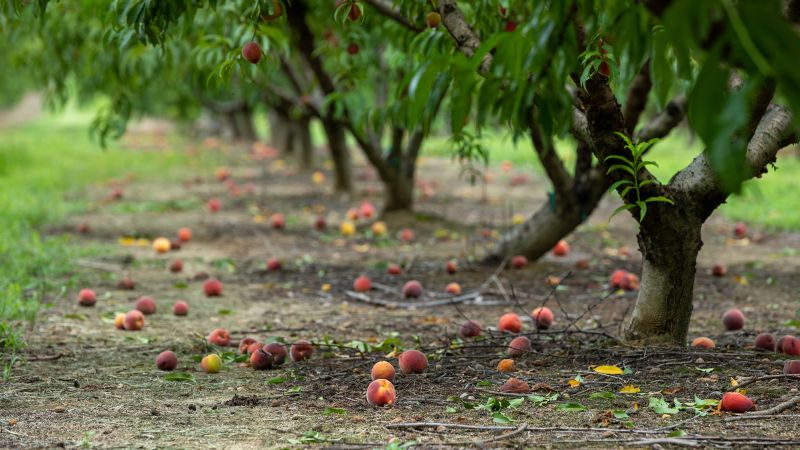 Dustin Chambers/Bloomberg/Getty Images
Fallen peaches from trees during a harvest in Reynolds, Georgia, US, Friday 8 July 2022. Despite their ubiquitous association with the state, peaches are no longer Georgia's largest fruit crop. As temperatures rise, growers and scientists are working to ensure climate change doesn't kill the industry.


CNN
—

Midsummer is the peak of juicy peach season in the state of Georgia. But recently the Peach Cobbler Factory in Atlanta ran out of peaches and was forced to turn to … apple cobbler.
The Peach State lost more than 90% of this year's crop after a heat wave in February followed by two late spring frosts. The triple-whammy destroyed peach varieties specifically bred to survive different weather scenarios and wildly inflated prices for the fruit. It also shifted much of the local market – in some cases quite unwillingly – to California peaches.
But beyond the toll this took on employment, the state economy, decades of tradition and restaurant menus, the peach is a matter of pride for Georgians. The peach is the state fruit. It's in the name of dozens of state roads. It's even on the back of the Georgia state quarter. So how embarrassing is this?
Imagine if New York had to import bagels from Los Angeles.
Some people just won't do it. "Buying peaches from any other state is completely out of the question," said Henryk Kumar, the director of operations at Butter & Cream Ice Cream Shops in Georgia. Summer staples Peaches & Cream and Georgia Peach Sorbet flavors debuted July 1, he said, but eat fast. He predicted they would run out before the end of the month.
CNN spoke to farmers and agricultural groups who said they can't remember a more ruined peach crop. "I talked with [an older farmer] and he said 1955 was the last time he saw it that bad," said farmer and peach grower Sean Lennon of Fitzgerald Farms in Woodbury, Ga. For the state, "It's an economic loss, but it's a lot more than that."
The shortage forced Lennon to lay off many of his workers, including migrant workers he brings in through an H2-A Visa program each year. He said he had to send workers who come to the United States to support their families back to Mexico early because of a lack of work.
Liella Foods, LLC
Aunt Evelyn's Peach Cobbler.
Yes, Georgia peach prices have zoomed, he said, to about $40 for a box wholesale, from the usual $17-$20. Some buyers said boxes have risen to $60 per box wholesale. But most farmers in Georgia don't have much fruit to sell.
Restaurateurs who remain loyal to the Georgia staple face similar supply problems. Filipino restaurant Kamayan decided to combat the shortage by only offering their peach lumpias, a fruit-filled spring roll, on weekends instead of daily.
Owner Mira Orino said that while her lumpias are popular, she would remove them from the menu before switching to canned or out-of-state peaches.
But given local prices, they don't make money from the ones they sell, she said. "We get our profit from other goods. [The peach lumpias] is a labor of love," Orino said.
There's a short window of peak flavor for peaches, a point made legendary by a 1995 Seinfeld episode in which the character Kramer frantically sought out "Mackinaw Peaches," which, as the episode went, are available only two weeks a year.
(The Internet strongly disagrees about whether the sitcom peaches came from the Michigan town of the same name, from next-door neighbor Wisconsin, from Canada, or are just mythical.)
Courtesy Butter & Cream and Maddie Mitchell
Butter & Cream's Peaches and Cream ice cream & GA peach sorbet.
This year's peach shortage forced many restaurants that could not do without them to turn elsewhere. Aunt Evelyn's Peach Cobbler, a four-baker chain in Georgia, found itself buying peaches in California, said Aunt Evelyn's son and owner David Bruce. California is the leading grower of peaches in the United States, followed by South Carolina, then Georgia, which annually produces about 130 million.
Georgia growers, restaurateurs and agricultural groups said they don't know what the climate will do to next year's crop, but hope this is a once-in-a-lifetime phenomenon.
And meanwhile, Georgia sells peaches like the Seinfeld-ian Macinkaw, a delicacy that Kramer described as "a miracle of nature, like the Aurora Borealis."