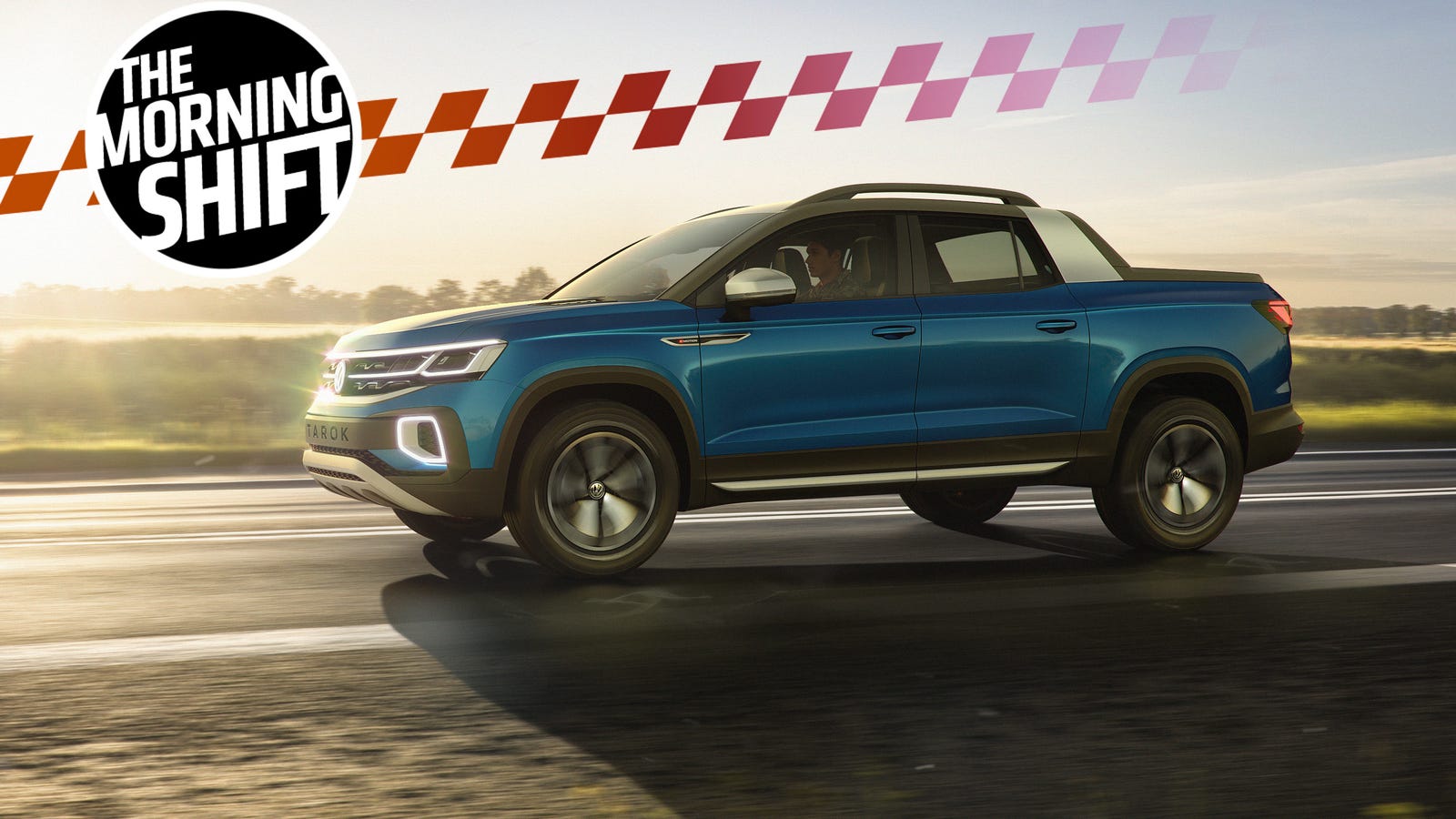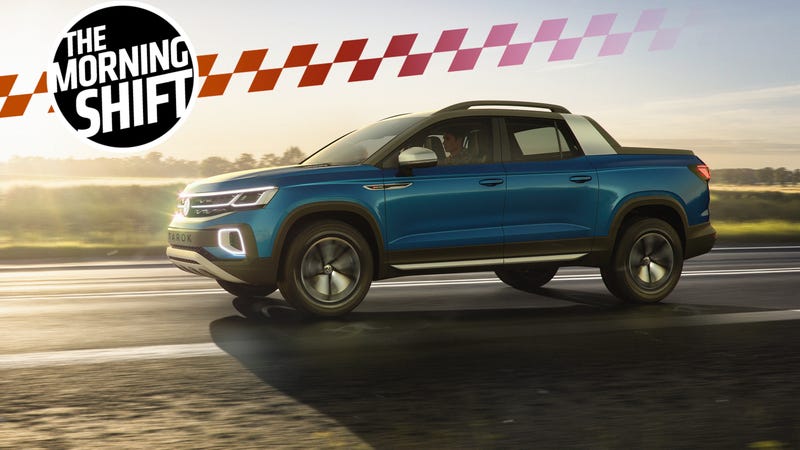 The Morning Shift
All your daily car news in a single place. Isn't your time more important?
The next phase of Truck Wars is smaller trucks, General Motors will soon be ranked among a growing number of large companies with female majority cards, Nissan can cut its global production and so much more for The Morning shift on Friday Friday 19. April 2019.
First Giving: The Next Front in the Truck War
Longtime Morning Shift customers know how lucrative and crucial the truck market is. Hell, that's what keeps the lights on the American car manufacturers these days. So while the New York Auto Show had many new cars, but no big surprises, shockingly different ideas or revolutionary products, it shows that the compact truck market is the next front of the truck war, the US reports today:
Volkswagen took a pickup concept called Tarok to the New York Auto Show "to measure the market reaction for a truly versatile and compact entry-level acquisition."

• Hyundai is planning a mashup of a pickup and a small SUV after introducing a concept called Santa Cruz in the 2015 Detroit auto show. The vehicle comes "a little later" than 2020, says Hyundai Chief Operating Officer Brian Smith, and has not yet an official name.

• Ford is planning a compact pickup in the United States to continue with the newly revived Ranger, which was once considered a compact but has become a medium-sized model.

Overall, these efforts come to the next chapter in the pickup wars that go in the automotive industry. The first quarter's pickup sales have been paid 30 percent from the same period in 2014, and are rising to 659,105 cars, according to the car buying firm Edmunds.
Hyundai has been talking about the Santa Cruz truck ever since, but it looks like it's finally happening. For Volkswagen Tarok or Tanoak, I think VW is clearly interested in a unibody truck for the US market, but will make sure it's a volume player. Honda Ridgeline sales after all, not exactly anything.
But this is a good development since the trucks are too bad expensive anyway. From the same story:
One reason why it can work: Full-size and medium-sized pickups have become increasingly expensive in recent years as they have become more popular.

The Americans pay an average of $ 49,713 for full-size pickups in 2019, up by 47 percent from $ 33,828 in 2009, according to Edmunds. And they pay $ 34,322 for medium-sized trucks, up 45 percent in the same time period.

"The smaller trucks have a good sales proposal" for buyers who don't want to break the bank, said Edmund analyst Jessica Caldwell.
Will American buyers be willing to go less for better value?
2. Gear: GM's board will be led by women
General Motors is already one of the few large-scale corporations with a woman as CEO, but starting next year will break several barriers. With two men on board who retire later this year, the group will be made up of six women, including leader and CEO Mary Barra – and five men. It will then be the only female management in the automotive industry.
Here is Bloomberg about what it means in the rest of the corporate landscape:
The shift comes as women get slow power at the largest US companies, lifted by pressure from investors and employees and government mandate quotas. Scientist Equilar says women can now make up half of the Russell 3000 company's directors by 2034, a forecast that has shortened by two decades since 2016.

Prevents changes in the composition of other corporate boards, Barra and incoming Best Buy Co CEO Corie Barry will be the only female CEOs in the S&P 500 who earn a majority board of female directors, according to data prepared by Bloomberg.

Viacom Inc. and CBS Corp., the only other companies with a current majority of female directors, are run by both male CEOs.

Another 19 S & P 500 board would swing to the majority of female board members with the addition of a woman, according to data prepared by Bloomberg.
Good signs of progress. GM, for its credit, also stands high in terms of equality in the workplace, profitability, parental leave and more. With luck, they become the model for the rest of the automotive industry on the fronts.
3. Gear: Toyota Still Believe in Uber
Uber's business model is unlikely to be viable until it doesn't have to pay the pesky people to drive the cars anymore, so invest heavily in autonomous car technology. And for now, at least, Toyota is happy to kick some money, says Reuters:
Uber's autonomous vehicle unit has increased $ 1 billion from a consortium of investors, including SoftBank Group Corp., and attracts the company financing

Uber Technologies Inc. said Thursday that the investment values ​​its Advanced Technologies Group, which is working to develop autonomous vehicle technology, at $ 7.25 billion. SoftBank will invest $ 333 million from its $ 100 billion Vision Fund, while Toyota Motor Corp. and affiliate Denso Corp. will invest a total of $ 667 million.

Toyota will also contribute another $ 300 million over the next three years to help cover the cost of building commercial self-propelled cars, Uber said.
4. Gear: Nissan Kicks A GT-R against Notre-Dame
The fire in the Notre-Dame Cathedral was a tragedy, but #brands is up to raise money for the reconstruction work. But while groups like LVMH are kicking for hundreds of millions of euros, Nissan dug into the sofa and found enough extra change for the clever little amount of $ 112,000, reports Bloomberg.
I'm not saying that Nissan should bankroll the whole thing, just that, well … $ 112,000 is not that much money. Especially for one of the world's largest car manufacturers.
Nissan Motor Co. will donate 100,000 euros to rebuild the Notre-Dame Cathedral in Paris, a promise that comes as the Japanese automaker seeks to repair strained relations with the French government and partner Renault SA after former President Carlos Ghosn was arrested.

Nissan's contribution is "in recognition of and gratitude for Nissan Europe and Renault employees, as well as the people of France," the company said in a statement on Friday. Nissan joined a number of companies and individuals pledged more than $ 1 billion to rebuild one of the French capital's main landmarks after April 15.
Nothing screams "No hard feelings about Carlos Ghosn, right?" As a token 100-grand fire donation.
It's not even the best part, which would be this:
Renault has not announced a gift.
Oof.
5. Gear: Nissan denies reports of sharp cuts
Talk about Nissan, Nikkei reported that the automaker is planning major production cuts this year in a reversal from its aggressive growth strategy from the Ghosn era. But now Nissan turns that is not the case. Here's Reuters again:
"Details reported in this story are completely wrong, and Nissan has stated its strong objection to Nikkei," the Japanese machine said in a statement posted on its website.

"Nissan's current fiscal production plan will be published May 14 when the company announces its financial results for the previous fiscal year," said Rogue sports car manufacturer and Altima sedan.

Nikkei reported that Nissan intended to produce about 4, 6 million units in fiscal 2019, referring to plans being communicated to the automaker's suppliers, the move was likely to affect earnings and could throw a pallet over Nissan's alliance with French car manufacturer Renault SA, said Nikkei without elaborating.

That would be it steepest production cut for more than a decade by the Japanese automaker, as it fights weak sales in overseas markets, including the United States, where it plans to reduce sales activity, according to Nikkei.

Earlier this year, Nissan, which has hit falling sales, reduced operating profit for the current financial year to 450 billion yen ($ 4 billion), 22 p roses lower than the previous year. It will be Nissan's lowest profit since 2013.
And here's why the denial is remarkable:
Japanese companies usually respond to media reports saying they were not the source of the information, and depending on the content of the report, that they might considering different options and that nothing was decided.

It is rare for a Japanese company to say that it has issued a strong charge to a media outlet.
We see, I guess.
Conversely: Heard of this guy?
On this day in 1964, Mario Andretti competes in his dedicating Indy car race, in Trenton, New …
Read more Read
Neutral: Is There really was a market for compact trucks?
In addition to car enthusiasts on the internet who replied they would buy one, along with all the wagons and Subaru BRZs if they only got a turbo engine.
Source link