Business
China's GDP: More stimulus 'desperately' needed as economic recovery slows further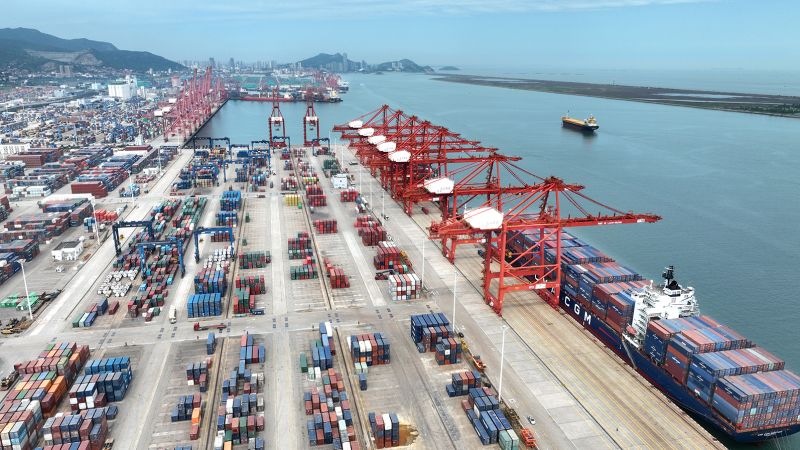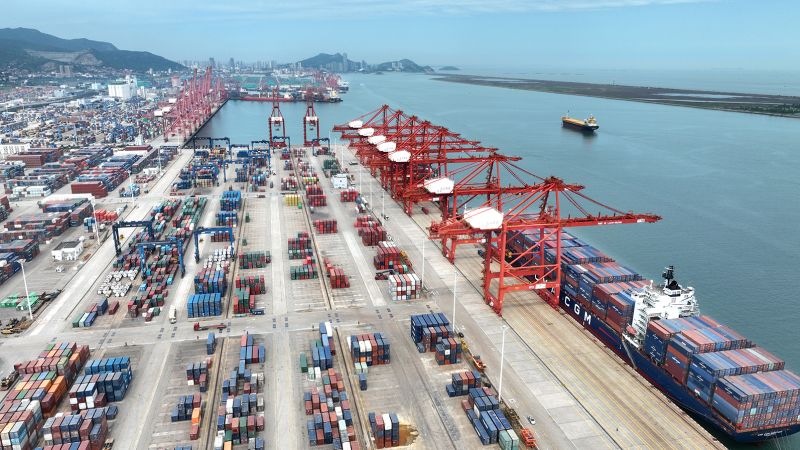 Hong Kong
CNN
—

China's economic recovery continued to lose momentum in the second quarter of 2023, prompting urgent calls for more stimulus from Beijing.
The world's second-largest economy expanded 6.3% in the April-June months from a low base a year ago, according to data released by the National Bureau of Statistics (NBS) on Monday. The figure was below the expectations of a group of economists polled by Reuters.
Compared to the first quarter, gross domestic product (GDP) grew by just 0.8% from April to June. It slowed significantly from the 2.2% quarter-on-quarter growth recorded in the first quarter.
Last year, harsh Covid-19 lockdowns wreaked havoc in the world's second largest economy, including in the financial hub of Shanghai.
The economy picked up strongly in the first quarter of this year after the lifting of pandemic restrictions, with GDP growth of 4.5%.
However, a number of economic figures in recent months suggest that the momentum has slowed.
Monday's data, which showed a marked slowdown in consumer spending and faltering business confidence, reinforced the idea that growth has indeed lost steam.
"After a sugar injection in the opening months of 2023, the pandemic hangover is plaguing China's recovery," said Harry Murphy Cruise, economist at Moody's Analytics, referring to the first burst of pent-up demand after reopening.
CFOTO/Future Publishing/Getty Images
Customers shop at a supermarket in Qingzhou, Shandong Province on July 10, 2023. Consumer spending has not been strong enough to lift the economy.
The slowing recovery has prompted Beijing to introduce some stimulus measures, but "more is desperately needed," Cruise added.
How China copes with its slowdown is a concern for global investors and policymakers, including US Treasury Secretary Janet Yellen, who visited Beijing earlier this month.
"China is a very significant importer from many countries around the world, so when Chinese growth slows, it has an impact on the growth of many countries and we see that," she told reporters during a trip to India.
The Chinese yuan weakened after the release of economic data. The offshore yield fell 0.3% from the previous day, while the onshore yuan fell almost 0.4%.
The Shanghai Composite Index fell 0.9 percent. South Korea's Kospi and Australia's S&P/ASX 200 were 0.4% and 0.1% lower respectively. Stock markets in Hong Kong and Japan were closed.
The Chinese economy is facing a number of challenges.
First, consumers are increasingly wary of spending.
Monday's data showed that retail sales rose 3.1% in June, significantly lower than May's 12.7%. It marked the slowest growth since December, when Beijing scrapped most of its Covid-19 restrictions.
Second, private businesses, the backbone of the economy and the largest source of employment, are hesitant to hire or make new investments.
Investments in fixed assets such as roads and infrastructure from the private sector shrank by 0.2% in the first half of the year, compared to the same period last year. This accelerated from a fall of 0.1% in the first five months of this year.
In contrast, government investments rose by 8.1% in the period January to June.
Youth unemployment hit another record. The unemployment rate for those aged 16 to 24 reached 21.3% in June, breaking the previous record of 20.8% set in May.
This rate may increase further, before falling gradually after August, NBS spokesman Fu Linghui said at a press conference on Monday. He said this was because a large number of students and other young job seekers are expected to enter the job market during graduation season.
Third, the real estate market is still mired in its worst downturn on record. Investments in the property industry fell by 7.9% in the first six months of the year. Demand is also weak, with sales down 5.3% measured in floor area.
Finally, a failing global economy has contributed to China's problems. According to customs figures released last week, exports fell 12.4% in June, the fastest pace in three years. Imports fell 6.8%, worse than markets had expected.
To boost growth, the People's Bank of China (PBOC) has cut a handful of key interest rates to boost bank lending.
The government also extended tax breaks for consumers buying new energy vehicles through 2027, to encourage sales and production in the world's largest electric car market.
Analysts say the measures are not enough.
"To counteract sustained growth headwinds, we expect more [targeted] easing in the coming months, focusing on financials, housing and consumption, Goldman Sachs analysts said on Monday.
Cruise from Moody's also expects easing in monetary policy in the coming months.
Liu Guoqiang, deputy governor of the PBOC, said at a news conference last week that the central bank will step up "countercyclical adjustments" to support growth.
"Countercyclical policy" refers to measures to counteract the effects of the business cycle. For example, officials may add stimulus to encourage expansion during a recession or tighten bank lending during a boom.
He also dismissed market concerns about falling prices, saying the Chinese economy was not in deflation and would show no signs of the phenomenon in the second half of this year.
The comments came after official data released last week showed the consumer price index was unchanged in June, the slowest pace since February 2021. Producer prices fell at the fastest pace in more than seven years.
Liu asked for patience and said measures taken earlier were working.
Top Chinese leaders have also indicated a reversal in the way they regulate the country's tech giants, which had been hammered by a sweeping crackdown that lasted more than two years.
On Wednesday, Premier Li Qiang met with executives from major internet firms, including Alibaba Group ( BABA ), Bytedance and PDD ( PDD ). Li praised them as "the trailblazers of the times" and called on all levels of government to step up political support for them.
The powerful National Development and Reform Commission issued a statement on Wednesday praising internet companies for their role in boosting the economy. It singled out companies like Tencent (TCEHY) and Alibaba for their contributions.
On Friday, seven government agencies jointly published long-awaited rules governing the country's generative AI industry.
Some restrictions included in an earlier draft were loosened, in a signal that the government was taking a more tolerant and supportive approach to the nascent technology as it competes with rivals in countries such as the United States.
Chinese tech stocks rose last week on the good news. The Hang Seng Tech index rose more than 8%, its best weekly performance since December 2022.
— CNN's Manveena Suri contributed reporting.