Business
China's economy gains production, but trade fears pull stocks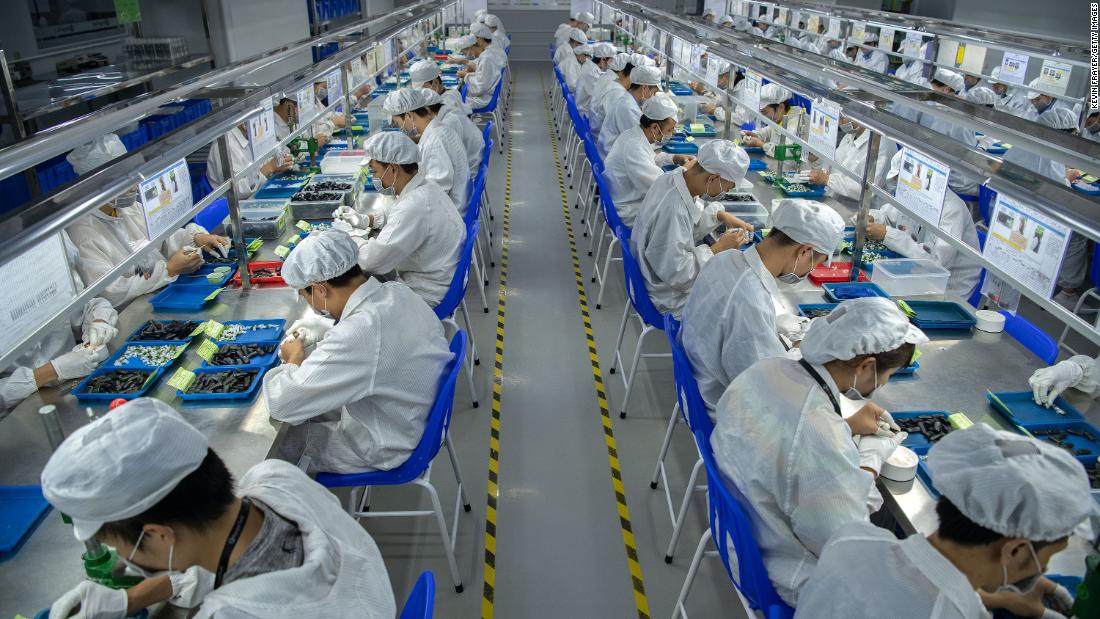 Official and private investigations into China's production activity increased more than expected in September, data shows Monday.
The government's official PMI for September also beat analysts' estimates, rising to 49.8 from the 49.5 it recorded in August. However, it is still below the 50-point level, which indicates growth last month.
But shares from several Chinese companies fell after the United States began investigating some and beating others with sanctions. US authorities are also reportedly considering delisting Chinese companies from US stock markets.
China's
Shanghai Composite Index
(

SHCOMP

)
drops 0.9%. But Hong Kong's
Hang Seng Index
(

HSI

)
reversed opening losses and traded higher. The index closed up
0.5%, helped by a blockbuster IPO.
Budweiser APAC, Asia unit of the world's largest brewer
AB InBev
(

BUD

)
jumped more than 4% on its first trading day in Hong Kong. [1[ads1]9659011] China's new Nasdaq-style Star Market in Shanghai also cheered after smartphone manufacturer Transsion rose more than 60% on its first trading day.
A "false dawn"
Despite the cheer of China's manufacturing sector from Monday's data, analysts warn that the Chinese economy is still under a lot of pressure.
The figures on Monday probably represent "a false dawn," Julian Evans-Pritchard, senior China's economist for Capital Economics, wrote in a research note on Monday.
"This will hardly mark the beginning of a turnaround," Evans-Pritchard said, highlighting signs of slowing construction and real estate activity.
He anticipated that the People's Bank of China will have to launch more crucial financial relief to support the faltering eco nominee later this year.
Ting Lu, an economist for Japanese brokerage firm Nomura, agreed that rebound is unsustainable.
"An escalation of US-China trade tensions is still likely, while the slowdown in global growth has been a new drag on China's exports," he said.
The US moves hit Chinese companies
China's economic downturn has been compounded by its months-long trade war with the United States. Senior officials from both countries are expected to meet in Washington later this month for trade talks.
Although both sides have admitted in recent weeks, tensions are still high. And the latest move in the US is pulling down Chinese stocks.
Several Chinese technology companies fell sharply on Monday after the United States International Trade Commission, an antitrust agency, decided to initiate investigations against them for alleged patent infringement on chip products.
TCL Electronics tumbled 2.7% in Hong Kong. Its parent TCL Corp also fell 1.9% in the Shenzhen market. Qingdao Hisense Electric, a major Chinese appliance and electronics manufacturer, lost 3.3% in Shanghai.
Lenovo
(

LNVGF

)
dropped 0.8% in Hong Kong. The parent company Legend Holdings also fell by 1.5%.
Cosco Shipping Energy Transportation, a unit of the Chinese conglomerate Cosco Group, fell nearly 22% in Hong Kong after it confirmed on Sunday that one of its subsidiaries was sanctioned by the United States Treasury Department.
It was one of several Chinese companies the United States imposed sanctions for their alleged involvement in the transportation of oil from Iran.
The White House is also considering transferring Chinese companies from the US stock exchanges and prohibiting US investment in China, according to several news reports.
US officials tried to trivialize the reports, and Bloomberg quoted a US Treasury spokesman as saying that there are no plans to block Chinese companies from US exchanges "at this time." But that did not stop the markets from worrying.
The news only "added a new team with a muck to an already guarded tale of a trade war," wrote Stephen Innes, a Asia Pacific marketing strategist at Axi Trader.