Business
Berkshire dumps billions worth of U.S. stocks, buys Treasuries instead (BRK.A) (BRK.B)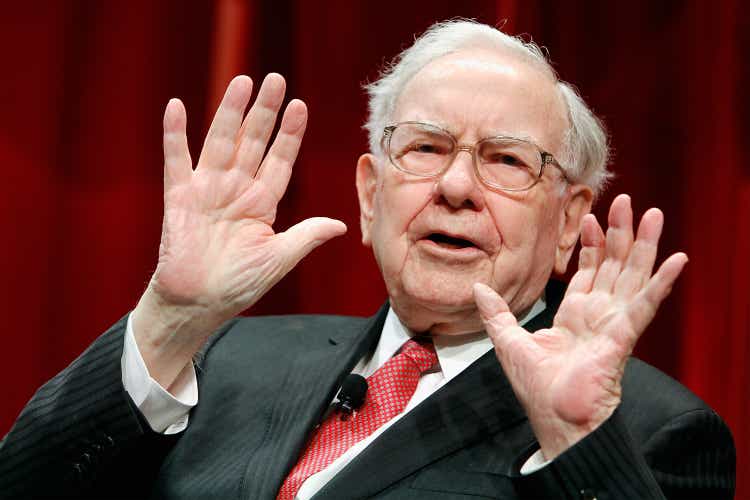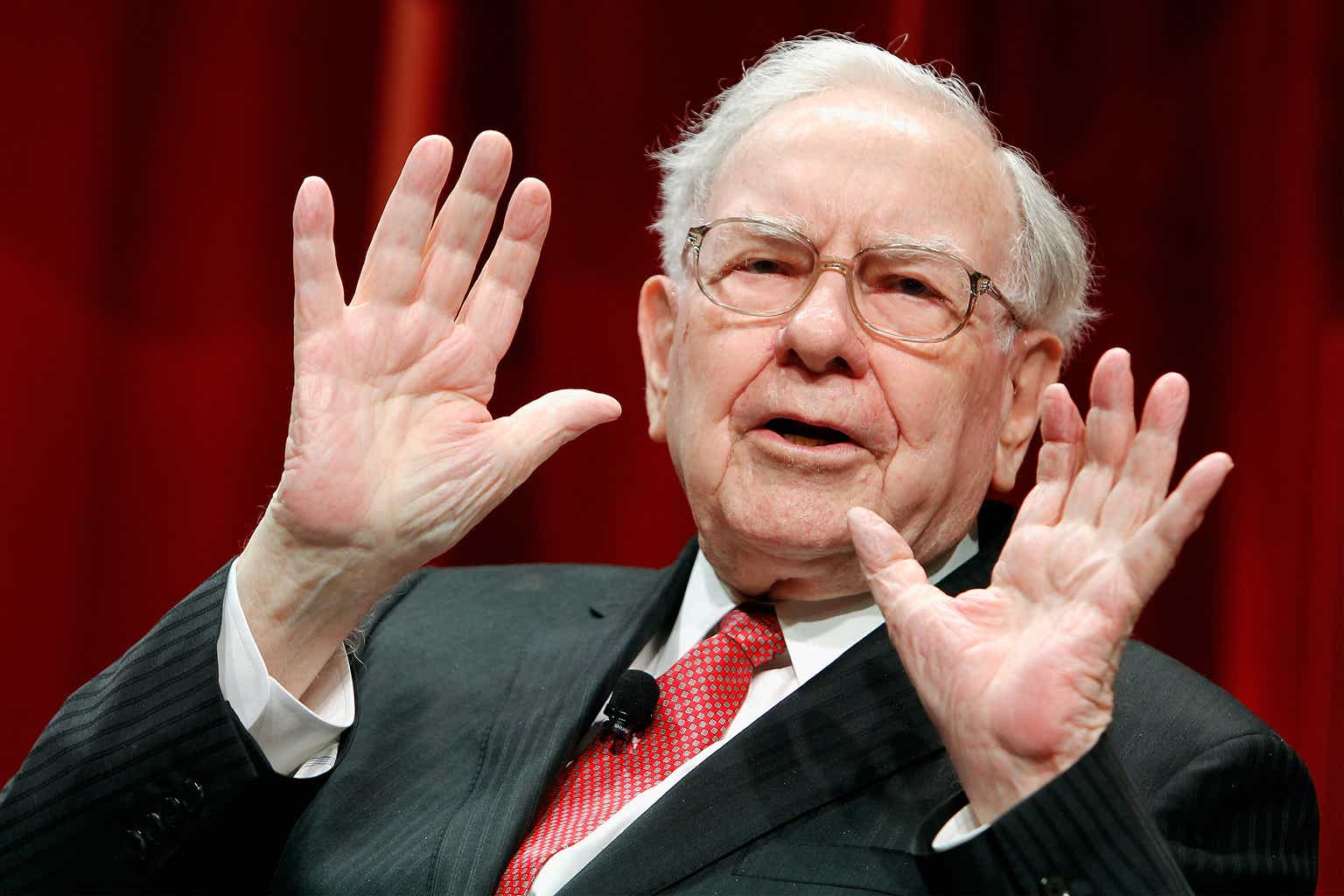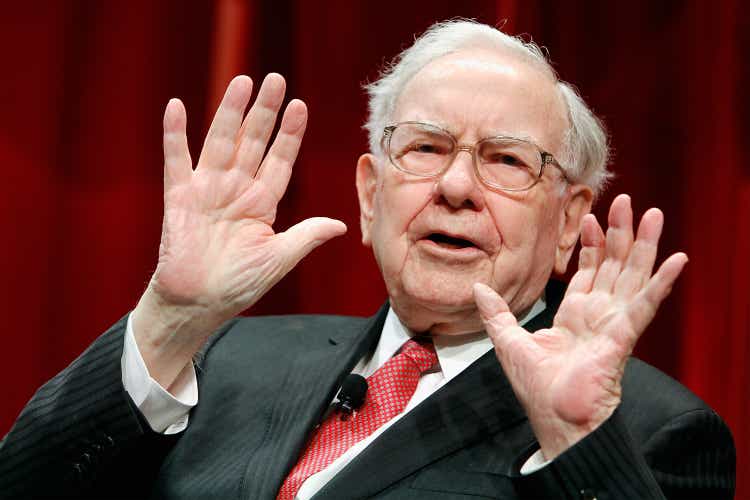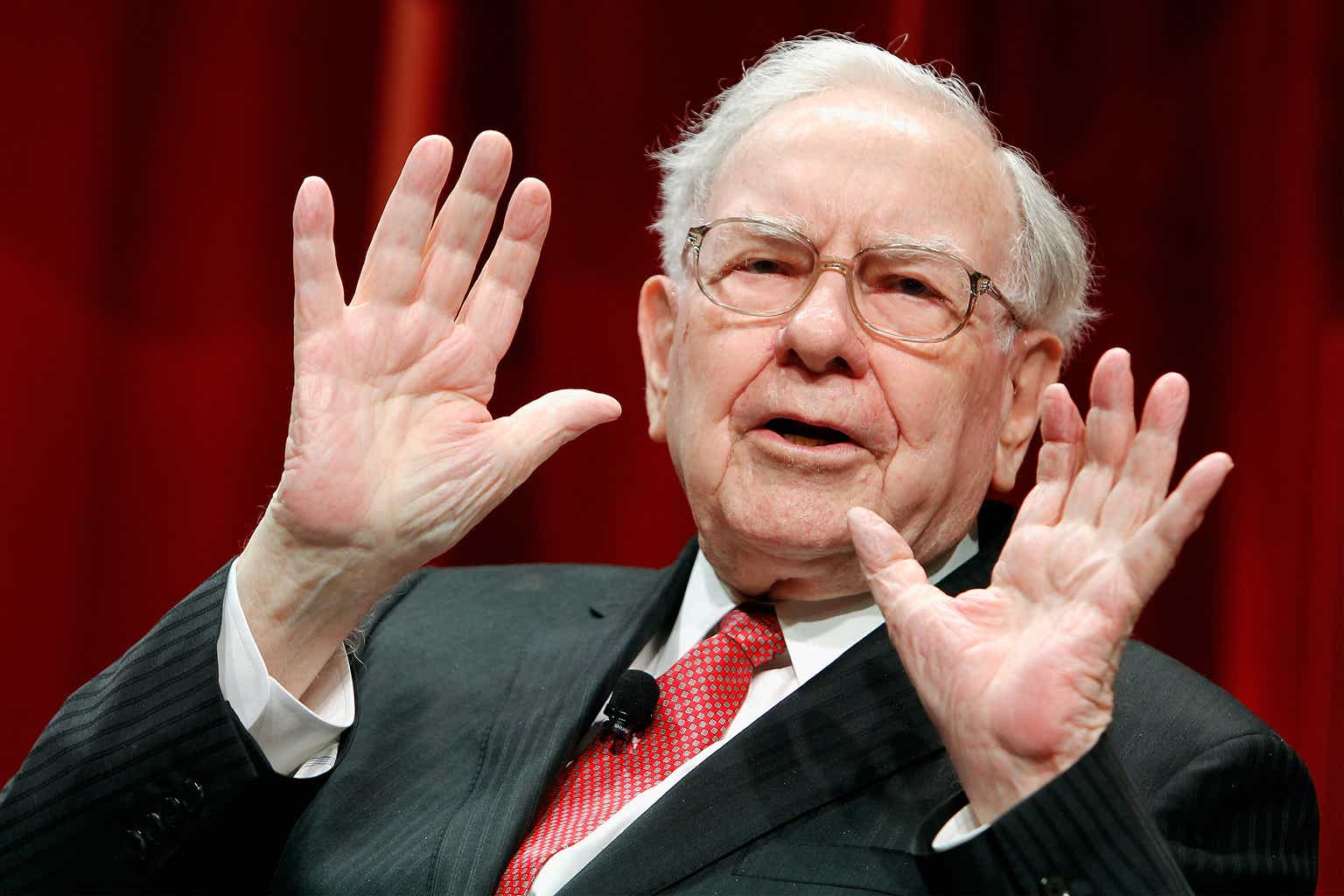 According to the latest company filing, Warren Buffett's Berkshire Hathaway (NYSE:BRK.A) (NYSE:BRK.B), sells down exposure to listed shares. In the period from January to the end of March, the American conglomerate sold for around 13.3 billion dollars of shares, while adding only $2.9 billion to existing exposure, netting more than $10 billion in sales. Buffett allocated about $4.4 billion to share buybacks, while the company's cash holdings jumped to $130.6 billion, the highest level since late 2021, when the stock market began to fall aggressively.
During Berkshire's 2023 annual shareholder meeting, Buffett explained that he expects "the majority of holdings will likely report lower earnings this year than last year", arguing that the economic backdrop is pressured by a "completely different climate than 6 months ago". . As an example of why his assessment is negative, he shared the observation that 'we starting to have sales where we didn't need to have sales before'.
Berkshire reports strong Q1 2023
Interestingly, Buffett's commentary on the economy is somewhat at odds with the earnings results of the Berkshire conglomerate, where operating income for Q1 2023 rose 13% year-over-year compared to the respective period in 2022, despite the unfavorable economic backdrop. During the period from January to the end of March, the Berkshire conglomerate accumulated $8.07 billion in operating income, helped by a recovering insurance business.
After posting six consecutive quarters of losses, Geico achieved a remarkable turnaround by generating $703 million in earnings. This positive result is attributed to higher average earned premiums, along with lower advertising costs and claim rates. With that frame of reference, Buffett commented that he expects the insurance sector to perform solidly, due to a relatively low correlation with economic business activity.
However, Berkshire Hathaway's BNSF rail and utility operations both reported a revenue decline compared to Q1 2022. BNSF's operating revenue fell to $1.25 billion, from $1.37 billion previously, partly attributable to a decline in imports at West Coast ports; while the utility division's earnings fell from $775 million to $416 million.

I'd also like to point out Berkshire's huge investment gain in Q1 2023, which totaled $27.4 billion, versus a loss of about $1.6 billion for the same period a year earlier. However, these gains are only "paper gains" and can fluctuate greatly over time. Consequently, Buffett advised giving these numbers some meaning:
The amount of investment gains (losses) in a given quarter are usually meaningless and provide net earnings per share figures that can be extremely misleading to investors who have little or no knowledge of accounting rules.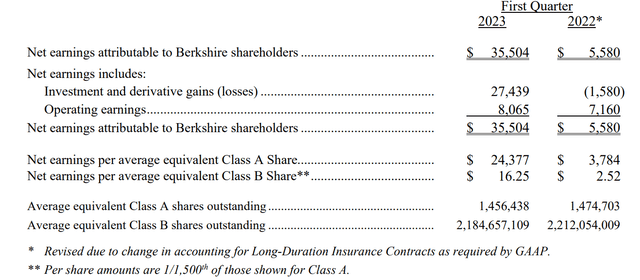 Juicy Yield in Treasuries
A main reason why Buffett is moving somewhat away from stocks is rooted in the juicy returns that government bonds offer. Especially in a stressed macro environment, it may not necessarily be prudent to risk capital for a 10% equity return, when low-risk government bonds yield close to 5%.
In that context, Buffett commented that Berkshire's cash pile of ~$125 billion invested in short-dated fixed-income securities is yielding attractive returns compared to 1-2 years ago. In fact, Buffett estimated that Berkshire's investment income from "cash and cash equivalents, including marketable securities" is on track to top $5 billion this year.
Other takeaways from the shareholders' meeting
apple
Buffett continues to like Apple (AAPL), even at a P/E of ~30. The Oracle of Omaha said Apple is different from any other business Berkshire owns, adding that Apple is also "the best" business. In that context, Buffett argued that if consumers were given the choice, they would give up their second car before the iPhone, which costs less than a tenth of a car.
Apple is in a position with consumers, where they pay maybe $1,500, or whatever, for a phone… and those same people pay $35,000 to have a second car, and when they have to give up a second car or give up their iPhone, they would give up their second car…

…I mean, it's an extraordinary product. We don't have anything like that that we own 100% of, but we're very, very, very happy to have 5.6%, or whatever it is, and we enjoy every 10th of a percent that goes up.
Taiwan Semiconductor
Buffett surprised the markets when he bought a significant position in TSMC (TSM) in late 2022, only to sell 86% of the shares a few months later. Now, while Buffett continues to like TSMC's value proposition, the geographic presence of the company simply doesn't fit into his investment portfolio/comfort circle.
Taiwan Semiconductor is one of the best managed companies and important companies in the world… I [just]don't like the location and reconsidered… [but] there is no one in the chip industry that is in their league, at least in my view…

…Great people and fantastic competitive position, but I'd rather find it in the US
Banking crisis
Of course, Buffett also got questions about the latest banking stress: Munger and Buffett criticized the executives responsible for the collapsed banks, stressing the importance of holding them accountable for the failures that were clearly visible. The duo also highlighted the lack of incentives within banking regulations and expressed dissatisfaction with the ineffective communication between regulators, politicians and the press.
It did so in plain sight, and the world ignored it until it exploded
Buffett emphasized the critical nature of the government's decision to guarantee all SVB's deposits, and commented that the consequences would have been disastrous for the US if such a guarantee had not been given.
Occidental Petroleum
Buffett said he/Berkshire has no plans to make an offer for complete control of Occidental Petroleum ( OXY ), dampening speculation that Berkshire was targeting a takeover. However, Berkshire did not rule out the possibility of buying additional OXY shares, praising CEO Vicki Hollub.
There's speculation that we're buying control, we're not going to buy control… we wouldn't know what to do with it.

…but we love the stocks we have… [and] we can't or won't own more in the future, but we certainly have warrants on what we got on the original deal on a very substantial amount of stock around $59 a share, and the warrants last a long time, and I'm glad we have them.
Last word
Buffett sees an "incredible period" for the US economy coming to an end, and accordingly he is tactically reducing some exposure to stocks. However, Buffett also argued that "nothing is ever certain," and he advised against paying attention to forecasts about how the macro backdrop develops or markets move, including his, the Oracle of Omaha's.
For reference, Berkshire Hathaway stock is somewhat underperforming YTD, with shares up just 4.51%, compared to a roughly 8% gain for the S&P 500 (SP500).