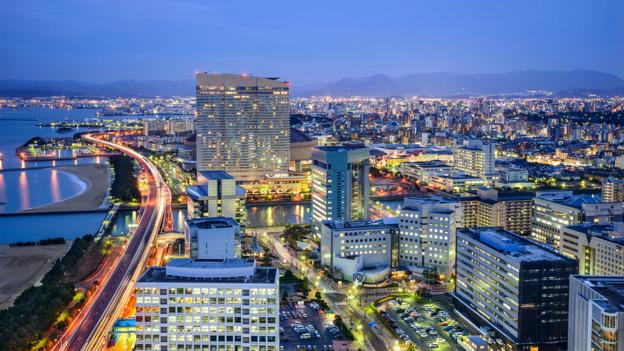 The melt between the mountains and the sea in Japan's farthest corner, Fukuoka is a city that is trying to reinvent itself. In a country long dominated by megaklomerates and the relentless feature of Tokyo, the country's fastest growing city center will become Japan's response to Silicon Valley.
Despite the country's reputation for high-tech wizardry, Japan's start-up scene remains surprisingly stunted. The world's third economy has only a "unicorn" – a private company valued at over $ 1 billion – compared to US 127 and China's 78.
Fukuoka's charismatic young mayor is determined to change it and he is convinced of the city has the ingredients to recreate the success of America's West Coast innovation hubs. In 201
1, he declared that Fukuoka would become Japan's start-up city, and since then it has risen to the top of its business-creating league tables.
Whether it can really compete with the capital, is still being seen as funding and talent continues to concentrate in Tokyo, but city leaders have a convincing pitch. A tight start-up community, a young workforce and an affordable city that promise the elusive goal of a work-life balance – which they hope will appeal to a new generation of entrepreneurs eager to avoid the Tokyo rat.
Shortly after being elected as the city's youngest ever mayor in 2010, former television presenter Sōichirō Takashima, 44, visited Seattle and was likened to the similarities with his hometown. Both are compact coastal towns surrounded by nature, with well-developed transport infrastructure and many human resources, he says. In Seattle, these ingredients support the titanium like Amazon and Microsoft, as well as a thriving startup system. Takashima believes that Fukuoka can replicate that success and help pull the Japanese economy out of a route it has been in since the early 1990s.
"The presence of startup that creates new innovation and value is needed to break economic stagnation," he says. "With that in mind, I placed start-up support as our city's growth strategy."
Since then he has been busy. In 2014, the state made its request to designate the city as a "national strategic special zone" for start-up, which allowed them to cut corporate taxes for new businesses and create a visa for foreign contractors. It is also allowed for them to relax planning rules so that they can rebuild the center and wireless regulations to create a faster and easier licensing process for experiments and technology demonstrations directed at the Internet of Things (IoT), which involves sensors, communications and computing hardware into Daily objects.
Takashima has also been aggressively promoting the city at home and abroad, leading business delegations and signing of partnership agreements with start-ups such as San Francisco, Taipei and Helsinki, which provide support and introductions for launching Fukuoka wishing to expand overseas or foreign start-ups. to enter Japan.
You may also like:
Back in Fukuoka, the government has renovated an old school in the Tenjin business area to create Fukuoka Growth Neste (FGN), a one-stop shop for budding entrepreneurs who Opened in 2017. "Simply put, our mission is to increase future unicorns," said Yasunari Tanaka, Director General of the FGN Secretariat.
Facilities include discounted office space, prototyping lab, a startup cafe where consultants provide free business, legal and accounting consulting and Global Startup Center to help foreign founders set up in Fukuoka or local entrepreneurs expanding overseas. There is also a bar to lubricate the networking process and a regular schedule of calls, seminars, and matching events to link up with customers and investors.
While the city's first unicorn is probably still a road, there has been encouraging progress. The original target for FGN was that tenants increased 500m yen (3.37bn) by September 2018, but they destroyed that target and increased by 7.1bn. Fukuoka also has the highest new start-up rate (percentage of newly registered companies in one year) in landed at 7%, well above Tokyo 4%.
The city has some strong fundamentals to its advantage. Japan's aging population and shrinking workforce cause sleepless nights for politicians and economists, but Fukuoka is the fastest growing city in the country and has the highest proportion of young people. The rent is about 60% of that in Tokyo, and the city is closer to Seoul and Shanghai than the capital, making it regarded as Japan's "gateway to Asia".
That combination is what encouraged Fukuoka natives Yasuhiro Ide to return headquarters in the New World e-commerce industry back to his hometown. He had moved to Tokyo in 2015 looking for business opportunities, but last year he decided that his goal of expanding to China would be easier from Fukuoka. "In Fukuoka it is easy to recruit engineers and designers who are low-cost and office costs are smaller," he says. "And if I want to go to China, it's two hours by plane. From Tokyo there are four."
The compactness of the city also means that entrepreneurship is both tight and diverse, says Hashimoto Masanori, CEO of the software company Nulab and a veteran in the Fukuokas startup scene. It makes team building and networks much easier. "If I leave, I will encounter someone in an affiliated IT company," he says. "In Tokyo, I go to community events and it's just programmers, but in Fukuoka I go to these events and I meet programmers, designers, marketers."
Another keyboard at the government's pitch is the city's "viability". The international airport is a 15-minute subway ride from the city center and commuters are short, walking or cycling to work normally. You are never far from nature with mountains stretching across the city limits and picturesque beaches a short drive away. "Fukuoka is more laid back," Tanaka says. "If you want to find a good work-life balance, Fukuoka is a very attractive city."
That was what French entrepreneurs Yasmine Djoudi and Thomas Pouplin took to settle in.
They first came as part of a student exchange program, and when they decided to start their startup Ikkai, an online platform For students to find short-term work, they chose to stay in Fukuoka instead of moving to Tokyo
"The lifestyle here is very nice," says Djoudi, adding that the lower costs were also a great blessing when they started. "We didn't regret it because we realized that the burn rate is far lower. We couldn't have done half of the things we did in Fukuoka if we went to Tokyo."
The couple were the first recipients of the city's start-up visa and contributed to to shape the application process. Pouplin admits that language barriers and inflexible rules still make Japan a difficult place for outsiders, but he says Fukuoka is ahead of the curve to make it easier for foreign founders.
The city's rebranding has generated huge buzz in both domestic and foreign press, but despite the positive coverage, two key ingredients are still scarce – talent and financing. There is limited risk capital available in Fukuoka, says Pouplin, so when start-up grows, they generally have to go to the capital for investments and customers. "Fukuoka is a great starting point, but it's not a good growing place," he says.
One of the FGN's most successful candidates is Skydisc, which uses artificial intelligence to help customers increase factory productivity and has been attached as a "future unicorn" of the financial crisis The Nikkei. Overseas Strategic Officer Yoshihiko Suenaga is full of praise for the city's government approach and says their time at FGN opened many doors. "They gave us cheap rentals and lots of opportunities," he says. "We actually met one of our partners, as well as one of our major customers at a matching event there."
But he admits that they only live in Fukuoka because it is the founder's hometown. Their operation is now divided between Fukuoka and a Tokyo office that opened three years ago, because most of its customers' headquarters are located there. Talent was also a major driver – while it is possible to find competent developers in Fukuoka, more advanced technical skills are concentrated in the capital. "AI-focused engineers are relatively difficult to find elsewhere than Tokyo," he says.
In an effort to collect this type of talent for the city, the state recently reigned for an "engineering-friendly city" and followed up with the recruitment of events in Tokyo. But even Fukuoko's brightest finds it difficult to resist the features of the capital, says Suenaga, who spent 15 years in Tokyo himself. He comes from the neighboring town of Kitakyushu and is returned only because of the family's reasons. "After training, you have no choice but to go to Tokyo," he says. "It's the usual mindset."
It's not to say the beliefs of Fukuoka do not change in the capital. Shun Nagao, who runs the Tokyo office of the global venture capital firm White Star Capital, says in the last two years there has been much more buzz around the city, thanks largely to the Mayor's efforts. It is still seen as a relatively immature ecosystem, though he adds.
"I don't think it's understanding of what Fukuoka excels," he says. He believes the city needs to do a better job of branding, and points to Kyoto, which has developed a reputation as a hotbed for hardware startup by building a world-class ecosystem around Kyoto and the city's major electronics companies such as Kyocera, Omron and Rohm.
A great opportunity for the city, says Nagao, is its proximity to Asia, which can allow it to attract talent from abroad rather than to toe toe with Tokyo. But when it comes to attracting more funding, he thinks there must be some clear success stories or great valuations before investors commit serious resources to the city.
There are some officials in Fukuoka recognizing, but they are also aware that they lay the foundation for that kind of success takes time. Their current goal is to create a hundred start-up worth 1 billion yen (6.8 million pounds) over the next five years, says Naokatsu Matono, director of the city's start-up department. "In order to create a unicorn we first think we need many startups," he adds. "In the future, our goal is to help one of the hundred companies become a unicorn."
And the city does not rest on its laurels. The FGN ended for a revolution at the end of March, and when it recovers under new leadership in May, it will join a renowned international startup facilitator to guide and help fund a new series of startups.
The government is also in the process of creating an ambitious new "smart city" – an urban area that uses technology such as IoT and data analysis to enable smarter services in areas such as transportation, utilities and government – on a 124-acre former campus in Fukuoka. , just 4 km from the city center.
These types of projects usually come out in green areas, far from city centers or team technology, as well as existing infrastructure, says Kouichi Matono, who heads the project. This smart city will be unique because it will be built from scratch in the heart of the city with infrastructure and technology developed in harmony.
Demolition work has already started, and the government is planning to work with a consortium of companies to create an open source test bed for advanced technologies such as 5G, driver vehicles and telemedicine. The goal is to encourage the creation of many new startups, says Matono, and act as a proven reason for showing the rest of the country how to use technology to solve Japan's most pressing problems.
"We are trying to create a new lifestyle, not just buildings," he says. "Japan has many problems. The number of old people is growing and we have a small birth rate so we have problems with labor and health services. Therefore, we want to use new technologies such as AI and IoT to address these issues."
Ecosystem Development Of the talent, expertise and funding required to support the kind of "living lab", the mayor has previously said he will turn the Fukuoka into time. But the city's unique combination of entrepreneurship, quality of life and a supportive government makes it as good a place as something for those trying to build a more viable future.
–
Join a million future fans by liking us to Facebook or follow us on Twitter or Instagram .
If you liked this story, sign up for the weekly bbc.com newsletter called "If You Only Read 6 Things This Week". A hand-picked selection of stories from BBC Future, Culture, Capital and Travel, delivered to your inbox every Friday .