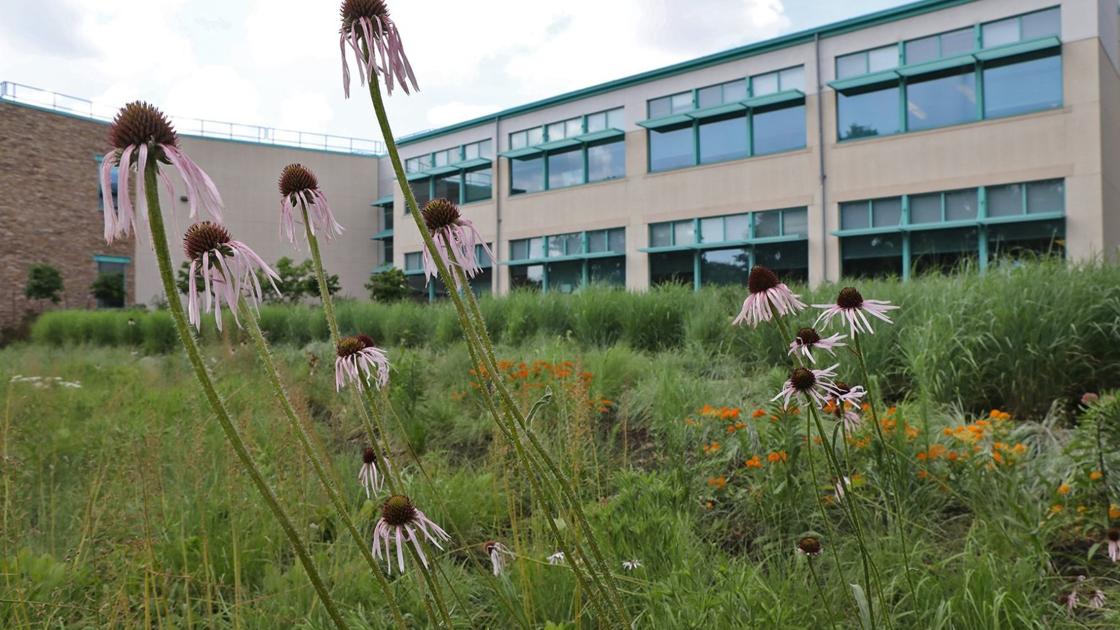 JEFFERSON CITY – Bayer AG will bring 500 jobs to its Creve Coeur campus and invest $ 164 million in improvements there, a move Gov. Mike Parson says will strengthen the state's "already successful technology industry" and strengthen the company's long-standing agency technology. long-term commitment to the region.
Parson said Bayer has committed to retaining 4,400 jobs in the St. Louis region and adding 500 more; The average salary for the new jobs will be $ 1
10,000, state employees say. The Republican governor, a cattle farmer, met with Bayer CEO Werner Baumann during a European trading mission last month.
The announcement was made in part by the reorganization of Bayer's North American breeding headquarters in Raleigh, NC, said Lisa Safarian, president of Bayer's North American commercial operations.
She said the 500 St. Louis jobs would be a combination of North Carolina transfers and new hires.
"Bayer's headquarters was in Raleigh, North Carolina," Safarian said at a Tuesday conference. "And so the headquarters are closed, and then we'll find those people at St. Louis."
A spokesman for the company later said that Bayer's environmental science operations will remain in Cary, North Carolina.
It was not clear whether the 4,900 jobs – 4,400 retained jobs and 500 new – represented a net gain for staffing levels in St. Louis.
Bayer had been in discussions with state-owned economic development staff that weighed on investing in the workforce here or in the East Coast. The company told Post-Dispatch in 2018 that it employed about 5,400 people between its two St. Louis area campuses.
In September 2016, after the two companies announced the merger, Monsanto said there were 4,100 employees in the St. Louis region, not including hundreds of external employees, temporary staff, or contractors.
A company spokesman says the $ 164 million investment that is part of the job announcement on Tuesday will largely pay for building improvements to accommodate the new staff. The state has offered incentives totaling $ 44 million, mainly through its Missouri Works program, which allows businesses to retain employees' payroll tax if job targets are met. Government incentives would be paid over seven years. St. Louis County also offers a $ 2 million real estate tax.
Rob Dixon, director of the State Department for Economic Development, hit Bayer's decision as a victory for Missouri.
"We're looking at this again, as a strategic investment in the state," said Dixon. "The state competed for these jobs …. We compete for the long-term economic opportunity of our state."
St. Louis County Executive Sam Page cheered the news at the news conference.
"As St. Louis County continues to shine as the global epicenter of agricultural technology and plant science, I thank Bayer for adding to our speed," Side, a Democrat said.
Bayer's predecessor , Monsanto, received a substantial promise of state support in 2013 when it announced a $ 400 million investment in its Chesterfield research park, the state promised up to $ 22 million in incentives, and St. Louis County $ 22 million in tax breaks, in exchange for company to add 675 scientific jobs in Chesterfield.
In January, Bayer announced that it would close its Pittsburgh campus, for decades, the German conglomerate's North American headquarters, and console are the plant management administrative staff in St. Louis and the New Jersey health service.
Bayer looks at adding jobs on the Creve Coeur campus, where Monsanto's headquarters staff, unlike Chesterfield-based scientific and research workers, is based.
A spokesman for a company said on Tuesday that the job ratings would "run the spectrum" and include positions in information technology, marketing, legal, human resources and research and development.
Some of the jobs may end up being based on the company's Chesterfield campus, said Darren Wallis, a Bayer spokesman.
Head office jobs that include business Support functions are often most vulnerable after large mergers. Overlapping information technology and human resources departments, for example, can often be consolidated. The investment in the Creve Coeur campus, the former global headquarters of Monsanto, helps alleviate at least some concern about major cuts in corporate jobs there after the merger.
Jacob Barker from Post-Dispatch contributed to this report.