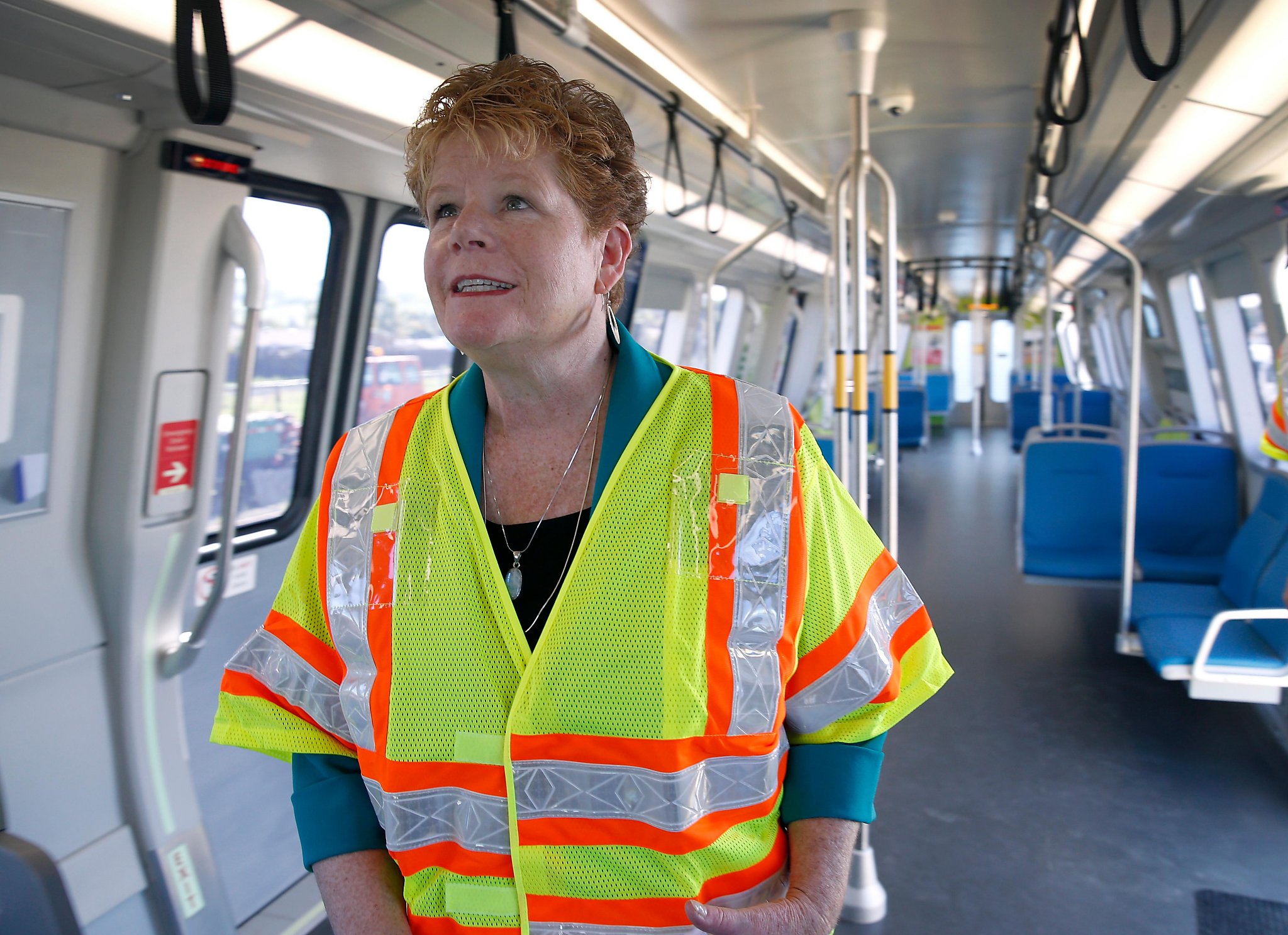 Tossing another challenge on a transit system that is already disturbed, BART General Manager Grace Crunican announced on Thursday that she is retired, saying she has been working longer than her predecessor and that the new management would be good.
Her announcement at BART's board meeting apparently took all eight of those surprised.
BART is confronted with a number of challenges, including a $ 25 million anniversary war evasion, aging infrastructure and train and growing customer frustration with crime, homeless riders, and transit system cleanliness. Last week, BART's police officer reported that he was going to retire in May – and this week, the entire department went into the "emergency team" to cut back on crime and "quality of life" at BART.
Crunican said that her last day will be July 6, a few days after she becomes 64. She has been running BART for seven years.
"Everyone must retire once," Crunican told The Chronicle. "It's a tough job, but it's in very good hands right now. There is a good crop of leaders in place."
She said her proud performance has been "doing a lot to secure the future of the agency", which involved hardening in the new, but delayed, fleet of railway wagons. She also said she was proud to improve working conditions, monitor the addition of a customer tour planning app, and monitor billions of dollars in improvements that are either planned or initiated for the train control system, power system, and other parts of the system.
And now she said, "It would be nice to have a new set of eyes in this seat."
BART's directors betrayed no knowledge that Crunican's news came during their regular meeting on Thursday. After signing up, it was a short break before the board gave her a standing ovation. They promised Crunican for their work to improve the railways fleet and aim for safety.
"It will be difficult to fill her shoes," said director Debora Allen of Contra Costa County. "She is a strong, direct leader. There are so many moving parts, many hidden agendas and political agendas, and I think she did a great job balancing all the interests involved here, but I also understand that people are getting tired. Maybe that's just the case here. "
" The proceeds pay off by the renewal of the system, "said director Robert Raburn, representing Oakland.
However, some critics pointed out that Crunican is leaving on a tumultuous time for BART, a Bay Area spinal transit system with a $ 2.3 billion budget and 425,000 daily riders. A survey submitted to the board in January showed that customer satisfaction dropped to 56 percent last year, down from 69 percent three years ago despite the agency's work on repairing old machines, improving safety and cleaning stations.
A note issued by the police Chief Carlos Rojas and obtained by The Chronicle commissioned the entire department to "emergency personnel" to cope with danger hopping, "quality of life and crime on BART", starting on Monday. Complaints have risen in recent months about homeless people on the trains. On Thursday, NBC TV Channel 11 launched a recording of what it said a BART officer told a rider that it would be "waste of resources" for the riders to submit a report that he had been robbed in jail on a station. 19659002] State Secretary Steve Glazer, D-Orinda, a frequent critic of BART, acknowledged that the executive agency is difficult and demanding. But he was critical of his performance.
"I want to say that there has been great dysfunction in the agency over the last 10 years," he said. "It must be the responsibility of it at all levels, from the general manager to the board. And it has not been a very good post."
For everything Crunican did to improve BART, she also contributed to the ongoing issues, Glazer says. "
" "While making sure all BART trains had work cameras, there are still major security issues," he says. "She found money to buy new BART cars, but their acquisitions are years after the planned year."
Glazer also quoted excessive employee overtime issues, a BART campaign breach in the Goal RR infrastructure bond selection, and two 2013 settles down the system, interfering with hundreds of thousands of BART commuters.
"These are difficult points of analysis," he said, "but they are accurate."
opinions were shared among BART riders as the news curled through railroad cars.
"Good. Maybe they should hire someone who can make some changes," said Mike Nash, 69, at the Civic Center Station, preparing to board an Antioch-bound train. "It's time for BART to exchange a new leaf to do something better than they have done. Maybe a shakeup is what they need. »
A more forgiving roof came from Mike Davis, who was not age but was middle-aged and waited for the same station for a Pleasanton-bound train.
"I don & # 39; I think she did a bad job," he said. "Maybe she was stressed about the job. There is a lot to stress on."
The board will now have the task of picking Crunican's replacement. On Thursday, she suggested assistant director Robert Powers.
Crunican has been general manager since August 2011. She joined the department of the Seattle Department of Transportation, and she succeeded Dorothy Dugger, who ran BART for four years as the system's first female general manager.
Crunican was hired as BART's general manager for a time of great turmoil at the transit agency.
Dugger had just been written off by the board with a sharp split, and the agency was attacked for two BART police shootings – including the Oscar Grant fire killers at Fruitvale Station in 2009 – and to shut down the mobile service in an attempt to stop a protest against the BART police.
But the new general manager promised to switch to BART and said she loved the challenge. From the beginning, Crunican developed a reputation as a right shooter. During her job interview, former director Lynette Sweet said she told the executives what they were doing wrong and that they needed to focus on the basics.
"She told us," Sweet said in an interview from 2011. "She told us what we didn't do as a board, why we needed to do things differently and went through a whole series of reasons."
Crunican arrived in a year after leaving a job as head of Seattle's transport department. She had resigned for an inability to keep the city's roads open during a big blizzard, making her politically responsible.
Chronicle author Erin Allday contributed to this report.
Gwendolyn Wu, Kevin Fagan and Michael Cabanatuan are San Francisco Chronicle staff authors. Email: gwendolyn.wu@sfchronicle.com, kfagan@sfchronicle.com, mcabanatuan@sfchronicle.com Twitter: @gwendolynawu @KevinChron @ctaun