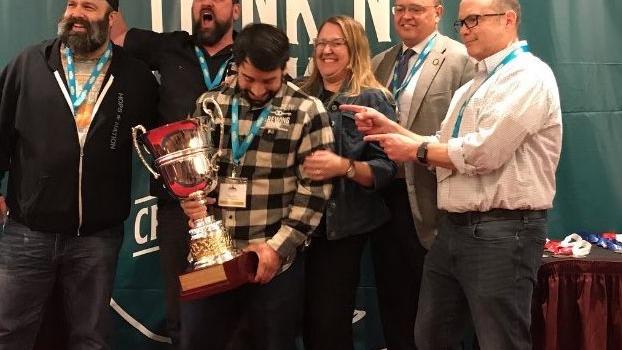 Auburn's Prison City Pub & Brewery and Weedsports Lunkenheimer Craft Beer Co. acquainted well with the third annual New York State Craft Beer Competition.
Competitor's winners were announced Friday night at the New York State Brewers Association's annual conference in Albany. Prison City took four awards, and Lunkenheimer took three.
Prison City took the night's top prize, Governor & # 39; s Cup for Best Beer in New York, for its Barrel-aged Wham Whams, an imperial stout elder in Willett Bourbon Barrel, and conditioned by toasted coconut and vanilla beans. The State Street Brewpub also won gold in the experimental category for the same beer, plus silver in the Pale Ale category for its Illusion of Knowledge pale ale, the same beer ranked # 7 in a 201
8 blind process of 151 pale ales from overland by Paste Magazine. Last, for its fourth prize, Prison City took bronze in the Wild and Sour Ale for its dry-leaved sour laser brain.
Meanwhile, Weedsports Lunkenheimer Gold in Strong Ale (non-Belgian) for its Barleywine 2018, third in Fruit and Spice Beer (Non-Sour) for its roasted Coconut Porter, and gold in the New York State Beer category. The last category of dead brewers that use at least 20 percent New York state jumps, malt and other ingredients, and the field 353 qualified entries.
The prison city's governor box wins dethroned Threes Brewing, from Brooklyn, who won the award the first two years of the competition. In the third year of the event, more than 100 breweries entered 813 beers, all of which Barrel-aged Wham Whams topped to win the Governor's Cup. The State Craft Brewers Association and the Raise a Glass Foundation organized the competition, which had 56 judges.
Barrel-Aged Wham Whams is no stranger to statewide prestige: It was the beer prison town entered into gov. Andrew Cuomo's introduced the flavor of the New Craft Beer Challenge in 2017 after the brewpub ended in the top five of the competitor's online vote. Auburn Brewpub also took gold in the New England style IPA category, for Control for Smilers, last year at the New York State Craft Beer Competition.
Of the allotted Cayuga County beers, Prison City's Knowledge Declaration and Lunkenheimer's Barleywine 2018 are currently in print at each location.
"The diversity of this year's winners is a clear example of the fact that high-quality craft beer is brewed throughout the state," says Statoil Brewers Association, director Paul Leone, in a press release.