Business
As the West moves towards electric cars, this is where the unwanted gas guzzlers go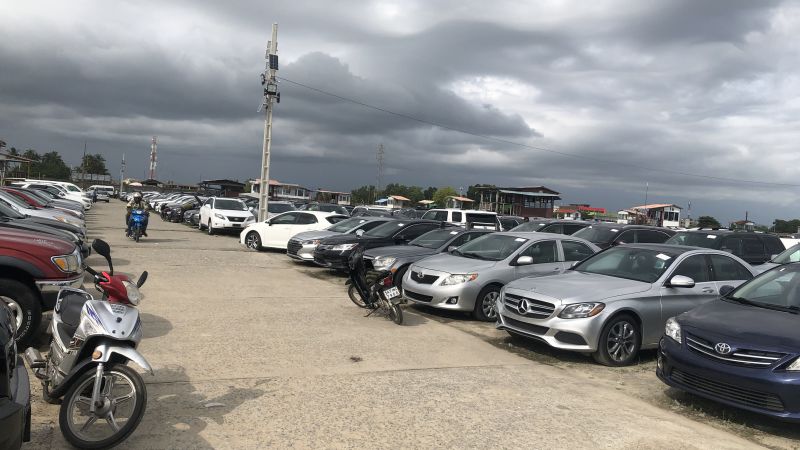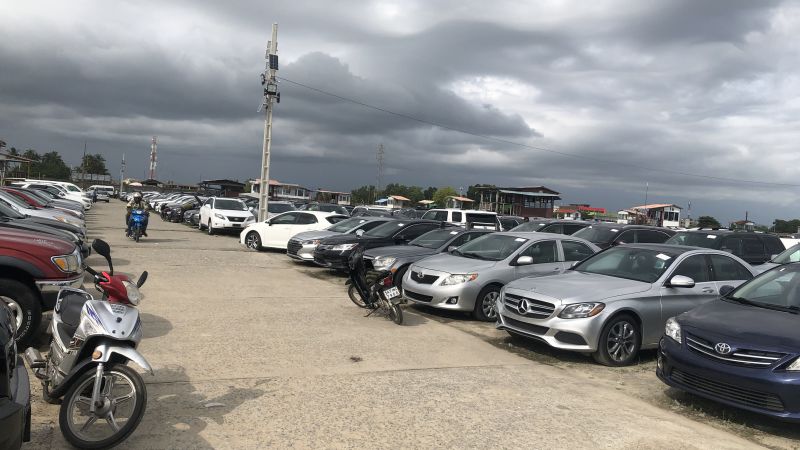 Cotonou, Benin
CNN
—

Standing on the rocky ground of the busy Fifa park car lot Rokeeb Yaya bargains for the price of a dark red car. It's one of a couple of hundred vehicles, parked in long lines stretching across the vast lot – some shiny and new, others dented and dusty.
The car Yaya has her eye on, an American-built 2008 Ford Escape, is for sale for around $4,000. It's relatively affordable – American cars are cheaper than most other brands in the lot – and he wants to upgrade from the motorcycle to a car. He's not interested in the history of the vehicle, he said, just that he can afford it.
But how this Ford ended up here – in one of the largest car parks in the port city of Cotonou – helps tell a bigger story about how many of the West's gas-guzzling cars are starting to live in West Africa.
The 14-year-old Ford arrived in Benin from the United States last year, after being sold at a car auction.
Car records reviewed by CNN show it had three previous owners in Virginia and Maryland, and has logged over 252,000 miles on the road. It had a previous recall for its power steering, but unlike some of the other cars on the lot, it arrived in relatively good condition – it hadn't been reported accidents.
This aging SUV is just one of the millions of used cars that arrive in West Africa each year from wealthy countries such as Japan, South Korea, European countries and increasingly the United States. Many of these end up in Benin, one of Africa's leading importers of used vehicles.
Prosper Dagnitche/AFP/Getty Images
Ships in the autonomous port of Cotonou in Benin, West Africa. Cars come here from Western countries, including the United States.
The flow of used cars heading to West African ports is only expected to increase with the West's transition to electric vehicles. As rich countries set aggressive goals to move consumers toward electric vehicles to reduce planet-warming pollution, gas-powered cars won't necessarily disappear.
Instead, many will be shipped thousands of miles away to developing countries like Benin, where the population is growing, along with the demand for used cars.
Experts say the effect will be to divert climate and environmental problems to countries most vulnerable to the climate crisis, undermining their own efforts to cut planet-warming pollution.
The global used light vehicle market grew by nearly 20% from 2015 to 2019, when more than 4.8 million were exported. There was a small drop in exports in 2020 when the Covid pandemic started, but the numbers are now growing quite quickly, Rob de Jong, an official with the UN Environment Program, told CNN.
The US exports about 18% of the world's used vehicles, according to UNEP data. These travel all over the globe, including to the Middle East and Central America, but many go to Nigeria, Benin and Ghana.
Some of these are salvaged cars that have been in accidents, been flooded or are just too old – which are auctioned off for parts. Others are whole used cars that American car dealers want to offload.
Nimi Princewill/CNN
An imported car that has been in an accident is awaiting repair.
"A lot of them are going to stay two to five-year-old Hyundais, Toyotas, sedans," said Dmitriy Shibarshin, director of marketing for West Coast Shipping, a company that specializes in shipping cars internationally. "It is mostly the economy cars that are sent there."
Shibarshin's company and others are "like FedEx" for cars, he said. His company usually specializes in high-end vehicles, but also ships cheaper cars.
In large African countries such as Kenya and Nigeria, more than 90% of cars and trucks are used vehicles from abroad. In Kenya, where de Jong is based, the vehicle fleet has doubled every eight years; streets that used to be devoid of cars are now clogged with traffic, he said.
There is a huge appetite for these used vehicles. "You have a very young population that is getting richer and richer every day," said Etop Ipke, CEO of Autochek Africa, an online car marketplace. "The first thing they want to do, as they can afford things, is some mobility," he said.
But, unlike in the United States, few potential buyers have access to credit, so new cars are often out of reach.
"That's the fundamental reason why we're not able to improve the quality" of cars sold, Ipke said. "It's not like people want to drive used cars; it is a problem of affordability."
Experts say that demand for used cars could explode further as the use of electric cars in the West increases the supply of used cars to African countries. Nearly one in five cars sold globally this year will be electric, according to the International Energy Agency, compared with less than 5% in 2020. China, Europe and the United States lead the electric car market, the agency said.
In states like New York and Florida, where consumers are buying more electric cars, dealers are increasingly looking overseas as a place to sell their older gas-powered models, according to Matt Trapp, a regional vice president at the giant auto auction company Manheim.
These states also have robust port operations, making them an ideal place to ship used cars to Africa. "It sets up a really complementary dynamic," Trapp told CNN.
"I'm not surprised to see how robust the export game is becoming," Trapp said. "We're going to see this dynamic more and more. When [auto dealers] seeing the demand in other markets, they will find a way to move the metal there."
From UNEP's perspective, not all gas-powered cars are a concern — it's the older ones, which tend to pollute more and be less safe, De Jong said. There is evidence that the growing demand in Africa for vehicles is actually resulting in more old and salvaged cars being sent to the continent recently than there were 20 years ago.
"What we are seeing at the moment is a wide variety of used vehicles being exported from the global north to the global south," de Jong said. "Not only is the number increasing, but the quality is decreasing."
In a section of Fifa Park, CNN finds a 16-year-old Dodge Charger, worn by age.
"We just sold it for 3 million XOF [around $4,500]", the seller, who did not want to be named, said of the vehicle that arrived in Benin from the United States two years ago.
Parked opposite The Charger is a 24-year-old Ford Winstar that was shipped to Benin from the United States last year. It's a cheaper option for low-income car buyers who can't afford newer models.
Car dealer Abdul Koura said American and Canadian cars are highly desirable to importers, who often bring in cars that have been in accidents, he told CNN.
"They repair these cars and sell them on to make money," said Koura, whose seat at Cotonou's Fifa Park includes more than 30 used vehicles imported from Canada.
Nimi Princewill/CNN
Abdul Koura is a car dealer at Fifa Park's car park.
Victor Ojoh, a Nigerian car dealer who visits Fifa Park, told CNN that it is often possible to tell the origin of a car by what is wrong with it.
"The cars that are smoking are mostly from the United States," Ojoh said. "The cars from Canada are mostly flooded cars that are starting to develop electrical faults."
Some imported vehicles are missing theirs catalytic converters, an exhaust emission control device that filters toxic gases. Catalysts contain valuable metals including platinum and can fetch up to $100 on the black market. Some of the cars are shipped without catalytic converters or have them removed by dealers upon arrival, Ojo said.
Millions of cars sent to Africa and Asia from the US, Europe and Japan are "polluting or unsafe", according to UNEP. "Often with defective or missing components, they belch toxic gases, increase air pollution and hinder efforts to combat climate change."
Regulations aimed at reducing pollution and increasing the safety of cars imported into West Africa have tended to be weak. But there have recently been attempts to tighten them up.
In 2020, Benin and 14 other members of the Economic Community of West African States bloc agreed to a set of emissions rules for vehicles in the region, including a 10-year age limit for used vehicles and limits on the amount of carbon pollution cars are allowed to produce.
But it is unclear how strictly they are enforced.
Nimi Princewill/CNN
Lines of used cars at Fifa Park.
UNEP officials, including de Jong, have also had talks with US and EU officials to introduce new rules that would crack down on the shipping of very old or junk cars to developing countries. These talks are in early stages and have not yet resulted in any commitments.
Still, de Jong said climate change and global emissions have made the conversation around used cars "a different ballgame." Increased shipments of older, more polluting cars are as much of a problem for developed countries as for the developing countries where they are driven, he added.
"Today with climate change, it doesn't matter where the emissions take place," de Jong said. "Whether in Washington, DC or Lagos, it doesn't matter."
Ipke does not think it is inevitable that Africa will accept all the old gas-powered cars the West no longer wants. He hopes that the transition to electric vehicles will come to the African continent as well, although it will require significant improvements to the charging infrastructure.
"In terms of where Africa is going, the transition should not necessarily be from used cars to brand new internal combustion engines, it should be from used cars to electric cars," Ipke said. "I think the continent needs to be prepared for electric cars, used or brand new, because that's the direction the world is going."
For Yaya, however, this seems a long way off. What brought him to Fifa Park, and to the old Ford SUV, was a lack of other options.
"I can only buy what my money can afford," he said.