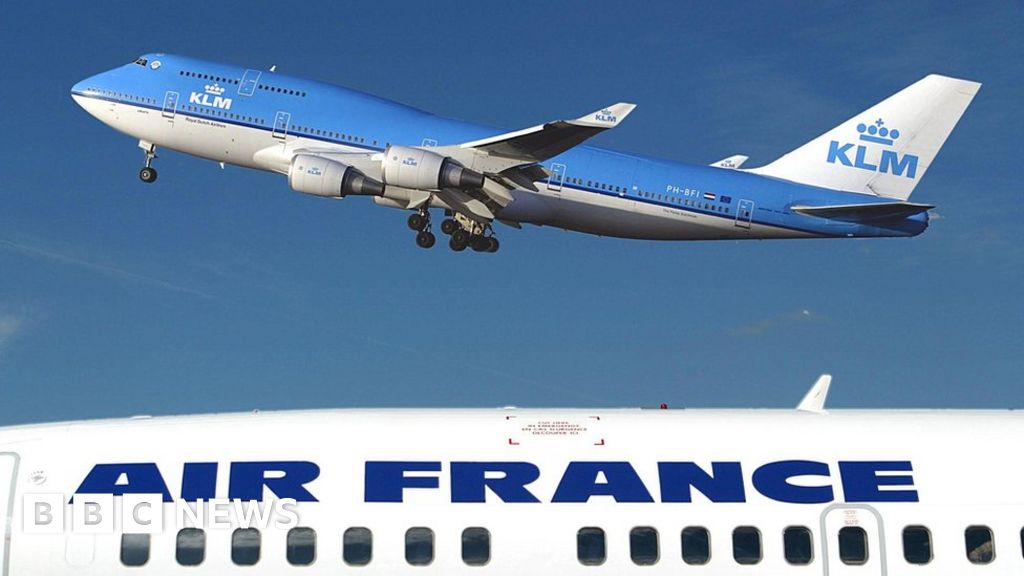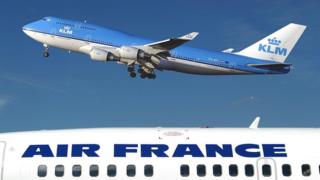 France has reacted frostly to the Dutch government's sudden purchase of a stake in Air France-KLM to counteract French influence.
Shares in the airline fell 1
1% after the Dutch government late on Tuesday it acted to protect "Dutch interests".
The Netherlands acquired a 14% stake in order to match France's 14.3% share.
The French finance minister Bruno Le Maire insisted that the company "should be managed without public disruption". [19659007] The Dutch move began late on Tuesday, with an original acquisition of 12.7% of the shares Air France-KLM.
According to French reports, the government of Paris was informed of the Dutch move only one hour before a press conference on Tuesday night and after the shares were purchased.
A ministry source told AFP's news agency that the Dutch move was both "surprising" and "unfriendly", more like market traders than a state shareholder.
The Dutch government then discovered its efforts on Wednesday to 14%.
French President Emmanuel Macron said the Dutch government should "clarify its intentions".
The Dutch say
"By buying this bet we ensure that we sit at the table, said Dutch Finance Minister Wopke Hoekstra about the first move, which costs around NOK 680 million (NOK 583 million, NOK 774 million). By Wednesday, it had spent 774 million euros.
The rationale said he was to protect Dutch economic interests and jobs – especially with regard to Amsterdam's Schiphol airport. Schiphol is Europe's third busiest airport after London Heathrow and Paris Charles de Gaulle.
KLM is more profitable than the French counterpart, and retains much public support for its reputation as the national carrier, Monarch of the Netherlands, King Willem-Alexander, even serves as a co-flight on the company's aircraft at regular intervals to maintain its pilot license
There was widespread political support in the Netherlands for the secret share purchase. Middle-right CDA leader Sybrand Buma said that it was of great importance for a solid future for KLM.
Hoekstra is expected to meet his French counterpart later this week, which French government spokesman Benjamin Griveaux predicted would be a "French but friendly but especially honest" discussion.
Why surprise move?
Air France-KLM was formed by a merger of the two national flagships in 2004 – although airlines have continued to operate under their own separate banners.
The Netherlands has until now only 6% ownership in KLM – the smaller subsidiary – while France owns 14.3% of the parent company.
The surprise from Dutch came after a number of disagreements where the Dutch felt that they did not have enough influence in the holding company, which decided on the strategy.
Air France seems to shut down Joon's budget mark
Air France-KLM acquires Virgin Atlantic
Disagreements between team company and KLM management – mainly about the Dutch airline's autonomy – have been published in the last year.
Strikes in France in 2018 caused the entire business loss, much to KLM's frustration. A Canadian CEO, Ben Smith, was appointed to the holding company and viewed as an attempt to assert greater authority over the Dutch subsidiary.
In recent weeks, it appeared that KLM's CEO Pieter Elber's position could be threatened because of his vocal support for keeping the two operations separate.
Last week, the Group announced a "goal of simplifying and improving governance". Part of this involves increased collaboration.
French newspaper La Tribune characterized the sudden movement of the Netherlands as a "thunderbolt" while Le Monde saw it as a "stock market blitzkrieg".
The board of Air France-KLM was expected to meet on Wednesday to discuss the fallout.
Delta Air Lines and China Eastern Airlines each have an 8.8% stake in the company.
Source link