Business
& # 39; Strap In Folks & # 39; Friday's History of China Portfolio is Bad News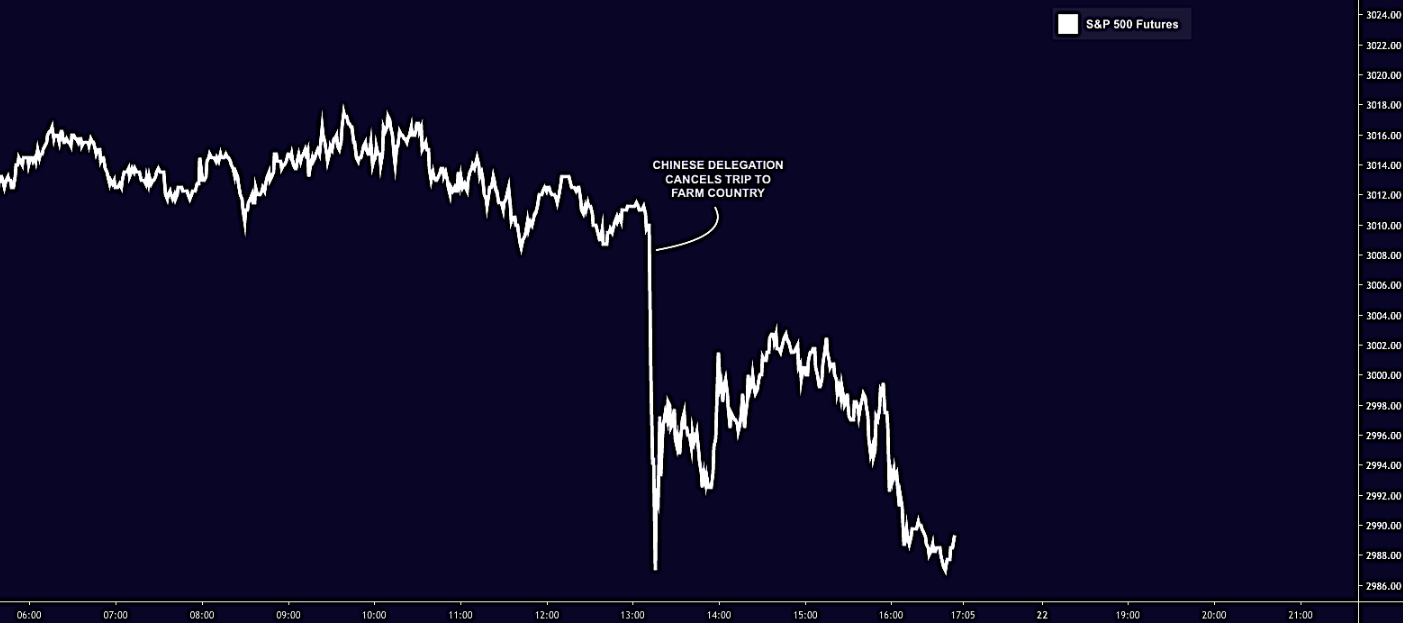 In a post for this platform, I noted last weekend how remarkable it was that US stocks managed to pull off the biggest oil supply disruption in history and the worst short-term financing since the crisis, just to falter at the first sign of trading problems.
A week ago, the problem was an inexplicable itinerary of Chinese trade dealers, who inexplicably canceled plans to visit US farms in Montana and Nebraska after working-level discussions with US officials.
For those in need of a refresh, that's what happened last Friday when news of the canceled farm visits crossed (by the way, it turned out that the American side nixed the trips to "avoid confusion"):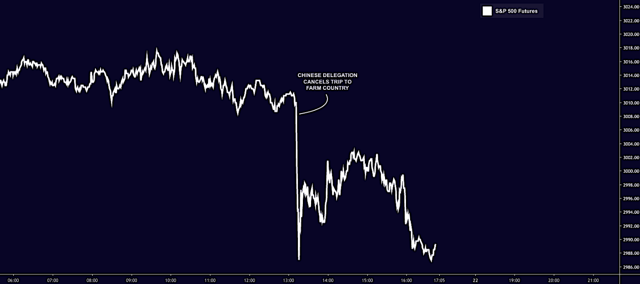 (Heisenberg)
Fast forward a week and there is déjà vu again. Another preexisting trade headline took some of the risk conditions that might otherwise have coasted peacefully into the weekend. Take a look: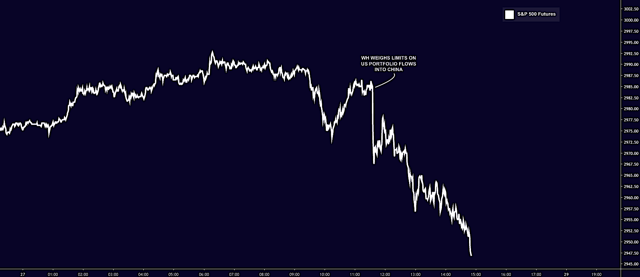 (Heisenberg)
As the commentary indicates, the immediate cause of the noon Friday was a Bloomberg scoop bomb details of discussions within the Trump administration, where officials are discussing ways to limit portfolio flows to China.
There are a number of proposals under consideration, including "delisting Chinese companies from US stock exchanges, limiting Americans' exposure to the Chinese market through public pension funds [and] which limits the Chinese companies included in stock indices managed by US companies. . " Nothing is final, and the logistics of some alternatives are not elaborated.
Needless to say, this was not good news for such as iShares China Large-Cap ETF (FXI) and iShares MSCI China ETF (MCHI). There was even worse news for Alibaba (BABA), which flat-out plunged.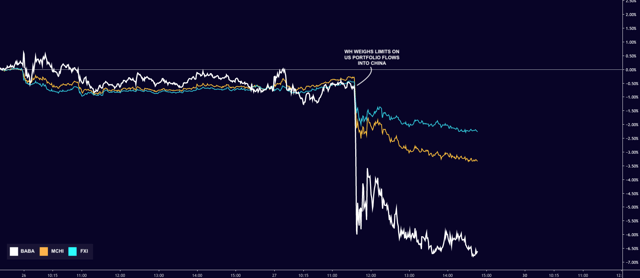 (Heisenberg)
To be honest, it is strange that American stock statistics did not suffer even greater losses than they did. I write these lines 45 minutes before the clock, and S&P is less than 1%.
It is not a stretch to characterize this latest twist in the US-China trade war as a potentially catastrophic turn for the worse. Regardless of the rationale behind the push (which has fairly broad support and is apparently aimed at addressing a list of legitimate concerns from the US), the administration would go ahead with some of the proposals mentioned above, if they had major consequences with the potential to far outweigh the fallout from the tariffs alone.
Bloomberg writes that going down this road "would have implications for billions of dollars in large index investment." It's an understatement and doesn't even begin to capture the potential second-order effects.
There are more than 150 Chinese companies listed on the United States largest stock exchanges. Their total market share exceeds $ 1 trillion. Forcing the delisting of these or, even worse, attempting to orchestrate index cruises by executive resolution, is virtually without cause. Although you can argue that it is feasible and justifiable to protect domestic investors from creepy Chinese corporate structures and ensure that Americans do not draw capital to a country that is in open economic conflict with the United States, such a move would almost derail the trade talks, only for good time.
In addition, Beijing would certainly respond. In the wake of the news, commentators were quick to parrot the line that it would work against its intention for China to arm the US Treasury's custody. Of course, there are countless reasons why Beijing has never been keen on going that route, but the kind of economic breadth in the proposals that Bloomberg says the Trump administration is considering will require something greater than a "measured", "rational" response. When the old saying goes, desperate times require desperate measures, and just about what the United States needs when the Treasury floods the market with supplies to finance the deficit is for China to withdraw its support for the market.
Before we get too far into the realm of hypothetics, let's just bring it back to what is true right now. We do not know if any of the ideas addressed by the White House will ever reach the implementation phase, and even if they did, the day of reckoning is some way to go.
But this story is now "out there", as it were. And probably not by chance. Bloomberg's story is long and their cadence does not suggest that the story is in any way speculative. In other words, the White House may be pleased that this is in the news on the assumption that it gives Bob Lighthizer and Steve Mnuchin influence ahead of main level trade talks with Chinese Deputy Prime Minister Liu He starting October 10.
This comes when China recently increased purchases of US farm products, including soybeans and pork, a benevolent gesture to President Trump. Bloomberg says Washington "has had no discussions with the Chinese government" about this, which, if true, opens the door for Beijing to see it as a threat (and a pretty serious one at that) and an attempt to put Liu under the proverbial gun during the new round of talks. The Chinese have repeatedly pleaded with the United States not to pose threats ahead of the talks, and this latest news comes at an extremely sensitive time politically, with China set to celebrate China's 70th anniversary.
If the talks break down again, it can deal a severe blow to the burgeoning world economy and fragile consumer sentiment in the United States.
At the earlier point, Barclays reminds you that "despite recent encouraging noise in US-China trade talks, there are more tariffs than three months ago, all major economies see a complete decline in industry / production [and] world trading volumes continue to fall. "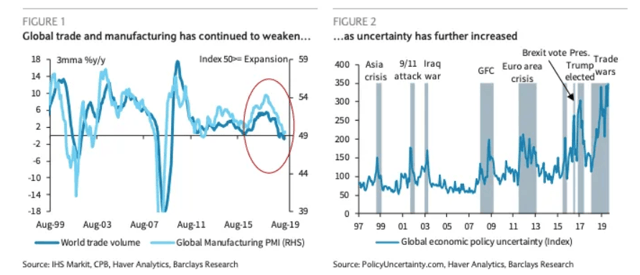 (Barclays)
These lists go a long way in explaining why the bank changed to a defensive stance (overweight interest rates) in their new global outlook, released on Thursday.
Please note that although the final reading of the September University of Michigan sentiment represented an uptick from the preliminary reading (and a decent rejection from the Trump era in August), the survey found consumers returning to mention the trade war, unsolicited, with record rate, as they deepened their outlook for the US economy. More simply: Tariff catches are running high after the escalation in August.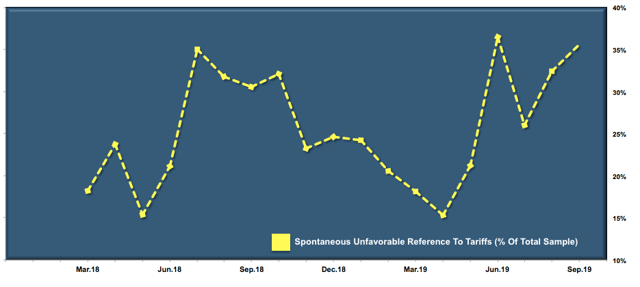 (Heisenberg, University of Michigan data)
Although the consumer showed up to President Trump in August according to the latest retail data, last month's reading on personal consumption last month was less sensible, and hit the lowest since February.
It will probably not take much to talk Americans again about the trade war, especially considering the fact that, as Goldman reminds you, "Trump The White House has never reduced any major tariffs on imports from China when they first became and most of the tariff increases proposed by the White House in the past have actually happened. "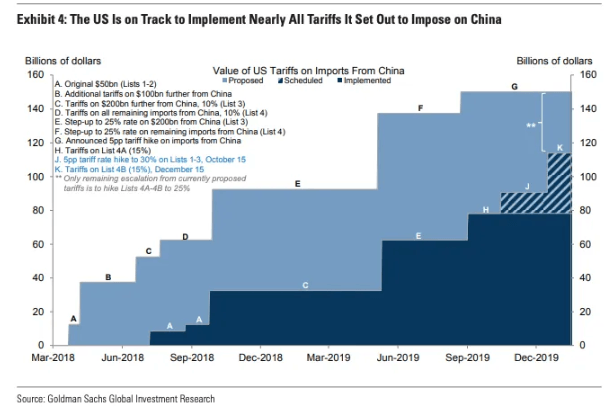 (Goldman)
With that in mind, I would like to point out that just hours after Bloomberg history, the Chinese Foreign Minister said Wang Yi that his country "will not be ruled by threats."
"Tariffs and provocations undermine the global economic order," he said at the UN General Assembly in New York, adding that "they can even throw the world into a recession. "
When the closing bell was heard on Wall Street, US stocks had fallen another week in a row.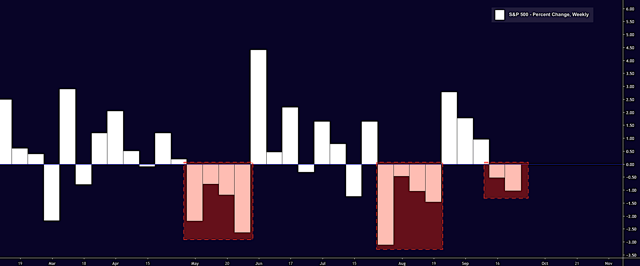 (Heisenberg) [19659028] I am going to give the final word to my good friend Kevin Muir, former Head of Equity Derivatives at RBC Dominion and currently Research Director of Global and Domestic Investment Products at East West Investment Management, who on Friday had a simple message for market participants: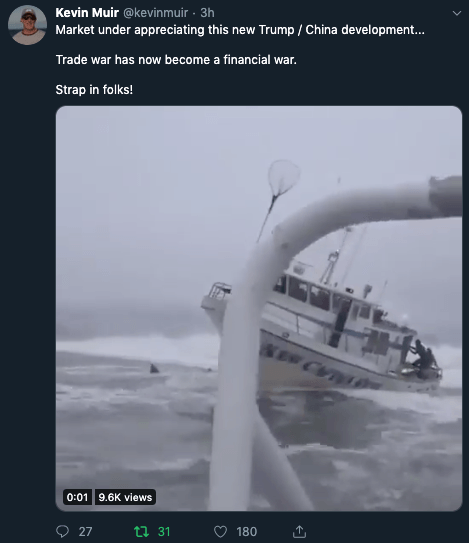 (Twitter)
Publication: I / We have no positions in the listed shares, and no plans to start any positions over the next 72 hours. I wrote this article myself and it expresses my own opinions, I receive no compensation for it (other than Seeking Alpha), I have no business relationship with any company mentioned in this article.