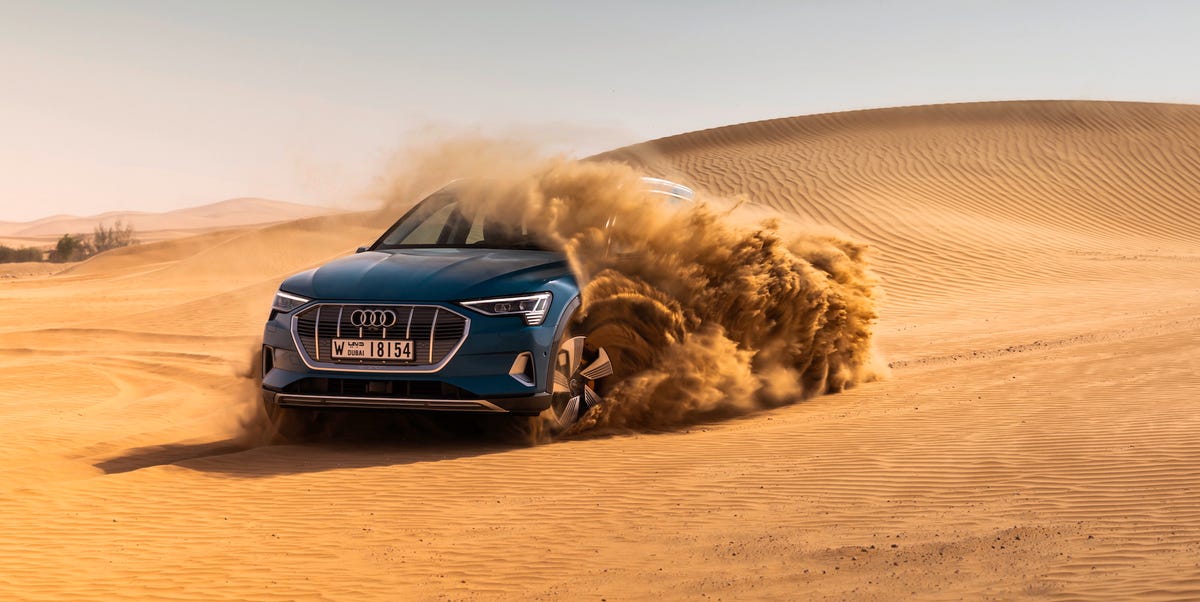 The irony of ripping through the oil-rich desert of the United Arab Emirates in Audi's new 2019 e-throne, an all-electric SUV, is enough to draw a chuckle. Perching Audi's vision for the future of mobility on top of a gust of sand dunes somewhere between Al Ain and Abu Dhabi, and the metaphorical game of the king of the fuel garden becomes literal. Electrification is here, and it will release fossil fuels into the previous year.
Audi's selection of the Middle East as the perfect backdrop to start its first advance to fully electric cars was not accidental. Tests e-trons were awarded in Masdar City, an urban residential and commercial oasis located on the outskirts of Abu Dhabi, purposefully built to be zero-carbon emissions. Heavily funded by the UAE government, Masdar's promise of a fossil fuel future is still on its way, with construction slated to complete a decade from now, and while it is currently a ghost town than a thriving example of renewable energy, it represents the beginning of the tide turn.
And it's something Audi's parent company, the Volkswagen Group, can strongly relate to. Despite producing more than 1
0 million vehicles with internal combustion engines in 2017, the Volkswagen Group plans to launch 27 electric cars by 2022, at a cost of $ 50 billion. The E-tron represents a solid start to the push, a luxurious battery electric vehicle that follows closely with Audi's brand DNA.
An electrical design
That means there is a lot to love about e-faith. Audi did not set out to reinvent the electric vehicle – a market segment that already contained Tesla's model X and Jaguar's I-Pace, and soon, Mercedes-Benz EQC and Rivians R1S. Instead of radical swooping lines that designers tend to give on electric vehicles, the e-throne looks like any other Audi roll of the assembly line: modern, clean, sporty and a bit aggressive. It is even more stylish personal, especially when you are dipped in Antigua Blue metallic paint.